BSLTRU Alumni
BSLTRU Alumni
Dr Anna Blackwell, BSc, PhD
I graduated from the University of Bristol in 2009 with a BSc in Psychology. Following my degree I worked as a learning support assistant at a secondary school in Bristol gaining an in depth knowledge of the practical implications of speech and language impairment for children both academically and socially.
In 2011 I joined the Bristol Speech and Language Therapy Research Unit as a PhD student as part of the Child Talk programme grant. My PhD study used a case study methodology to investigate the dynamics of the relationship between parent and child language for preschool children with early language delay from a developmental perspective. I worked closely with four families over a 12-month period and used a range of methods, including interviews, parent report, observations and the LENA system, which can record a full day of talk from a child's home environment and automatically analyse the audio.
During my time at the Unit, I developed a strong interest in using both qualitative and quantitative methods, as well as systematic reviewing, to understand what interventions work and for whom. I have subsequently used these skills to explore public health interventions in both academic and third sector organisations.
Dr Rebecca Coad, BSc, MSc, PhD
BSLTRU Director of Operations
I have worked at Bristol Speech and Language Therapy Research Unit from January 2011to April 2018, most recently as Director of Operations. In addition to this role I worked as the Research Development Manager within the Research & Innovation office at North Bristol NHS Trust and have an Honorary Lecturer position at the University of Bristol, which I continue to do.
My background is in developmental biology and cell therapy, working as a Research Associate at the University of Minnesota USA, before making the move from academia to research management in 2009. My expertise lies in the development, set-up and management of research within the NHS; particularly contract and financial management, obtaining regulatory approvals, delivering complex programmes of research both within acute and primary care settings, people management and strategic planning. My interests lie in maximising the impact of research and 'adding value.' I have a particular interest in public patient involvement, specifically how to make it 'meaningful' and developing methods for capturing the value/impact.
Selected publications
• Harding, S.A. Coad, R.A. (2016). Supporting and informing speech and language therapy services using the RCSLT Online Outcome Tool (ROOT) for measuring outcomes: Proof of Concept Study. Independent Evaluation for the RCSLT
• Harding, S.A. Coad, R.A. (2016). The RCSLT Speech, Language and Communication Needs (SLCN) Outcome Project – An Independent Evaluation for the RCSLT
• Roulstone, S.E., Marshall, J.E., Powell, G.G., Goldbart, J., Wren, Y., Coad, J., Daykin, N., Powell, J., Lascelles, L., Hollingworth, W., Emond, A., Peters., T.J., Pollock, J., Fernandes, C., Moultrie, J., Harding, S.A., Morgan, L., Hambly, H., Parker, N.K, Coad, R.A. (2015). Evidence based intervention for preschool children with primary speech and language impairment – An exploratory mixed methods study. Programme Grants Applied Research 2015;3(5)
Professor Pamela M. Enderby, MBE DSc (Hons), PhD, MSc, FRCSLT
Emeritus Professor of Community Rehabilitation
I am Emeritus Professor of Community Rehabilitation at University of Sheffield.  I qualified as a Speech and Language Therapist in 1970 and from an early stage in my career combined research with clinical practice. My PhD was awarded by Bristol University in 1983 where I studied assessment processes of dysarthria.
Prior to coming to Sheffield I held several positions in speech and language therapy in Bristol, instigated the establishment of the first AAC centre in Frenchay Hospital and established the speech and language therapy research unit there. I am proud that I was able to stimulate the first National Speak Week in 1986 which was precursor to other initiatives aimed at improving public awareness of the difficulties of those with speech, language and communication disorders.
I was awarded a Fellowship of the College of Speech Therapists in the same year and a decade later (1993) was honoured with an MBE for services to speech and language therapy. I was awarded a doctor of science by the University of the West of England in 2000.
I was Chair of the Royal College of Speech and Language Therapists (1994) and served on many College committees over the last 20 years. I have been serving on the board again since 2014. I have been President of the Community Rehabilitation Team Network since its inception in 1996 and have served as the President of the Society for Research in Rehabilitation (1994 to 1996) following serving on many council committees associated with this interdisciplinary research Society. I have been that a member of the IALP for 25 years and currently I am president elect.
I was given life membership to the British Society of Rehabilitation Medicine in recognition of my contribution. I have assisted the Department of Health on several working groups related to guideline, policy and strategy development. I was Clinical Director of the South Yorkshire Comprehensive Local Research Network from 2008 to 2011. I have been chair of South Yorkshire HealthWatch between 2011 and 2014.
Read my staff profile at Sheffield University
Dr Helen Hambly, BSc (Hons), MSc, PhD
Helen worked as a researcher on a variety of projects between 2009 and 2015. These included exploring children and parents' preferred outcomes of support as part of the Better Communication Research programme, investigating speech and language therapists' decision making for prioritising children for speech and language therapy and analysing parent and children's perspectives of speech and language therapy as part of 'Child Talk'.  Helen also completed her PhD – a qualitative study exploring children's, families' and professional's experiences of language impairment.
Read my staff profile at Exeter Medical School.
Dr Rosemarie Hayhow, MSc, PhD, FRCSLT
Honorary researcher BSLTRU
Rosemarie qualified as a SLT in 1969 and worked with a varied caseload until the completion of her Masters in 1975 (University of London). She specialised in stammering working mainly with adults, teaching undergraduates and undertaking treatment evaluation research.  She obtained a Diploma in Personal Construct Psychology in 1989 and included children in her clinical work.  
Rosemarie moved to Bristol in 1995 to a clinical post with children and adults who stammer. She studied the Lidcombe Program in Australia and was seconded to a stammering research study at BSLTRU in the late 1990s. Her PhD study (University of the West of England, 2009) focused on parents' experiences of the Lidcombe Program and she was awarded a Fellowship of the RCSLT for her work in stammering.
Rosemarie is an advisor for both the British Stammering Association and the RCSLT and a founder member of the Lidcombe Program Trainers' Consortium.  She is an occasional reviewer for academic journals.  The research topics have mainly developed from clinical questions and been influenced by an interest in personal meanings and experiences and by the variations in responsiveness to treatment that are evident in clinical work. She has worked with members of the ALSPAC team investigating outcomes for children who stammer.
Researchgate profile
Ms Hannah Lane, BSc (Hons)
Speech and Language Therapist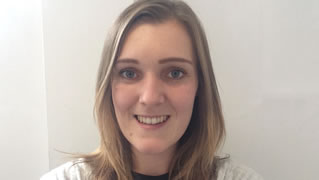 I studied Speech and Language Therapy at Birmingham City University and graduated in 2016. I work as a paediatric Speech and Language Therapist for Doncaster and Bassetlaw Hospitals NHS trust. I work in the community and my role is split across community clinics, a severe learning disability school and pyramids of mainstream schools. I am also the Cleft Lip and Palate LINK therapist so am responsible for the management and therapy for a caseload of children with Cleft Lip and Palate and an important part of my job is liaising with regional Cleft hubs and specialists.
My work with the Unit was a project which formed part of my internship with the National institute of Health Research which will took place over 6 months in 2017-2018. The project explored the impact of early intervention on speech in children born with cleft palate. This is an area of significant interest to me and I am hoping to contribute to the growing evidence-base for children with speech difficulties.
Dr Rosalind Merrick, BSc, PGCE, MSc, MSc, PhD
Speech and Language Therapist and Associate Tutor
Bristol Speech and Language Therapy Unit has played an essential part in facilitating my research activity while working as a practitioner. The Unit has been a hub through which I have made professional contacts and exchanged creative ideas to stimulate research initiatives. Sue Roulstone in particular provided mentorship and consultation on research design and sources of funding. My PhD and publications have been an outcome of the support from Prof Roulstone in association with the University of the West of England.
I am part of the teacher training team at the Centre for Inclusive Education, University College London Institute of Education, lecturing and tutoring teachers on programmes such as the National Award for Special Educational Needs Coordination. I am a practising Speech and Language Therapist.
I am the author of  Picture Me: Children's Views of Speech, Language and Communication Needs (2014) and contributed to the BETT Award winning TES Institute online course High Quality Teaching for SEND in School (2016).
Mrs Sarah Overton, MA (Hons), BSc (Hons)
Speech and Language Therapist
I qualified as a Speech and Language Therapist at Newcastle University in 2008 and have been working with children and young people ever since.
During my year as a Research Assistant at BSLTRU I worked part-time on a study with Dr Yvonne Wren exploring the potential use of language transcription and analysis software for outcome measurement. The study explored whether it was feasible and reliable for an Assistant Speech and Language Therapist to carry out language transcription as a way of surmounting the time constraints that prevent Speech and Language Therapists from routinely transcribing language samples themselves. Our research was presented at the Child Language Seminar (Newcastle University, 2012) and published in Child Language Teaching and Therapy (2014).
My primary online profile can be viewed at www.ouh.nhs.uk/craniofacial/team/consultants-therapists.aspx
Mrs Stephanie Ticehurst, PGDip, BSc, Cert MRCSLT, EMCC
Clinical Lead BSLTRU,
Professional Head Adult & Acute Speech and Language Therapy Services,
Visiting Research Fellow Sheffield Hallam
I worked as the Professional Head of the Speech and Language Therapy Service North Bristol NHS Trust, Clinical Lead at the Bristol Speech and Language Therapy Research Unit and a Visiting Research Fellow with the Centre for Health and Social Care Research, Sheffield Hallam University.
I qualified as a Speech and Language Therapist at University College, London and have coaching qualifications as a performance and a health coach. I have over 30 years' clinical experience working with adults with communication and swallowing difficulties resulting from acquired neurological conditions and specialised in communication and swallowing difficulties related to stroke, progressive neurological conditions and traumatic brain injuries.
Professionally I represented the Royal College of Speech and Language Therapists for the Department of Health's Stroke Strategy and Stroke Programme Board and was part of the expert panel of  the Royal College of Physicians Intercollegiate Stroke Working Party.
My interests are in making clinical services effective, cost efficient and responsive to the goals of the person with communication and or swallowing difficulties.
Selected publications
• August 2006 Workforce Planning – piloting a Royal College of Speech and Language Therapists Workforce Planning Project
• August 2002 Dean J, Ticehurst S. Absolutely Basic. Planning a speech and language therapy service for disabled adults (16-64 years) with a primarily physical impairment. Bristol: DART,
• Hadar, Uri; Ticehurst, Stephanie; Wade, John P. Crossed anomic aphasia: Mild naming deficits following right brain damage in a dextral patient. Cortex Vol 27(3), Sep 1991, 459-468
Researchgate profile https://www.researchgate.net/profile/Stephanie_Ticehurst
Dr Julia Wade, BA, MSc, PhD
Research Speech & Language Therapist
I qualified as a speech and language therapist in Newcastle in 1994 and worked clinically with children and adults with a range of speech and language disorders (acquired neurological, voice disorders, laryngectomy) before joining the Bristol Speech and Language Therapy Research Unit in 1999.
During my time at the Bristol Speech and Language Therapy Research Unit I worked on a project investigating how people with aphasia use computers in therapy and this work formed the basis of my PhD (2005) supervised by Professor Pam Enderby and supported by funding from the Underwood Trust and the Stroke Association: An investigation into the impact of computer therapy on people with aphasia.
Since 2005 I have worked in the School of Social & Community Medicine, University of Bristol as a qualitative researcher within the NIHR HTA funded randomised controlled trial of treatments for localised prostate cancer, ProtecT (www.epi.bris.ac.uk/protect).
Professor Ray Wilkinson, BSc, Certificate to Practise (in Speech and Language Therapy), MA, PhD
Professor of Human Communication
I was based in the Bristol Speech and Language Therapy Research Unit between 1990 and 1994. I undertook my PhD there (on the analysis of conversations involving a person with aphasia) while also working as a speech and language therapist at Frenchay Hospital. Pam Enderby, then head of the unit, was one of my supervisors. On completion of my PhD in 1994 I took up an academic post at University College London, before moving to the University of Manchester (in 2008) and then the University of Sheffield (in 2012).
I am based in the Department of Human Communication Sciences at the University of Sheffield, where I research and teach on a range of topics including acquired neurogenic disorders, the communication skills of professionals, and the acquisition of interactional abilities in normally developing children.
Read my staff profile at Sheffield University.
Mrs Sarah Woodward, BA (Hons), BALBIT, PGDip, CCS
Speech & Language Therapist
I worked at the unit in 1999-2000 on the PCAD project (a European project looking at a portable AAC device specifically designed for people with aphasia). In 2010 I worked in the unit to support the setting up of the Aphasia Software Finder where I continue to be the dedicated SLT.  The Aphasia Software Finder is now entirely hosted and funded through the Tavistock Trust for Aphasia so the work continues outside the BSLTRU.