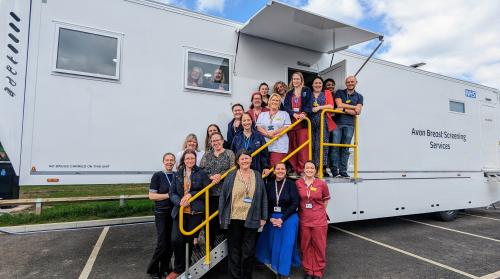 Avon Breast Screening plans to screen an additional 180 women per week with a new mobile breast screening unit, helping to detect breast cancer early for more women and futureproof breast screening in Bristol and the surrounding area.
The North Bristol NHS Trust service is the biggest breast screening programme in the South West, inviting around 70,000 women per year for routine breast screening.
In 2021/22 the Avon Breast Screening programme led to 1,900 women being recalled for a further appointment and 462 being diagnosed with breast cancer, which otherwise may have been diagnosed and treated at a later stage.
A breast screening mammogram is offered every three years for women between the age of 50 to 70 and helps to detect breast cancer at an earlier stage which can result in better outcomes for patients.
The additional mobile unit will help the programme meet future needs for breast screening in Bristol, North Somerset, South Gloucestershire, Bath, North East Somerset and the Mendip area of Somerset, where the screening population is predicted to increase by 13,000 over the next eight years, increasing demand for appointments.
Avon Breast Screening has two static sites at Southmead Hospital and the Central Health Clinic in Bristol and now has three mobile breast screening units that move around the region to various sites in the community.
The new mobile unit has now opened and begun to welcome women for their screening appointments.
Steve Curry, Chief Operations Officer at North Bristol NHS Trust, said: "We're incredibly pleased to have added another mobile unit to our Avon Breast Screening programme which is an important step in futureproofing the service for its users.
"The additional unit will help as many women as possible access a breast screening appointment closer to home in their local community."
Dr Alice Pocklington, Director of Screening at North Bristol NHS Trust, said: "Detecting breast cancer as early as possible gives the best possible outcomes and helps to save lives, so I'm delighted that we can offer women more opportunities to access their routine screening mammogram."
Breast Screening is offered by Avon Breast Screening to all eligible women registered with a GP living in Bristol, North Somerset, South Gloucestershire or Bath and North East Somerset and includes those in the Mendip area of Somerset.
All women who are sent an invitation for a screening appointment are urged to come forward for their appointment which has the potential to be life saving.
If you have a breast symptom or are concerned about your breasts, you should contact your GP who will decide if you need any tests or investigations.