The Bristol Urological Institute has formally joined North Bristol NHS Trust to enhance its vital research into urological conditions and prostate cancer.
The integration of the BUI, based at Southmead Hospital, will allow it to access more funding opportunities as part of a bigger organisation and further support its status as a UK centre of excellence for urology.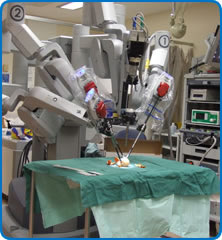 It will retain its independence and the proceeds of fundraising will be ring-fenced to fund the institute's ground-breaking research, which has gained it a global reputation as an education centre.
Since it was set up in 1993, the BUI has improved the urological treatment and care of patients in Bristol and across the South West region.
As well as providing academic teaching to the city's universities the BUI has made great strides in urological research, with particular emphasis on urological cancers (of the prostate, bladder, kidney and testes) and the problems of urinary incontinence.
Over the next few years the BUI will continue to operate from its centre at Southmead Hospital and will move to the new super hospital when it opens in 2014.
David Gillatt, medical director at the BUI, said: "The BUI will keep its charitable arm and status and all fundraising will be ring-fenced to continue our internationally recognised research.
"The integration of the BUI with NBT will bring long term stability and a bigger platform to our research projects.
"The fifth Run for the Future event is coming up on September 19 and all money raised will fund our research into prostate cancer."
Peter Rilett, chairman of North Bristol NHS Trust, said: "We are very pleased to welcome the Bristol Urological Institute into the North Bristol NHS Trust family.
"The institute has made great strides in our understanding and approach to urological disorders and prostate cancer.
"The trust will ensure their ground-breaking work will continue to put Bristol on the map globally."
North Bristol NHS Trust is one of the largest NHS trusts in the country, caring for more than 370,000 outpatients and around 117,000 inpatients and day case patients last year.
It is a teaching trust with links to both universities in Bristol and has around 9,000 staff.