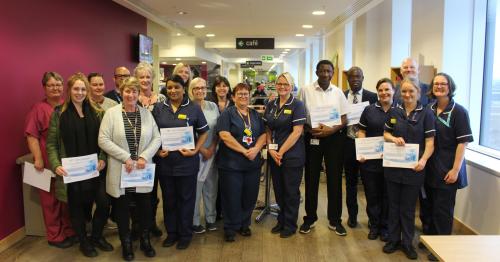 Throughout 2022, we've seen our colleagues continue to go the extra mile, put countless smiles on colleagues' and patients' faces, moments of brilliance, all while battling difficult circumstances and challenges.
Our hero awards are just one way we celebrate the outstanding work of our staff and volunteers throughout the year. Shining a light on the amazing stories of compassion, innovation and care. This year we celebrated over 100 inspirational winners.
On Monday 19th December, we held the final 2022 hero awards, which created some heart-warming cheer just in time for the festive season.  
At the ceremony Steve Hams, Chief Nursing Officer and Glyn Howells, Chief Finance Officer, spoke personally to each winner and delivered a heartfelt thank you while hearing more about their nominations.
A huge congratulations to all our winners.
Read the full nominations below:
Omar Bah, Facilities Management Team Leader
Nominated by Natasha Comer, Administrator
Omar is our hero here in facilities. He is the most selfless person I have ever met. He has bought land and opened a school called 'NEMA MISIRAH' back home in Gambia, and he uses his wages to fund the school and the teachers salaries. He has dedicated his life to giving back to those who can't afford education. Omar relies on sponsorships and charity donations of money, furniture, clothes and stationery, which he also funds to ship over himself. He is a hero to all of us in Facilities, inside and outside of work.
Deborah Gover, Senior Technical Officer
Nominated by Ian Whittingham, Team Leader
Debbie has worked in sterile services for the past 40 years and is always happy to lend a hand to anyone who needs it. Without a thought she always steps up with a smile and has been a great asset to the department and the team, helping all her colleagues when needed. Without staff like Debbie, the department wouldn't be able to continue supporting the theatres and patients. She constantly goes up and above her day-to-day job without complaining. When asked why she always says it's for the patients and department.
Lynda Cox, Nurse Associate
Nominated by Meghan Tindall, Sister
Lyn is always super efficient and helpful. She really cares for her patients and makes the process of organising patients to receive their IV Antibiotics at home so much easier. When a problem arises in these situations, she will do her absolute best to resolve these, and no job seems too much for her. She organises so much for our respiratory patients and helps avoid lots of admissions by working so efficiently to ensure referral to OPAT is quick and clear. Also, if patients need a review she is always more than happy to help to arrange this. Her communication and competence is amazing and makes working with her really enjoyable. Our team really appreciate all the work that she does!
Liz Emery, Senior Medical Secretary
Nominated by Harriet Narey, General Manager
I wanted to say a huge thank you to Liz Emery, one of Rheumatology's Senior Medical Secretaries. She recently supported a patient with their personal independence payments. The patient came back with a lovely compliment for Liz - "Thank you, as always, for your reliability and professionalism; increasingly rare attributes these days it seems, and therefore more so appreciated by me." Liz is a valued member of the Rheumatology team and on behalf of the management team, I wanted to say thank you.
Karen Venton, Senior Theatre Coordinator/Theatre Nurse 
Nominated by Lucille Hooper, CNS and Trauma Coordinator for Trauma Orthopaedics
Managing trauma patients both in hospital and at home for surgery since coming out of lockdown has been tremendously challenging for the trauma coordinating team. As a team, we rely a lot on the theatre coordinators to help find extra theatre capacity to ensure patients get their surgery in a timely fashion. Karen is like a captain of a ship, calm, steady and very approachable. Whilst she isn't able to provide an answer to our request most of the time for extra theatre capacity, she is always kind in her response. She will always keep us up to date by ringing us if there are any changes in theatre. Karen, we feel always put the patients first by allowing flexibility when needed. For us, as a team, Karen is already our NBT hero.
Clare Ridler, Service User Experience and Engagement Lead 
Nominated by Jodie da Rosa, Continuous Learning and Improvement Lead
Clare has only recently joined the Continuous Learning and Improvement Team and wow what a difference she has made. Clare has worked in collaboration with clinical area leads and is making improvements to women's pregnancy journey and beyond. If you spot a QR code in WACH you can guarantee Clare is responsible and wants to hear from not only services users but staff as well. Clare always strives for excellence and ensures service user feedback is listened to and responded to appropriately putting the patient at the centre and advocating for their needs. Her innovation for change is palpable and we are excited as a Division as to what will come next.
Rachel Cox, Carli Bleaken, Beth Thornley, Supervisory ward sisters
Nominated by Gina Augarde, Clinical improvement and learning lead
There are three main areas in the Women and Children's division that deliver pre and post-care to pregnant women, which provide care to around 6,000 women a year. These three areas have had a very difficult three years, having been stretched beyond capacity. However, I have watched these three exceptional ward sisters over the past three years, and marvelled at their incredible tenacity, strength and leadership skills. There have been challenges but these have been professionally managed and turned into positivity, not only that, they have all three excelled in the safety, development and progress of their wards. They are strong role models who are respected and well-liked by their teams. These three ward sisters have changed the face of women and children's services. Their main focus has always been about the care and outcomes for the women, but they have also managed to achieve a team of staff that feel the same way. We need to be able to say a HUGE thank you to these three ward sisters, who are admired and respected by all the staff in women and children's services.
Mordecai Dadzie, Nurse 
Nominated by Joanna Williams, Ward Sister
Mordecai came to the ward having never worked in an NHS Trust, but he has come with a great attitude and willingness to learn and grow. He is always there to help, he works as a team player and you can always ask him for advice. Every day he has a smile on his face and nothing is too much for him. His eagerness to learn is something we should all learn from.  He's an excellent nurse and we are so lucky to have him on 26B.
Sarah Kiely, Clinical Site Manager
Nominated by Tara IIes, Deputy Director of Nursing
I have been the on-call manager with Sarah being the overnight site manager in charge twice in 2 weeks. The hospital was in a very challenging position both nights and felt stressful for many people, all doing their best to keep patients safe and support staff. I was impressed with Sarah's calmness, positive outlook and courage to have conversations out of hours with members of staff. Sarah provided assurance and confidence in challenging circumstances. Thank you, Sarah, you are an NBT hero!
Laura Fox, Research Nurse
Nominated by Research Administrator
I would like to nominate Laura for a Hero Award. Laura has gone above and beyond to make sure I have been okay during a stressful time. I've only been in the role for a few weeks, and she's made me feel comfortable and heard. I couldn't have asked for anyone nicer to be part of the team and to care about their colleagues more. Laura is a true hero and inspires me in my role – showing the importance of not only caring for our patients but each other. Thank you Laura.
Vicki Stoneman, Research Pharmacy Technician
Nominated by Jane Evans, Research Administrator
Since joining the team in July 2021, Vicki has shown time and time again what a competent researcher she is. She is thorough and meticulous in her approach and always willing to take on new challenges and expand her knowledge of both Research and Trauma and Orthopaedics. She shows a very empathetic approach when dealing with patients and in turn, they appreciate her honest, open and friendly manner. She recently went above and beyond to support the partner of one of her study recruits. Vicki took it upon herself to research in her own time what help would be available for them and where to get it and put it all together in a pack for her to take away and read in her own time when she felt able. The lady in question was so grateful and completely overwhelmed by Vicki's thoughtful gesture.
Donna Walsh, Advanced Nurse Practitioner
Nominated by Caroline Oates, Lead Breast Reconstruction Nurse Practitioner
Donna has recently changed to an Advanced Nurse Practitioner for plastic surgery and has taken on this new role with gusto and a huge amount of enthusiasm. She has embraced the new role and made a huge difference to patients stay on the wards and discharge. She has a level head and thinks about the whole patients requirements and needs. She is often seen going back to patients once she has done the ward round to help them with extra things. She is always very cheerful and accommodating. She has helped with the discharge of the breast reconstruction patients over the weekend from the wards and has enabled us as a breast reconstruction team to be in the top three for length of stay in the country. She can often be found trying to source things to help patients stay a little bit better and is excellent at communicating with patients, family and staff. She has a genuine attitude and empathy for patients which is second to none. I think if you were ill you would want Donna to look after you.
Lesley Morgan, Pathology Lead Quality Manager 
Jessica Knott, Insight and Communications Manager
Lesley strives toward ensuring the content added to the Severn Pathology website always meets the Public Sector Bodies Accessibility Regulations. The concept of accessibility does not just apply to people with disabilities - all users will have different needs at different times and in different circumstances. Someone's ability to use a service could be affected by their location eg they could be in a noisy cafe or they could be on a mobile phone or using an older browser.
Severn Pathology has a legitimate business need to add several large PDF and/or word documents to the website. These range from simple documents to complex forms and booklets with 100s of pages. Lesley works tirelessly on each document making sure the structure flows so it's accessible to all. Lesley then checks the document passes the Accessibility Checker, before adding it to the website, making sure they can be used by as many people as possible. Thank you!
Sophy Thomas, Ward Manager
Nominated by Gemma Quijote, Nurse
Sophy is always there to help. She is often seen supporting our team by giving medication to patients and doing bedside care when we are stretched on the unit. Sophy makes decisions with compassion but confidence and staff can go to her with any problem they may be having. Staff feels secure when she is around because we know she will be there to support us with anything. Sophy is kind, professional and a true leader whose actions speak louder than words. Thank you.
Amy Hudd, Ward Manager
nominated by Ellie Day, Consultant
Amy is a very hardworking, positive person, whose door is always open to provide advice or just to listen. Amy is a ward manager in the Emergency Department supporting hundreds of staff, from new starters to those who are experienced in emergency medicine but having a challenging time. She answers complaints, datixes, manages staffing, ensures nurses are getting training to progress, as well as the hundreds of other things that come across her desk on a daily basis. Amy is a positive role model for staff and a great representation of the "Can Do" attitude that NBT Emergency Department values. Amy is a great colleague to work with and truly is an NBT Hero.
Jacobo Atero Herrera, Administration and Help Desk Team Leader 
Nominated by Isabel Khadour, Ward Operatives Manager
I have recently become a manager in the catering department and Jacob has been very supportive and always here to answer any questions. I don't know how many emails I send him in a day (too many to count), but I always receive a prompt reply. Even though he's not technically part of my team, I still consider him as such and can't say "thank you" enough to him for his kindness and support. He is a hardworking person and even on his busiest days, he makes place for our requests. Again, thank you. You've made my job easier.
Jessica Preshaw, Consultant Gynaecologist
Nominated by Nicoleta Boingeanu, Endometriosis Clinical Nurse Specialist
Jessica is the founder of the Pelvic Pain Management Program, which is a unique and rare programme (this is the 3rd in the country) which provides women suffering from chronic pelvic pain condition with strategies for managing and overcoming their pain. The success of this programme has had a positive impact on emergency admission for patients who were once regular A&E attendants. Another successful outcome of this programme meant that women were feeling cared for and empowered to adopt these strategies learned on the course which again resulted in patients needing fewer admissions. Feedback from our patients has all been positive and suggestive of how impactful and life changing this programme has been for them. This award would be in recognition of her work in creating and leading this program and the positive impact this has already had on patients and the service.
Alexander Deas, Sister
Nominated by Chrissy Caulfield, Healthcare Assistant
There are many reasons I'd like to nominate Alex for an award. He is an amazing team member, colleague, mentor, supervisor and friend. Alex goes above and beyond to support this team. After a really difficult shift, he runs a team meet up to thank everyone and catches everyone individually to support them. He is fair and kind to anyone who crosses his path. He is always happy to answer questions no matter how silly and he explains things in a way everyone can understand. If you fall behind, you can almost guarantee Alex will be there ready to support you. Alex listens to issues and concerns we all have and helps us fix or adapt things to make the ward a better place, He is a real asset to our team, and we are so lucky to have him as our sister. Thank you for all you do Alex!
Alison Quintrell, Therapy Support Worker
Nominated by Kerri Wright, Therapy Support Worker
Our team is full of wonderful people, but Ally stands out above the rest. Her enthusiasm is contagious, and she makes staff and patients smile even if she isn't feeling a 100% herself. When I first started working at NBT, I was overwhelmed and thought I had made a mistake. She took me under her wing and 3 years later, I'm going off to do my training. This wouldn't have been possible without her. So, on a personal level, I cannot thank her enough. Ally has been in the team for so long and has so much knowledge and experience that she shares with any new members of the team. She is incredibly kind, patient, fun, creative and supportive. She doesn't see what a valued member of the team she is, but without her, we wouldn't be as good as we are. Ally you are amazing, and I think I speak for the team when I say "Thank you, you're fab!".
Vicky Rich, Theatre and Anaesthetics Support Manager 
Nominated by Michael, Dawn and Vicky, Theatre Management team
Vicky is the definition of an NBT Hero, always putting the care of patients first, consistently helpful, kind and compassionate of the needs of patients and relatives coming to theatres. Many patients are understandably nervous and anxious when they come to hospital for an operation and Vicky is always ready to make sure the patients needs are considered whenever possible. Recently, an anxious patient came to theatres for treatment needing specialist support for anxiety. Vicky made sure reception, mediroom and theatre staff all knew of the special arrangements for this patient and made the visit as stress-free as possible. This included working with the Theatre Matron to move the patient up the order of the list so they would not have to wait too long. Vicky always responds cheerfully and positively when dealing with the many challenges that present in theatres, using her can-do attitude to make difficult situations better and support her teams to enjoy coming to work. Team theatres would not be the same without her.