Next week (13 -19 March), we will be celebrating Healthcare Science Week and saying a huge thank you for the outstanding work and care our Healthcare Scientists provide to our patients.
At North Bristol NHS Trust (NBT), we have hundreds of different healthcare scientists working across a variety of different specialisms who play a vital role in the diagnosis, prevention and treatment of our patients, each making a massive difference in the care we provide.
Throughout the week, we'll be shining a light on our different healthcare science colleagues and teams and the patients they have helped.
Our healthcare science teams are holding a stall in the Brunel atrium at Southmead Hospital to showcase their work and inspire others to think about a healthcare science career. Look out for roles in healthcare science at the Trust on Careers | North Bristol NHS Trust (nbt.nhs.uk)
Meet some of our teams and colleagues: 
Our Vascular Testing Team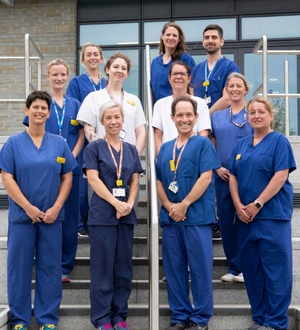 The Vascular Testing department provides specialist, high quality diagnostic ultrasound and other non-invasive tests for investigating vascular disease. 
The services the team provide are integral to clinical decision-making in a number of key areas including vascular surgery, renal medicine, and stroke medicine. 
At the heart of this are their patients who they support through their vascular journey.
Amy, Reconstructive Scientist
I wanted to become a Healthcare Scientist to use my interests and hobbies to help others. This means I get to help others through their rehabilitation after a difficult time with their health, by doing work that I love every day and it.
A typical day for me would start with preparing an outpatient clinic. Here I see patients to assess, make and provide bespoke facial and body prosthetics or burns and scar splints following a traumatic event, disease removal or body-part absence from birth. This could be by painting an artificial eye, impression taking for an artificial nose or sculpting an artificial ear in wax. After this (and a quick bite for lunch), I may meet with a surgeon to use our 3D software to plan a complex operation, by simulating surgery or printing 3D models to help plan their treatment. If I had time, I would design a titanium cranial plate for additive manufacture (3D printing in metal) or pour the morning's impressions into dental plaster for fabrication the next day.
Our Urodynamics Team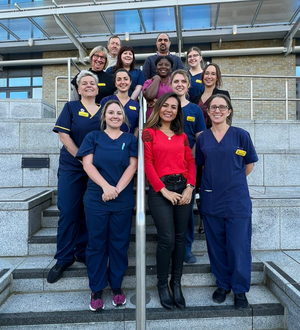 We are a collaborative team formed of consultants, registrars, engineers, clinical scientists, trainee clinical scientists, nurses, technicians and our admin team.
Our interests and specialties span across functional urology, uro-gynaecology, neuro-urology, gastrointestinal physiology and pelvic floor dysfunction to name a few. We work collectively to identify and understand patients' symptoms, diagnose them, and then propose advice, medication and further intervention such as surgery if required. 
 
Pippa, Senior Research Scientist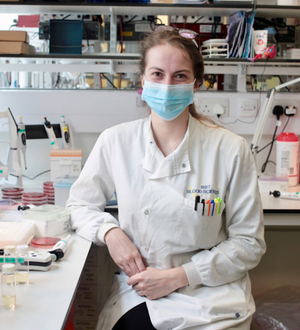 I wanted to become a healthcare scientist to be able to discover new ways to help people in hospitals through science.
A typical day for me includes running a variety of experiments and tests to determine what antimicrobials will be useful for the treatment of future patients. 
Our Genomics Team
Genomic clinical scientists are responsible for the handling, analysis and interpretation of genomic data produced within the NHS. This data has come from patient samples sent from clinics and GP surgeries across the South West. The human genome is comprised of thousands of genes providing an instruction manual for our body's structure and function. When the instruction manual includes faults, the corresponding structure and function of the body also becomes faulty. The genomics department aims to identify these faults in our genes for patients with cancer and inherited diseases so that we can make diagnoses, predict patient's disease risk and recommend specific treatments. As genomic technology continues to improve, the NHS is becoming ever more reliant on Genomics to aid in the care of its patients.
Amie, Trainee Clinical Scientist Urodynamics
The main factor that inspired me to work in healthcare science was my experience as a patient within the NHS. During my diagnostic tests, I felt uneasy, and that nothing was explained very well to me. From a patient perspective and whilst studying a biomedical science degree at the time, I began to think about the impact of bedside manner on patient satisfaction and quality of care, to work out how I could change this and help others feel better whilst having diagnostic tests. Contrastingly, when I received treatment, the clinician was friendly and clear, and I knew upon meeting her that I wanted to strive to combine the science of diagnostics with her patient manner. 
The combination of working directly with patients, performing their diagnostics, and contributing to research was a huge appeal to me. 
Each day is different, but typically in the mornings, I'll be conducting bladder and bowel tests, maybe urodynamics or anorectal manometry. I'll then use the afternoon to report on the patients I've seen that day, as well as chaperoning colleagues with their patients, catching up on admin work, and doing some research if there's time. We are a tightknit team, and if weather permits, we go on a group lunchtime walk. 
Our Cytology Team
Cytology is a discipline of Pathology in which the appearance of cells is studied to help identify and diagnose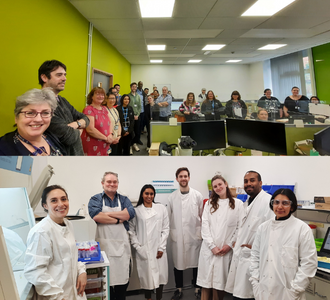 disease. 
The Cytology department at NBT is one of eight 
regional hubs for the NHS Cervical Screening 
Programme (CSP), receiving samples from across the South West. 
Our team includes:
Medical Lab Assistants: who are key to 
sample reception and CSP slide preparation.
Associate Practitioners: who test each sample for high-risk HPV using specialised 
high-throughput machines.
Biomedical Scientists and Consultant 
Pathologists: who screen hrHPV-positive samples for nuclear changes and refer patients on for further investigation, if necessary.
Tom, Trainee Clinical Bioinformatician
From my school years, I knew my career would involve healthcare and after developing a keen interest in genetics at College and University, I decided the best application of my skills and knowledge would be in healthcare science. As a bioinformatics trainee on the NSHCS Scientist Training Programme (alongside a part time master's degree), my main responsibility is to gather evidence for my training portfolio to allow me to become a registered Clinical Scientist.
Our team's day begins with our daily stand-up meeting, where everyone reports on the previous day's activities and their plans for the day. I will then generally spend my days in one of two ways: either contributing to routine service work, where I process DNA sequencing data using our in-house analysis pipelines, support colleagues with trickier data interpretation, and general management and maintenance of our existing services; or contributing to projects developing new and improved services to fulfil training requirements and completing my portfolio. I've recently completed my MSc project where I developed a circulating tumour DNA analysis pipeline.
Matilda, Trainee Biomedical Scientist
I have always wanted to give back to a service that improves people's lives. I knew I wanted to be a part of delivering high standards of healthcare. The work is really  diverse and interesting; it tests my knowledge and skills every day. Feeling challenged but also rewarded by my job is what drives me.
No two days are the same in my role. One week I may be embedding tissue in paraffin wax ready to be sectioned onto microscope slides, the next I may be on biopsy transfer. There is great diversity in my job role.