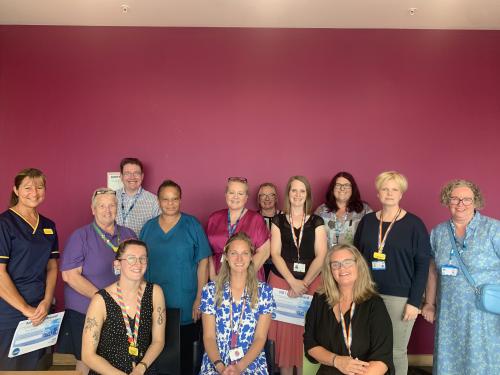 Every year we recognise and celebrate individuals and teams across our Trust who have been nominated by their colleagues for making a real difference to others.
The September awards saw 24 winners from across NBT be celebrated for their achievements alongside their fellow heroes.
This month heroes were commended for the way they have truly put our new NBT Cares values into action. Whether that's going above and beyond their role to bring positive change, providing truly patient centred care or supporting others in difficult times.
At the awards, Sarah Margetts, Deputy Chief People Officer, shared just how important it is to have these awards and gave a heartfelt thank you to all of this month's winners.
Find out why our Heroes were nominated below: 
Mel Murrell, Associate Director, Nursing Workforce Recovery
Nominated by Steve Hams, Chief Nursing Officer
I am really pleased to be nominating Mel for an NBT Hero Award. Mel has been leading our urgent response to the temporary nursing and midwifery workforce challenges since she started at NBT. Mel has been using her detailed expertise in workforce analysis and deployment to support the reduction in the use of Tier 4 agency (being reduced by over 80% and saving the organisation in excess of £50,000 per month), support the development of Allocate on Arrival, and support the development and introduction of temporary workforce incentives schemes for maternity services and neonatal intensive care. Mel has also been the NBT lead for the BNSSG system temporary workforce group, here Mel has been supporting all system partners with her experience and expertise. Mel has a kind and engaging style, which has helped hugely in negotiating with a wide range of partners, some of whom have been tricky! I am delighted that Mel is a member of the NBT and is indeed one of our NBT Heroes!
Rachael Pemberton, Deputy Director, Procurement
Nominated by Lindsey Palmer, Clinical Procurement Specialist
Rachael made my return to work after a long term illness smooth and without issue. She goes the extra mile to check on the wellbeing of all her staff, and manages to keep abreast of everything going on in both Trusts and shares with the team. anything that she thinks will improve staff wellbeing. Her continued enthusiasm and drive to work with both Trusts to encompass the sustainability charter, the Patient first initiative, whilst working to introduce a new procurement system across both Trusts and into the wider community. Her positivity is infectious, I don't think I have ever seen her in a bad mood. She always makes time to help and give advice to our team and other Trust employees. She has a wealth of knowledge that she is always willing to share, to improve the procurement process, and make buying "stuff" a less arduous task for the Trusts. She always goes the extra mile to make new starters welcome in the team and make every meeting a positive one.
Diabetes Research Team, Clinical Research, Strategy & Transformation
Nominated by Emma Gendall, Research Matron, Strategy & Transformation
The diabetes research team have worked exceptionally hard over the past few months. Despite being 3 staff members short they have continued to provide exceptional patient centred care for all their research participants. In addition to this they have offered research to more people than ever, with the recruitment to research from the team being the highest it has been for the past 5 years. The team are really caring to their patients which is reflected as they have very few patients withdraw from their studies and many come back to them asking to be involved in more research. The team make every effort to see patients early in the morning before they start work or out in the community to ensure that this patient group have access to research. They are ambitious to continue to deliver research despite being short staffed and have proved this with their performance this year. I am immensely proud of their achievements, they truly are NBT Heroes.
Dr. Frances Smith and Dr. Siobhan Orr, Anaesthetists, Anaesthetic Department
Nominated by Honeylyn Sarao, Medirooms Education Manager, Medirooms
I would like to nominate Dr. Fran and Dr. Siobhan. Both have been instrumental in the delivery of airway mandatory training for new and existing staff within the Medirooms. Despite their busy schedule, they always try their best to find time to support the training and development of the department, which is pivotal in ensuring compliance to standards of care, staff and patient safety. Their expertise, knowledge and skills ensure staff are provided with the most up to date, evidence-based practice. Thank you Fran and Siobhan!
Clare Ross, Sister/PDN, Cardiology
Nominated by Jennie Speedie, Ward Sister, Gate 27a
Clare works as a band 6 on 27a, and in the last year has moved into the role of a practice development nurse. In this time Clare has spent a lot of time ensuring all the staff Nurses on the ward are clinically competent to look after the cardiac patient post angiogram, read ECG's and generally teaching the staff to enhance their knowledge. Clare has also spent a lot of time with the International Nurses and this has been really important to them and the team. Clare has always been very passionate about teaching and is excellent at ensuring the sessions she teaches are understood by the staff. She holds several cardiac study days a year for the team. Clare is such a valuable part of the team on 27a, she has a wealth of cardiac knowledge and is always happy to share her knowledge.
Nicola Luke, Senior Healthcare Assistant, Gate 27a
Nominated by Jennie Speedie, Sister, Gate 27a
Nicola always goes above and beyond in her role as a health care assistant. Last week she was sitting with a confused patient ensuring they did not fall. She explained everything she did to the patient in a kind way that the patient understood and reacted well to her. She was able to get the patient to undertake tasks that other staff were struggling with due to her spending time with him and explaining things slowly and methodically. This ensured that the patient was safe and was kept calm. Nicola informed the patient when she was going home at the end of the shift and gave a detailed handover to the health care assistant taking over from her. Her paperwork is also very detailed and she is a role model to the junior health care assistants.
Petronella Lapidos, Domestic, Gate 19 Recovery
Nominated by Debra Penketh, Duty Manager, Level 2 Domesticspetronella lapidos
Petronella has worked as a domestic in Gate 19 Recovery for 6 Years, Petronella is a caring supportive member of the Team, and goes above and beyond, If I inform Pat there is no domestic in an area, Pat will take it upon herself and go and check the area, and complete any work needed. Pat knows her area and always makes sure that all work is completed to a high standard, while supporting other members of staff in other areas. Recently Pats Husband passed away, Pat was absent from her area for a while, the nurses and sister in recovery would enquire often and ask how Pat was, Pat was very much missed. Pat is an amazing strong lady, and is deeply respected within our Team.
Charmaine Selwood, B2 HCA Bank
Nominated by Vicki Elnagar, Clinical Facilitator
I received some lovely feedback from a ward that Charmaine recently worked on and feel it is necessary to acknowledge: I am a Staff Nurse on 8b who has been working with Carmaine Sellwood and wanted to articulate how impressed I was of her hard work and care she showed our team and her patients today. Her professionalism and kindness shone brightly whilst caring for our EoL patient who passed away whilst we were both present and with Charmaine's help, I know that his final moments were filled with compassion and respect - which is what we as a team on 8b strive towards. The doors of 8b will always be open to her and we look forward to Charmaine working with us once again.
Paula Thornell, Catering Lead, Catering
Nominated by Katherine Barker, Head of Service for Dietetics, Dieteticspaula thornell
Paula has worked for the trust for many years. She continuously strives to improve the patient nutrition. She consistently looks to improve patient meal choices, to drive forward change and navigate the complex guidance around patient food in hospital. Paula does this with a great sense of humor and an attitude which enthuses others to take a positive approach. She puts the patients at the heart of work!
Jessica Ramsey, Staff Nurse, Cardiology
Nominated by Jennie Speedie, Sister, Gate 27a
Jessica has been on the Cardiology ward for a few months having moved from the Respiratory ward. Jess has come to the ward keen to learn the speciality and pick up new skills. We all find Jess very supportive and will always help other staff in other areas of the ward if they need assistance. She is not afraid to get involved with emergency situations and it is more than clear that she is a very competent staff nurse who is an asset to the 27a team. Jess has a very nice way with the patients and always goes that bit extra to help them, she has very high standards of care and her documentation is excellent.
Elle Scott, Heart Failure Admin Assistant, Heart Failure
Nominated by Natalie Smith, Cardiology Specialty Manager, Cardiology
Elle is a fantastic asset to the Cardiology team who is always willing to go that extra mile for patients and her colleagues. She has been fantastically supporting the Heart Failure team over the past few months as they have transitioned through various challenges and changes to their working model. Most recently she has stepped up to support the team in a more senior administrative capacity due to extended leave, taking on extra work and keeping the team afloat, whilst still completing all of her work to a high standard. I just want to say a big thank you to you, Elle, we couldn't do it without you!
Theresa Morgan, Domestic Operative, Domestics
Nominated by Carly Alden, Maternity Support Worker, Womens and Childrens
Theresa shows great work ethic at all times when on the ward and goes above and beyond to ensure that all the work is completed while on shift. During her hours on the ward Theresa is polite and professional to all and will work with the team to make sure that all work is covered. Theresa manages her workload perfectly and stays in communication with staff regarding the discharges on both Transitional Care and also Birth Centre rooms. I believe that Theresa deserves recognition for all her hard work on every shift she works and so that we can show her the appreciation she deserves when she is on our Ward. It is noticed and we cannot thank her enough for her dedication and commitment to her role.
Julie Uhlyk, Patient Pathway Assistant, Urology
Nominated by Urology General Bladder Admin Team, UrologyJulie Uhlyk
Julie deserves recognition because on 08/06/2023 we had a deaf cancer patient come in for a face to face appointment in which a BSL interpreter was booked and unfortunately hadn't turned up. Luckily Julie offered to sign for the patient and spent over an hour with them allowing his appointment to be completed and investigations to be made. WELL DONE JULIE!!
Valerie Rooney, Annabel Stewart, Maria Nikita, People Team & Payroll
Nominated by Sarah Margetts, Deputy Chief People Officer, People Team
I would like to recognise the significant work undertaken by Valerie, Annabel and Maria to implement changes to the Banding for Band 2/3 colleagues working across the Trust. The work behind the scenes can often be unseen, but this was a huge piece of work and these colleagues went above and beyond to work together to ensure the issue was managed appropriately, including ensuring appropriate communications, engagement, complex pay calculations, back pay and a whole range of queries which were resolved. The complexity of this work can not be underestimated, and these colleagues showed personal resilience, attention to detail, a caring and supportive approach and willingness to implement this work at pace, with a positive outcome for many colleagues working in NBT. The approach between the different teams also demonstrated fantastic team working. A huge thank you to Valerie, Annabel and Maria for their fantastic work.
Preeti John, Sister, 26B
Nominated by Emilia Popescu, TNA, 26B
I would like to take a moment and nominate Preeti for her very hard work, she always has a positive attitude, no matter what the challenges, nothing seems too difficult for her. Preeti became a Band 6 not so long ago and even with everything thrown at her, with all the changes the ward has been through, she managed to remain the same kind, caring and supportive colleague towards all of us. She is always making sure that everyone's concerns are listen, opinions and new ideas are fully supported and that the patients are receiving the best care every shift. She makes everyone feel included and as part of the family. Preeti is one of the best Band 6 I have ever worked with and I am so proud to be her colleague.
Krystina Shore, Patient Experience Administrator, Patient Experience
Nominated by Emily Ayling and Amanda Threlfall, Head of Patient Experience and Carer Partner, Patient Experience
Krys has truly transcended our NBT values in support of a patient and their carer. Caring: From her own initiative Krys has been warm-hearted and kind in caring for a patient and their carer. She has thought of the little things that matter most such as holding the patient's hand and bringing water. She has demonstrated empathy and understanding of both the carer and patient's perspectives. Ambitious: Krys has been determined in her efforts to go above and beyond in supporting the carer to have a break and thinking about whatever she can do to help- whether that is listening or practical support. Respectful: Krys has met a need beyond that defined by her role. She has understood the impact she can make for patient and carer wellbeing ensuring the best possible outcome and positive feelings. Supportive: Krys has always made time and has seen her role as part of a team supporting the patient's return home and reducing the burden on the carer. She has done all this whilst exuding reassurance and calmness. The patient himself has been calm and comfortable in her presence, which for somebody with dementia shows the kindness that emanates from her. In the patient's words "she's smashing". Thank you Krys, you're a true hero.
Diane Bidwell, Clinical Site Manager, Operations
Nominated by Steve Hams, Chief Nursing Officer, Chief Executive
I am really delighted to be nominating Di for an NBT Hero Award. On a late Sunday evening I was notified by a member of the Integrated Care Board that a young patient with Autism was unhappy with his care following an emergency admission. The young patient was frightened and felt like the ward team were not listening to his concerns, he was in pain and felt confused and isolated. I contacted Di as she was the Clinical Site Manager for the night, she immediately attended the patient and was able to offer reassurance, and listened to his concerns. The patient emailed later to say that Di "listened and made me feel heard" and that she "was really kind and caring, she helped me understand what was happening and ensured I had the right treatment". The support that Di gave to the patient made a big difference to his care, and it shows how Di really lived our values of Caring and being Supportive. Thank you Di!
Clare Ross, Sister/PDN of Cardiology
Nominated by Jenie Speedie, Ward Sister of Gate 27a
Clare works as a band 6 on 27a, and in the last year has moved into the role of a practice development nurse. In this time Clare has spent a lot of time ensuring all the staff Nurses on the ward are clinically competent to look after the cardiac patient post angiogram, read ECG's and generally teaching the staff to enhance their knowledge. Clare has also spent a lot of time with the International Nurses and this has been really important to them and the team. Clare has always been very passionate about teaching and is excellent at ensuring the sessions she teaches are understood by the staff. She holds several cardiac study days a year for the team. Clare is such a valuable part of the team on 27a, she has a wealth of cardiac knowledge and is always happy to share her knowledge.
Corby Little, Reprographic Technician
Nominated by David Llewellyn, People Programme Lead
I wanted to nominate Corby Little for an NBT Hero award. Corby works in the facilities reprographics office. Corby has been invaluable in providing support to the People Team. We have had a number of shot notice urgent requests come through, such as producing complex Trust Board Appeal packs. Nothing is too much trouble and Corby is always amazing going out of her way to help us out and ensure we meet these tight deadlines. Corby provides customers with great customer service being responsive and professional and really lives out our CARES values being supportive to other colleagues. Thanks Corby!
Louise Hill, Sister of Gate 27a
Nominated by Joanne Smithson, Sister of Gate 27a
Louise is an exellent member of staff who is supportive to the MDT and junior staff, she is also very flexible and covers all shifts at the last minute.
Mollie Sampson, Volunteer
Nominated by Holly Waters, Sister of Gate 27a
Ward 27A would like to nominate Mollie who has been a volunteer on the ward. She is always kind, chatty and helpful. Most recently she stayed late on the ward to support the tea round and meal times when there was no housekeeper on shift. She went above and beyond to ensure patients received their food and drink. Mollie has made a lasting impression on many members of the ward including staff, patients and relatives. Mollie has a kind, genuine nature and has been a great support to us. It has been a joy to see Mollie cheer up many of our long term patients who are awaiting surgery, she will be greatly missed on 27A as she continues her studies.