We're proud to announce that three NBT staff have won Cavell Star Awards.  
Tissue Viability Nurse Isabelle Momber, Nursing Associate Lenka Priessnitzova and Matron Marianne Carter are our inaugural winners, as 2023 marks the first year the awards have been launched at NBT. 
The Cavell Star Awards are awarded by UK-based charity Cavell to recognise nursing and midwifery staff across the UK who provide exceptional care for either colleagues, patients or patients' families.  Staff can nominate their colleagues who stand out in any of these categories. 
Isabelle Momber (pictured above)  joined the Tissue Viability team on a secondment from NBT's surgical admission unit. Since joining the team she has been described by colleagues as an "amazing asset".  
Isabelle was nominated for her "positive, friendly and approachable attitude" and "attention and passion for high-quality patient care". 
On winning the award, she said:  
"I felt moved to receive the award. I work with so many amazing nurses and would like to share my award with all of them."   
Marianne Carter (pictured above with Chief Nursing Officer Steve Hams) , a Clinical Matron in NBT's Medicine division, was nominated for the invaluable support she has provided to colleagues with physical and mental health issues. Colleagues say that Marianne checks in with them during difficult times, she "ensures staff who are 'out of sight are still in mind'" and describe her as "a once-in-a-lifetime kind of a person.'" 
Marianne said:  
"It was a welcome surprise to win the star award, it was especially meaningful to me to know that I had been nominated by colleagues who took the time to share their feelings. The content of the referral was very significant to me on a personal level as it emphasises values that I hold very dear and I am proud that they have recognised how important these standards are to me."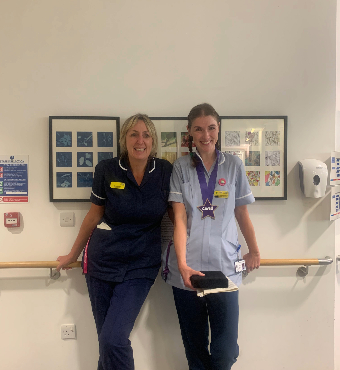 Nursing Associate Lenka Priessnitzova (pictured above, right) has worked on Ward 8A since August 2019, and in that time has progressed from a Band 3 Healthcare Assistant to a Nursing Associate. Lenka was nominated for showing "kindness and compassion to her patients", her collaborative work across teams to achieve the best possible outcomes and her ability to stay calm under extreme pressure. 
Lenka said she was "very surprised" to receive the award. 
"I didn't know that I was being nominated or anything! So, it really did come as a shock!" 
"I feel humbled and lucky to have won and to have been nominated in the first place, because I don't feel that I did anything special or more than any of my colleagues. Everyone I work with are trying their best and doing an amazing job and everyone is also very helpful and supportive of each other. I just got lucky that it was me who was nominated this time thanks to my ward manager Kate Mann (pictured above, left)!" 
On why she nominated Lenka for the award, Kate added:  
"Lenka is also very modest and unaware of her impact to both staff and patients so this award would hopefully give her the credit she deserves for all of the hard work she has shown to achieve her nursing associate registration and support patients, relatives and staff. She is truly amazing." 
NBT's Chief Nursing Officer Steve Hams said: 
"The Cavell Star Awards provide invaluable recognition for those colleagues who have gone 'above and beyond' and have been nominated by their peers or patients.   Congratulations to Isabelle, Lenka, and Marianne on their well-deserved recognition."