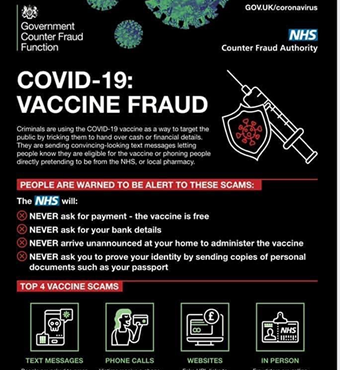 Criminals are using the COVID-19 vaccine as a way to target the public by tricking them to hand over cash or financial details.
They are sending convincing-looking text messages letting people know they are eligible for the vaccine or phoning people directly pretending to be from the NHS or local pharmacy. 
People are warned to be alert to these scams:
The NHS will: 
Never ask for payment - the vaccine is free
Never ask for your bank details
Never arrive unannounced at your home to administer the vaccine
Never ask you to prove your identity by sending copies of personal documents such as your passport. 
Top four vaccine scams:
Text messages. People are asked to press a number on their keypad or to send a text message to confirm they wish to receive the vaccine, doing so is likely to result in a charge being applied to their phone bill and fraudsters collecting personal information to use again. 
Phone calls. Victims receive a phone call from a fake caller offering the vaccine for a fee or asking for bank details. 
Websites. Fake URL links to convincing-looking NHS vaccine booking forms, these look like official NHS forms and may contain some personal information already, at the end of the for it asks for bank details. 
In person. Fraudsters are calling unannounced at the homes of victims by pretending to be from the NHS to administer the vaccine there and then, in exchange for a cash payment.