Help Janine take home GOLD for Apprentice of the Year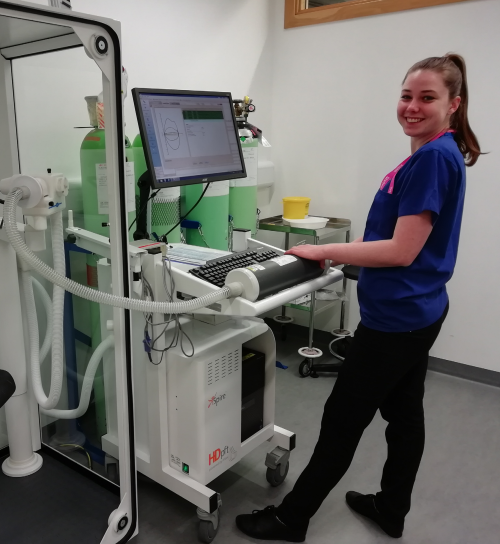 Now in its fifth consecutive year, the awards  - which are organised by Skills for Health -recognise and honour the hard work and dedication carried out daily by thousands of health heroes across the UK.
Since joining the Respiratory Physiology team in 2018, Janine has developed her practical skills & knowledge to become the best that she can be, whilst putting the patient at the centre of her work.
Her academic insight into the field helps to push forward innovative changes, evidenced when recently volunteering to make a patient leaflet for a new test, which as a result the Trust is now the only hospital in the South West & Wales to offer - the leaflet sent to every patient that attends. Also involved in producing a patient information video to support a new home spirometry service, she is an essential part of the development & support of these innovative new services. Janine is a truly passionate ambassador for respiratory medicine & apprenticeships.
You can help Janine to win by voting for her here. 
Responding to her nomination, Janine said:
"When I discovered I had been nominated for this prestigious award by my fantastic Respiratory Physiology team I was shocked and humbled. Being an apprentice gives me great pride and is a rewarding piece of my life that I will never regret.
The apprenticeship and respiratory team here within the trust are amazing and have been my true inspiration for my journey so far and my journey yet to come.
I would also like to pay particular thanks to the fantastic teams at North Bristol NHS Trust. This is for all the hard work you have and continue to put in, so patients can be provided with the best care possible and how during this pandemic there has been no exception. You are truly the real heroes that we all should aspire to be!"
Jonathan Hall, Non-Medical Education Manager said:
"Janine is a shining example of an outstanding apprentice. Throughout this challenging year, Janine has continued to put her patients first and drive innovation to improve patient care. She has gone above and beyond supporting other areas of the Trust with essential fit testing of PPE for her colleagues.
Apprentices like Janine help strengthen and build the future of the NHS.
This nomination is truly well deserved, congratulations Janine."