This International Women's Day we are proud to celebrate and recognise the incredible women who contribute so much to our trust. Read below the stories of just some of NBT's inspirational women. 
If you are feeling inspired about joining the trust, visit our careers page for more information and why a career here might be right for you.
Juliette Hughes - 

Deputy Chief Nursing Officer
Since being a student nurse in 1988, I have worked for NBT, in the community, acute and voluntary sector as well as working for the CQC.
I have been proud to work in three of our five NBT divisions with a significant amount of time as the lead nurse for ED. I have been the divisional director of nursing (previously Head of Nursing) for medicine, ASCR and WACH.
I have loved every moment of my nursing career. I have worked with the most incredible people and feel privileged to have worked with patients and families in all sorts of settings. I continue to feel inspired every day by the teams I work with and am so incredibly proud to work for the NHS. I am also grateful to have made so many friends in the colleagues that I have and still work with.
My nursing career has also given me so many opportunities. I have been able to teach on a variety of courses, work in schools, support community groups and be part of a road safety initiative that has reduced road deaths by 50% in 17- 20 year olds.
I would highly recommend working in healthcare and would do my time all over again, but my home life is even more important to me. With a husband and three grown up children, I love spending time with family and friends. To maintain a health work/life blend, holidays are really important to me as a time to relax and enjoy being with family.
My family are proud of the role I have and support me brilliantly. I think having this support is key to being able to achieve my goals in my personal and work life. It also gives me an opportunity to support and encourage them – with two teachers and a student nurse as children, we all understand the challenges and rewards of each other's roles.
Gifty Markey - Head of Patient Experience
Reflecting on my journey as a woman who has had the opportunity to grow and develop amidst juggling other responsibilities as mother, wife and leader in other charitable roles has come with its challenges, but all seem to have worked well for my growth. Becoming a nurse was far from my mother's dream of being a lawyer. I intentionally chose to study Mental Health Nursing because I knew I had a lot to offer to support others and it would be fulfilling by giving me the platform to serve people at their most vulnerable state. I have never regretted the choice I made 23 years ago.
My nursing career has given me incredible opportunities to work in a variety of specialities and I have enjoyed the stretch and growth along the way even though some came through painful experiences. I feel blessed that I have always been supported to progress in my career through education and taking on developmental opportunities when they arise. I have always challenged myself to never work at an autopilot state as this caps my growth and leaves me in comfort zone.
I have a decisive attitude and this I am sure has helped me take opportunities as they unfolded without dithering about the risk. The support from my family, colleagues and line managers has been a great influence on my growth and development. I hope my journey inspires someone because I know, it is not always easy to grow and be accepted as a person of colour. Sometimes it feels like a constant battle of having to justify your place at the table. Finally, I urge all women to never give up on your dreams, keep pushing because your failures can be part of your success story.
Gemma 

Quijote - Ward Sister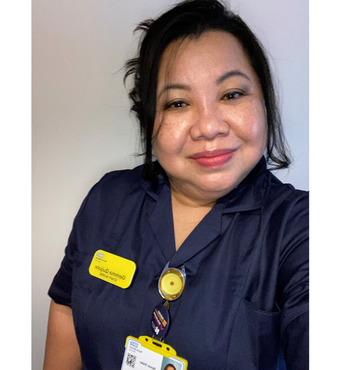 I am a single mum and had three young children when I first came to the UK. Coming from the Philippines it's has been a challenge with a new job, new environment, new climate and adjusting to a new culture with my top priority being supporting my children. I'm thrilled that all my children have become members of the NBT family too.
Being a mother and a nurse, I've faced so many challenges. But I believe in myself and I've fought and succeeded. It wasn't easy but with determination I have achieved my definition of success.
I never compare myself with anyone as my source of happiness and my level of contentment differs from them. Everyone is unique in their own ways.
I would like to wish all women, regardless of our different backgrounds, a happy International Women's Day. Let us be proud because whatever struggles we've had we are powerful to surpass them with confidence and dignity.
Rebecca Winterborn 

- 

Consultant Vascular Surgeon and Clinical Lead for NBT Hospital at Home, BNSSG NHS@Home and NHS@Home SW (NHSE)
I have worked in the NHS for nearly 25 years and have been a Consultant Vascular Surgeon for over 10.  
I enjoyed my training and felt so privileged to have a job that I loved. But, following a unique and tragic trauma case, in 2013, I suffered with PTSD. After three months off work and a course of Eye Movement Desensitisation and Reprocessing therapy, I made it back to work and eventually learned to love my job again. 
The next few years brought more challenges as both my children have chronic health conditions. I learned the importance of putting myself and my family first.  
In May 2020, during the pandemic, another unique and tragic maternity emergency case re-triggered my PTSD.  
Once I had pulled back from the depths of despair, I worked with a coach to explore my future path. I explored my values and started to recognise that self-care and replenishment allow us to be our best selves and ultimately this has a greater impact on those we care for at home and at work.  
I decided to stop on-calls and reduce my clinical time. I became clinical lead for Hospital at home and through my passion for developing our system-wide Covid Virtual Ward and more pathways for delivering personalised care at home for acutely unwell patients, I was invited to become a clinical lead for NHS@Home SW and our BNSSG NHS@home (Virtual ward service) working with colleagues from UHBW, Sirona, Primary care and social care.  
I have always prided myself on 'being me' at work. People often commented that 'I was not your typical vascular surgeon' I wanted to show that it was possible to break the stereotype, however, I recognise now that it came at a cost.  
I have recently decided to leave clinical practice. I will be concentrating on my clinical leadership roles and developing my coaching and training, working with women who want to be more joyful at work, who want to stop feeling like they are wearing a mask. 
Having a portfolio career has allowed me to be more fruitful and to derive more joy from work. The variety is exciting, the collaborating and networking is incredibly fulfilling, and I feel I can offer more than I do in clinical practice alone. 
As doctors we are used to having goals, which we then reach and are waiting for the next one. I know have intentions instead. I am no longer driven by competition and a need to be the best and the last one standing. 
Life is too short, to not be happy. 
I am excited to be jointly hosting a women's workshop on International Women's Day to explore women's needs and the magic that happens when women support each other.
Danielle Banfield - Trainee 

Consultant Breast Surgeon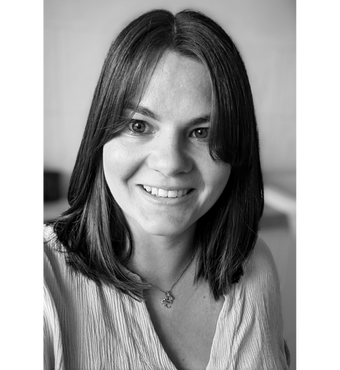 I am currently in my final years of training to become a Consultant Breast Surgeon.
I have wanted to be a doctor since I was very young and after a slightly scenic route I graduated from medical school in 2013. I have two young children at home and a fantastically patient and supportive husband. I absolutely love my job and enjoy the challenges and rewards that it brings. It hasn't always been easy but after almost a decade in training there is some advice I would give my younger self.
Role models and mentors are invaluable. Find the women who have made it to where you want to be, but more importantly will be honest with you about how they got there. I have found many inspirational mentors but the ones who have helped me the most are those that have been honest about the realities and difficulties of surgical training. They have shown me that it is possible to get to where I want to be, but also validated my struggles - anything is possible but it won't always be easy.
Don't buy into the superwoman myth! No woman is an island and you can't be all things to all people. It's so important to challenge the culture around this idea. It is not realistic or necessary to always be happy, strong, in control, organised, the-mum-who-has-and-does-it-all, or the-colleague-who-never-struggles. This narrative can be so harmful, and puts unnecessary and unachievable expectations on women. Your life and your priorities will change along the course of your career, and you don't have to sacrifice your health and your family to succeed.
Sometimes there is a perception that you have to change yourself to get ahead. You don't! I strongly believe that in a male dominated world it is important to embrace the unique skills, abilities and perspectives that you as a woman bring to your working life. Becoming a mother definitely changed my approach to a lot of things and in many ways made me a better doctor. There is so much to be gained from owning your 'soft power' and using it to the advantage of all those around you.
I hope my two little girls see what I am doing and believe that anything is possible. That it  isn't always a smooth path, but that you - unchanged, unfiltered and undiluted - can do great things.