This week we celebrate Learning at Work Week!
Meet Tianna, Mollie, Jamie-Anne, Laura, and Amy who all share their story that created their future.
If our learners have inspired you, visit www.nbt.nhs.uk/Careers to find out why a career here might be right for you!
#TeamNBT, create your future – visit LINK to discover your learning at work opportunities.
Tianna – Talent Acquisition Specialist
"I started at North Bristol NHS Trust in 2019 as the Leadership and Management Administrator in our Staff Development department. Right from the start, I was offered the opportunity to undertake the Business Administration Apprenticeship, which really stood out to me as it showed that the Trust are fully supportive of career progression routes.
"Whilst in that role and working in the department, I learned a lot about the different learning opportunities available at NBT. Part of my role was to help administrate the ILM Level 2 programme which straight away took my interest. In June 2021, I decided to enrol onto the programme and completed it! I thoroughly enjoyed taking part and it gave me a clear insight on what qualities and skills are needed to be a strong team leader. I also had the opportunity to take part in a job application and interview skills workshop which gave me the confidence and knowledge needed to take the plunge and apply for a role that would allow me to progress.
"I am now currently on secondment with the Talent Acquisition Team, supporting with recruitment across the Trust. I also hold a business qualification which included various units such as recruitment, events, and marketing so it has been great to be able to bring some of the theory I previously learned, to my now day-to-day role!"
#TeamNBT - create your future, visit LINK to find out how you can learn at work.
Mollie – Trainee Nurse Associate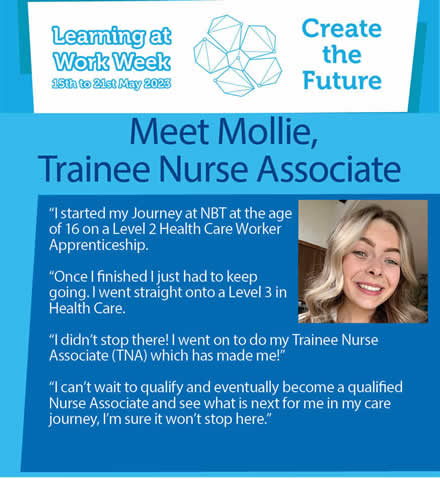 "I started my Journey at NBT at the age of 16 on a Level 2 Health Care Worker Apprenticeship. I found the course challenging at the start and had many highs and lows. It gave me the foundations and skills of what care is and I loved it! I had amazing support from the Learning and Research Team. Whenever I struggled, I always had someone to help me. This was the beginning of me and my career in healthcare and gave me all the tools I needed to support and care in a holistic approach.
 
"Once I finished, I just had to keep going. I went straight onto a Level 3 in Health Care. This allowed me to build on my care skills and develop my clinical work in practice. I enjoyed the skills sessions (study days) as it allowed me to have a good understanding of what I was doing and implementing it into my practice.
 
"I didn't stop there! I went onto do my Trainee Nurse Associate (TNA) which has made me! I was nervous at the start, but it has filled me with confidence. Being able to go to different practice areas in the community and within the trust on placements, I have learned so much. I have enjoyed all my modules and can bring all my learning into practice. I can't wait to qualify and eventually become a qualified Nurse Associate and see what is next for me in my care journey, I'm sure it won't stop here.
 
"All I can say is a massive THANK YOU!! To NBT and everyone I have met along the way, in supporting me to become the carer I am today. I love my job, it has its challenges, but I wouldn't work anywhere else. The apprenticeship route has given me all the tools I need to go up the bands and develop myself whilst earning and working at the same time."
#TeamNBT - create your future, visit LINK to find out how you can learn at work.
Jamie-Anne, Senior Healthcare Assistant
"I was allocated to Julie, a Healthcare Assessor, towards the end of 2022 to complete my Level 3 Apprenticeship and I found the experience really good and supportive.
 "We got things kicked off quickly and Julie came and did observations - it has been really good to have that guided support and I got everything I needed to do done quite quickly, which is what I wanted.
"I am thinking about progressing eventually and I think I'm probably going to go straight to university rather than doing the Trainee Nurse Associate, just for home life balance with children and things like that, until then I will have my Level 3 Diploma in Health & Social Care. 
"The training and the skills that I have learned have really helped me develop and I don't think I would have come into healthcare if I couldn't have done the apprenticeship route, it has helped me to get my foot in the door and progress in my career."
#TeamNBT - create your future, visit LINK to find out how you can learn at work.
Laura, Nurse Associate
"I have been working at NBT for eight years now. I started off joining NBT as a Band 3 Health Care Assistant as I was previously a Band 3 in the community but wanted to progress more clinically.
"When starting my new role as Band 3 I had to do extra training to be able to participate in dressings, venepuncture, and observations which I had a lot of support from the Trust.
"A few years into my role I applied to become a Trainee Nurse Associate. To be able to do this role I had to take maths and English lessons and pass at a Level 2, which was funded and taken at work, which helped me to progress onto the course.
"After two years at UWE as an Apprentice, and being able to still work and study, was an amazing opportunity for me with having children and a busy home life. I received a lot of support from NBT to be able to see the course through and I have now been three years qualified and loving my role.
"Last year, the Trust had a few positions available for me to be able to finish the final year which will enable me to become a Band 5 Nurse, luckily, I got through the interview process and am now in my final months on the Nursing Degree course!
"It will be four years in total training and working and it has been stressful and hard trying to balance work, UWE, and home life but with the support from my work colleagues, friends and family I wouldn't have got through it.
"It has been a goal for me to be a Nurse and never thought I could do it, but NBT has given me these amazing opportunities to progress and achieve my dream goal.
"Once I've qualified and gained more confidence in my new role, I would like to become a Band 6 at some point and I'm sure I will with the support from NBT and my work family.
"I absolutely love my role and working for the NHS and will continue to do so for as long as possible.
"Before I started working for NBT I had little confidence with interviews and talking in front of a crowd of people, by working here I have grown not only with my confidence but in myself as a person too;  I now believe in myself and know that I can achieve what I want in life by having the support from people around me in my job."
#TeamNBT - create your future, visit LINK to find out how you can learn at work.
Amy, Specialised Cardiac Physiologist
"I joined NBT as an ECG Technician after completing a BTEC Qualification in Holistic Health & Beauty, but not having found my niche in that area. I am indebted to the wonderful team of managers in Cardiology at that time, who spotted potential in me that I didn't dream existed. They sponsored me through a four-year degree in Clinical Physiology.
"My learning journey didn't stop there, they have supported me through in-house leadership training (the photo is me collecting my ILM Certificate with my cohort, many still working at NBT), and further specialist cardiology courses. I am proud to be a Highly Specialised Cardiac Physiologist, a career I love and all thanks to NBT!"
#TeamNBT - create your future, visit LINK to find out how you can learn at work.
If our learners have inspired you, visit www.nbt.nhs.uk/Careers to find out why a career here might be right for you!