May's NBT Hero Award Return In Person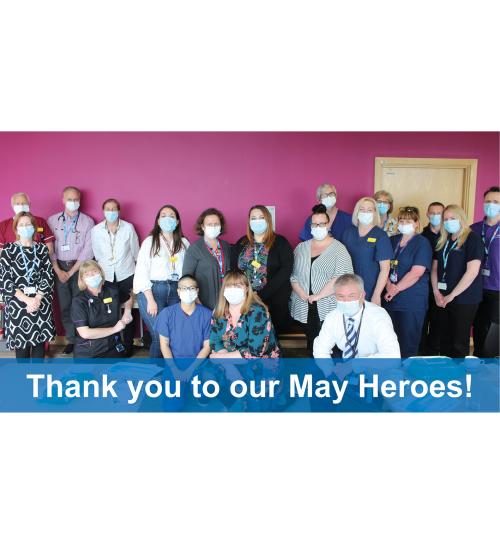 For the first time, after one and a half years of virtual awards, this month we've been able to hold our hero awards in person and we couldn't be more excited.
Being back in person, the winners were greeted by Maria Kane, Chief Executive and Tim Whittlestone, Chief Medical Officer, who individually thanked each hero for always going the extra mile. The winners then got to hear the heartwarming things their colleagues had said about them in their nominations and there was also time for coffee and cake.
The winners were chosen for their incredible energy and drive, for pushing through difficult times whilst continuing to provide the best care for our patients and going above and beyond to help make others' lives easier - all with a smile. Read May Heroes nominations below:
 
Juliette Hughes, Divisional Director of Nursing
Nominated by Bonny Hetherington, Midwife
Juliette came to work in W&CH and has made incredible changes! She has bought an incredible energy to the whole department. When Juliette arrived she turned our Division around; staff are motivated by her positivity, her drive for change, her nurturing qualities and her willingness to drop everything she's doing to get her hands dirty on the shop floor (whether that's assisting in a clinical emergency, or making tea and toast for our patients). I know that she's motivated me to be the best Ward Sister I can be, but her approach to her work is recognised around the unit and staff are suddenly seeing positive changes, morale is improving, staffing issues are being resolved and W&CH is a better place to work, which I think reflect just how amazing she is in her role. She is a NBT Hero through and through.
Keith Davies, ICU Consultant
Nominated by Reston Smith, ASCR Clinical Director
Keith is an unsung hero of the ICU. He always advocates strongly for his patients and he communicates easily with patients and their families. He endeavours that the patient is at the centre of everything we do, not only through his direct clinical work but also as the clinical governance lead for ICU. He drives forward standards and ensures that safety and quality are central to the daily business of running the ICU. He is well liked and respected by all of his colleagues from across the MDT. He is a lynchpin of the ICU rota, supporting the safe delivery of the service when people are off sick, or there are rota gaps. Thank you, Keith.
Becca Bambridge, Senior Physiotherapy Technician
Nominated by Sophie House, Senior Physiotherapist
The last few weeks have been incredibly difficult for the Burns and Plastics Physiotherapy team, but during this time, Becca has been nothing but supportive and hard-working, and her positivity and resilience has never wavered - she also made me feel at ease with my additional leadership responsibilities and always listened. We have worked as a team throughout and although it has been relentless, it has been a pleasure to work with someone who is so passionate about the Burns service - and who is always on hand with an emergency cuppa when it is needed. Our Physiotherapy technicians often don't get the recognition they deserve, so I want Becca to know how much she is valued within our team, and how much I have appreciated her support during a challenging time. She is a credit to the Burns and Plastics service and we are so lucky to have her within our Physiotherapy team.
Matthew Johns, Equipment Manager
Nominated by Vicky Styles, Clinical Manager AAC West
Matt is an extraordinary colleague and I know I speak on behalf of the whole team at AAC West when I say we are very lucky to have Matt as our colleague. His cool, calm and methodical approach to managing the equipment for our large team means that, as clinicians, we can rest assured that the equipment for our patients is prepared and where it needs to be, leaving us free to focus on the clinical activities. He is exceptional in his role and his approachable personality means all the team benefits from his "can do attitude".
Nigel Bush, Superintendent Radiographer
Nominated by Dawn Stanley, Radiographer
Nigel goes above and beyond every day, with the care of patients being his top priority. Recently when none of the rest of the staff could encourage an inpatient to move from his bed to the scanner table, Nigel was able to calm him down and persuaded him to have his scan. He stood next to the patient holding his head and talking to him for his entire scan.
On another shift, Nigel went out to call a patient and while this happened another patient in the waiting area became very ill and collapsed. Nigel quickly and calmly took control of the situation and performed CPR until the Clinical Emergency Team arrived. The patient survived because of Nigel's quick actions. He is very modest and didn't tell anybody in Nuclear Medicine what he had done that day and carried on as normal. He went to see the patient on the ward later that day and received a thankful handshake. Thank you, Nigel.
Marketa Kosta, Administrator
Nominated by Julie Gibbs, Research Administrator
I would like to nominate Marketa as she is always willing to go the extra mile. She is keen to learn and does everything in her power to ensure the smooth running of the administrative side of the Antimicrobial Research Laboratory. Nothing is ever too much trouble, and she is never seen without a smile on her face. Her attention to detail is impressive and she is always willing to help wherever she can. She is a real asset to the department and makes my time at work more joyful with her presence. Marketa, is a true NBT Hero.
Sonia Barnfield, Consultant Obstetrician
Nominated by Paul Mannix, Clinical Director
Sonia is a living and breathing hero! She has been Specialty lead for obstetrics for the past 8 years and has steered us through the ever-increasing complexity of Governance. She has challenged us all to put governance and risk at the forefront of what we do and has championed the philosophy of Civility Saves Lives. She is always ready with a solution to a problem and has thrived on looking at collaborative ways of working with our colleagues at UHBW - particularly in dealing with the problems Covid posed. I am sure I would be supported by many others across our Division and the wider Trust in putting Sonia forwards for an NBT Hero Award. Thanks Sonia for all the hard work and support!
Nickolaos Tsogas, Consultant
Nominated by team on Gate 8b
We would like to nominate Nickolaos for bringing his positive personality and professionalism to Gate 8a at a time when we needed an uplift. Being the outlying Consultant is a difficult role at times, managing many patients when the Trust is under extreme pressure and having to embed yourself in new teams on different wards. Nickolaos has only been with 8a for a short period of time but in this time, he has been a pleasure to work with – he is engaging, friendly, recognises the needs of our area and works to support his medical colleagues by showing flexibility and understanding. His sense of humour and warmth has come when the nurses and MDT are feeling exhausted, yet he still manages to give us all the lift we've needed. He is friendly, approachable and the patients have commented on how much they like him and how he makes time for them and listens despite being extremely busy covering many areas. Thank you Nick for all your hard work on 8a it does not go unappreciated.
Amy Verinder, Renal Supportive Care Nurse
Nominated Alexandra Hodsman, Consultant
Amy and I have worked together since 2015 developing the renal supportive care service. She provides outstanding care for patients having their kidney disease managed conservatively and for patients with advanced kidney disease reaching end of life. She has developed extensive expertise in managing some of the most complex patients in our service for example haemodialysis patients lacking capacity who need complex discussion to ensure we are acting in their best interests. Despite these difficult situations, she is always empathic, compassionate and myself and my consultant colleagues are always grateful for her sage advice, support and help managing some of our most complex patients. She thoroughly deserves to be recognised for her work.
Maria Nikita, Assistant People Advisor
Nominated by Dave Llewellyn, People Team Partner
Maria always gives great service to colleagues helping answer queries about our Trust's people policies, but this month Maria really when above and beyond. Maria had previously met this member of staff when she supported lots of colleagues make applications for settled status. The staff member remembered Maria for all the help she had provided then and sought out Maria's support with this further visa application. Together they completed all the documents that were required and Maria arranged for the member of staff to have an appointment with the Home Office which was successfully approved. Maria spent a lot of time with this colleague whilst also balancing all her other work priorities.
They were so grateful for all the support they received from Maria they came to the office to thank Maria in person and leave a gift. Due to the gift being a high-value voucher Maria had to decline to accept the gift in line with our Trust Policy so we wanted to recognise Maria on behalf of the colleague in another way.
Laura Webb, Patient Pathway Coordinator
Nominated Kelly Caley, Medical Secretary
Laura has been working within the neurosurgery department for nearly 5 years now, undertaking various job roles in that time before helping to set up the NPH team along with Richard Edwards, Consultant Neurosurgeon and becoming the NPH Patient pathway coordinator. Laura really is the backbone of this service being the first point of call for patients and their relatives, supporting the clinical team when in the clinic or being at the end of the phone whenever they need her. She is extremely kind and caring towards her patients and always takes the time to sit and listen to them. Without Laura the service would not run anywhere near as smoothly as it does. I think Laura deserves to be acknowledged for everything she does.
Abbie McDonnell, Patient Pathway Coordinator
Nominated by Talal Valliani, Consultant
Abbie goes over and above her duties as Secretary to help deliver patient-centred care. She always helps our patients in a kind and calm fashion when they contact the department and will ensure she raises their concerns appropriately and in a timely way. She is diligent when it comes to helping to organise the outpatient clinic lists even though it's strictly not her role but I can see how her assistance ensures that the clinics run smoothly and efficiently. She is always willing to help with any task and her expertise is invaluable to the team. Thank you, Abbie.
Caroline Lewis, Plastics Breast Nurse
Nominated by Caroline Ann Oates, Lead Breast Reconstruction Nurse Practitioner
During the first lockdown, Caroline worked in Gate 24a helping the clinic nurse review wounds and dressing. She also helped out in the Breast care centre when they were short staffed and needed help and support. Never minding where she would be working or helping out, she is always happy to be flexible and accommodate what's needed. Caroline always brings her joyfulness and empathy to every situation. She has an amazing relationship with patients and is always happy to go out of her way to make sure they are cared for. When she is in the clinic seeing patients you can always hear laughter from the patients which enables them to feel more relaxed and able to communicate any problems. Caroline is a great asset to the team and goes above and beyond on a daily basis to help out her patients.
Margaret Newson, Consultant Neuropsychologist
Neil Barua, Consultant Neurosurgeon
Dr Newson has recently started working with the neuro-oncology team undertaking intra-operative testing for awake craniotomies (brain surgery in awake patients). The aim of this testing is to preserve neurological function and maximise quality of life. Dr Newson has made a huge contribution to the service in a very short time, introducing innovations and individualising patient care. Most recently a patient had difficulty recognising the faces of famous people, which was an important test for his surgery. Dr Newson made an outstanding contribution by developing a personalised assessment which tested this patient's ability to recognise the faces of his friends and family, requiring her to learn the names and faces of over 20 people to make the test feasible.
Steven Lee, Repair Engineer
Nominated by Kim Harris, Booking Clerk
I took a call from a client that had a puncture on their wheelchair and was stuck and could not access the toilet or kitchen and felt stranded and they were in distress. I visited the repairs department, I spoke to Steve who immediately took it upon himself to search for spare tyres and visit the client. His response was just amazing and dealt with the situation so swiftly and efficiently. Our repair team don't always get recognised as they are always out and about day and night. The client was so grateful and thankful. Steve was amazing.
Amy Parsons, Administrator
Nominated by Stefan Sowka, Service Manager
During the last few months, the department Amy works in has experienced many challenges, but this has not stopped Amy from continuing to go above and beyond for our patients and the team. At times we have had to change appointments for our patients at short notice, yet despite this, I regularly get to hear that our patients have commented positively on Amy's diligence in keeping them well informed and ensuring that what we do fits in best for them. She does this all with a cheerful disposition and puts the patients at ease, assuring them that nothing is too much trouble. Amy is a graduate of our apprenticeship scheme and a big asset to the department. I feel her hard work, diligence and work ethic merit recognition.
Ming Wai Lee, Staff Nurse
Nominated by Suzanne Crew, Site Nurse Practitioner
My spirits rise whenever I hear Ming's voice on the phone, as I know I will receive an excellent SBAR handover enabling us to make a quick assessment of her patients needs and triage appropriately. She is always happy and smiling, despite any adversities she may have needed to overcome, and her resilience during the pandemic has been superb. Her development has been phenomenal and inspirational to see.
She is very modest and would not sing her own praises, therefore the Hospital @ Night Team wish to do this both individually and as a group, just to show how much we appreciate her and how big of an asset she is to our team.
Jane Pereira-Almeida, Sister
Nominated by Roopa Miranda, Staff Nurse
Jane is one of the kindest people I know and has made a huge difference in my transition from another country to the UK. Every internationally educated nurse can struggle with relocation, but Jane went out of her way while we were staying in quarantine to help. Despite her busy work schedule, she cooked food, help with our shopping and most importantly did viewing for houses which is one of the toughest parts. She is very approachable, kind, softly spoken, and always available just like a real sister. I did not know her personally before coming here and yet she has done so much. I know she has also helped many other internationally educated nurses. She made me feel like this place is just like my home and made the move very smooth. This did not stop after the first few months, she still made sure that we were okay and settled. Sometimes as human beings we forget that we don't have to do many great things in life but small acts of kindness make huge differences and that's the reason I'm nominating Jane as an NBT hero.
Catherine Adams, Assistant Practitioner Nursing
Nominated by Kate Sheppard, Staff Nurse and Grace Cole, Staff Nurse
Kate:
We are nominating Cate as she is an amazing member of our team on 26a. She goes above and beyond to help and support not only our patient but all our staff. She is so kind and so lovely to everyone, nothing is ever too much. I feel she should be recognised as she is invaluable on our ward and her hard work and positive attitude often goes unnoticed. She is a real asset to the NHS and to 26a.
Grace:
Catherine has always been amazing to work with on 26a, she has the most positive attitude and such a kind soul. I know I speak for a majority when I say how Cate is a rock for so many team members and patients. She will always go above and beyond each shift to make sure each patient is listened to and looked after, many speak of how kind she has been to them, and you can see how much patients appreciate her. Cate is the most positive person to be working alongside and her joy and kindness is infectious. I'd like Cate to know how important she is to so many and how much she is appreciated and that how her kindness is her greatest strength
Rajimol Rajan, Staff Nurse
Nominated by George Duffield, Workforce Matron
Rajimol arrived in the UK in November 2019 and gained her NMC registration in early 2020 as the UK was starting to enter COVID lockdown. At the time, Rajimol and her cohort of internationally educated nurses should have been starting to explore and enjoy life in the UK she instead had to face uncertainty and lockdown. Despite this, she took it upon herself to support and welcome internationally educated nurses and has been a strong voice for ensuring their feedback is heard. She also leads on supporting internationally educated nurses in the Emergency Department to ensure they feel welcomed and valued at a time of great anxiety for these nurses. She is a true NBT Hero who has gone above and beyond and has ensured that multiple internationally educated nurses become part of the NBT family.
Hannah Ferris, In-patient and rota Support Manager
Nominated by Lynsey Wynne, Performance and Operations Manager
Hannah has consistently gone above and beyond for GI services; demonstrating perseverance and resilience throughout her time in the department. Hannah's dedication to the service has been unwavering, offering support to our Junior Dr teams and she always puts in 100% to arrange cover for rota gaps to ensure a safe service can be delivered. The whole of the department would support me in saying that Hannah's forward thinking and cover planning have been invaluable to the service and her positive energy and excellent communication has made a huge difference to the teams in really challenging times. Hannah stands out as deserving of an NBT hero award because not only is she is always willing to help and shows a continued commitment to her team, but her impact on our patients is also undeniable.
Tom McDonough, Senior Therapy Support Worker
Nominated by Kerri Wright, Therapy Support Worker
Tom is an amazing colleague - he has endless knowledge that he is happy to share and is always there to support you, whether that is personally or professionally. He will always look to improve his own knowledge as well as encourage others to do the same. He is constantly mentioned in feedback forms from patients saying how much of an impact he had on their recovery. Colleagues, patients and their relatives all recognise how amazing he is, but he just sees it as doing his job. I want to nominate Tom for the NBT heroes award because without him our team would not be as knowledgeable, efficient or proactive. He makes everyone's jobs a lot easier and we are so incredibly lucky to have him in our team.