Medical Director Chris Burton steps down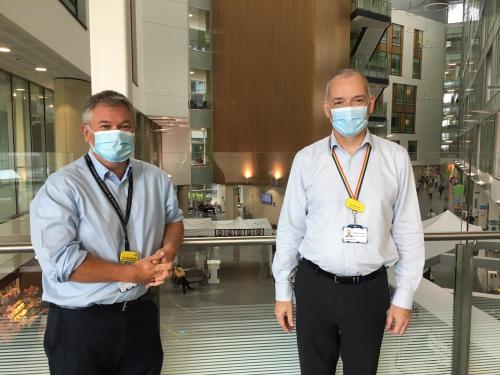 After 12 years of clinical leadership at NBT, Medical Director Chris Burton has stepped down from his role. Deputy Medical Director Tim Whittlestone will be joining the board on an interim basis to take on the role while a permanent replacement is recruited. 
Maria Kane OBE, CEO of North Bristol NHS Trust said: "I would like to thank Chris on behalf of all staff and patients here at NBT for the outstanding clinical leadership he has provided to our organisation over the years. It has been an honour to work with him, and we will miss the dedication and professionalism he has continued to show, through thick and thin."
Tim will take over as Interim Medical Director for six months from August and will continue to provide Clinical Leadership for the COVID-19 Vaccination Programme. As a Consultant Urological Surgeon, a Deputy Medical Director, and a former Clinical Director of ASCR, Tim has already made a huge contribution to NBT. Passionate about transformation and the power of technology to improve care, he has over the past 18 months also been the clinical lead for the NHS Nightingale Hospital Bristol and the Covid-19 vaccination programme in Bristol, North Somerset and South Gloucestershire.