Military challenge success for NBT
A team from North Bristol NHS Trust won the 2019 South West NHS Military Challenge run by 243 Wessex Field Hospital on Dartmoor.
The team of 12 were put through their paces by Army, Royal Navy and Royal Air Force teams in a number of staged scenarios aimed at seeing if the teams have what it takes to enrol as reservists.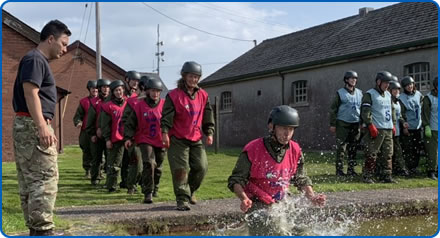 The annual event saw NBT's team up against 20 other trusts from across the region. 
The weekend challenge saw teams take on a number of gruelling challenges including a complex planning exercise, rifle shooting and treating a casualty under fire.
It was NBT who came out on top ending Salisbury Hospital's two-year winning streak.
Sam Turner, Consultant and Team Captain, said: "We dared to dream about winning, but could not believe it when it was announced.
"It was a fantastic experience and one I highly recommend."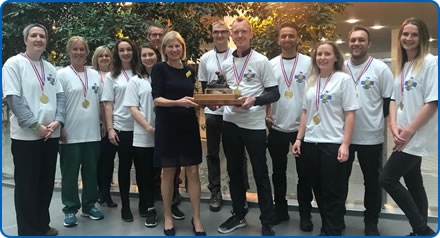 Andrea Young, North Bristol NHS Trust Chief Executive, said: "This achievement really showcases the best of NBT.
"Many of the team had never worked together but they showed great togetherness and I'm thrilled they brought the trophy home."
The team are continuing to meet and will be taking on the Weston 10k Christmas Cracker.
Who are you? Team 14!
List of team members:
Kirsty Clarke – AMU Staff Nurse
Freya Murch -  Perform Coach/Senior Staff Nurse
Beth South – Genetic Technologist
Paul Archer – Genetics Team Manager
James Hopkins  -Consultant Bariatric Surgeon
Sam Turner (Team Captain) – Consultant Transplant Surgeon
Sue Wensley – Consultant Geriatrician
John Hickey – MRI Radiographer
Raindeep Sohi – Genetics IT Support Technician
Jen Pridgeon – Genetic Technologist
Nikola  Jones - Genetic Technologist
Liz Perry – Director of People