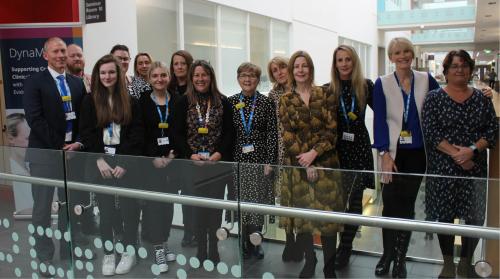 North Bristol NHS Trust has been graded as making 'significant progress' across all themes by Ofsted for their Business Administration, Customer Service, and Team Leadership apprenticeship programme.
The Apprenticeship Centre at Southmead Hospital has been delivering a successful programme for several years and in September 2021 was added to the Register of Apprenticeship Training Providers. Currently, 65 colleagues are enrolled in an apprenticeship at varying levels.
Of those staff who have taken part in an apprenticeship, 67% have progressed into promotional roles within the trust, either during the programme or once they have completed, and last year 100% of Customer Service and Business Administration apprentices achieved a distinction.
The report said: "Senior Trust leaders are highly committed to delivering apprenticeships to improve the skills, knowledge and behaviours of staff. Apprentices enjoy working in Southmead Hospital and are valued members of staff."
"Apprentices rapidly develop their self-confidence. They feel well supported by their assessors and colleagues and this gives them courage to cope with new situations."
Tiffany Patten-Lawrence, Apprenticeship Centre Manager, at North Bristol NHS Trust, said: "Our apprentices, their learning journey, and their successes are at the heart of everything our team does."
"We're Incredibly proud to have achieved this Ofsted result which showcases the dedication of our team to provide engaging, high-quality apprenticeships for staff."
Chief Executive, Maria Kane, visited the Apprenticeship Centre to congratulate staff on the achievement and hear from current apprentices about how studying has benefited them in their areas of work.
You can read the report here.