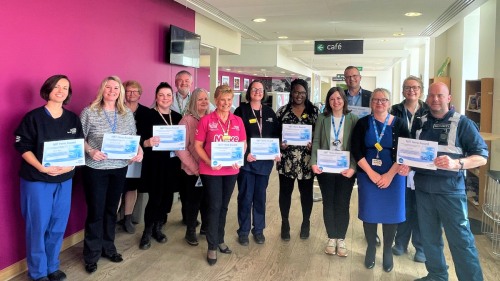 On Thursday afternoon, we celebrated our second round of hero award winners for 2023.
The awards celebrate staff and teams who go above and beyond for their patients, recognise unsung heroes, and demonstrate our values in everything they do - being caring, ambitious, respectful, and supportive. 
The 20 winners were nominated by their colleagues or on behalf of patients who shared the difference the member of staff had made to them. It's often something that our Heroes may not even recognise they do, but it means a great deal to someone else.
The winners were invited for coffee and cake, where they got a chance to meet their fellow heroes, find out why they were nominated and take the time to celebrate each other.
You can read more about our incredible winners below: 
Jill Randall, Move Maker Volunteer Manager 
Nominated by Kathryn Tudor, Volunteer Service Manager
I am nominating Jill Randall for an NBT Hero Award because of her outstanding work overseeing the coordination of 35 new wheelchairs. Previously, Jill has led the Move Maker team to look after the atrium wheelchairs for outpatient use for many years. This is not a small task and includes tracking the wheelchairs, cleaning them for patient use, and arranging repairs. The dedication to ensuring that wheelchairs are spotless and available to outpatients has made an incredible benefit to the patients and visitors who use them. Jill initiated the idea of upgrading the Atrium wheelchairs after witnessing a risk to patients who found the swivel footrest difficult to use without staff support. Southmead Hospital Charity generously agreed to fund 35 top-of-the-line upgraded wheelchairs which feature a sliding rubber footrest. This footrest will greatly improve both patient experience and safety, reducing any stress or anxiety they may feel as they navigate the hospital. Jill led a team of passionate Move Makers to organise the successful launch of the new chairs. Jill also contacted many other hospital departments to distribute available wheelchairs to support their patients, spreading the benefit even further. The delivery, organisation and distribution of the wheelchairs was executed with brilliant attention to detail and all to improve the patient experience.
Trudi Meredith, Patient Transport Liaison Officer 
Nominated by Sharon Andrews, FM Operations Manager
In her daily role, Trudi manages patient transport throughout the hospital and I want to highlight some recent instances where Trudi and her team went above and beyond and juggled the driver's schedule to ensure a patient who was admitted made it to his wedding and then safely returned him and his new bride to the ward after the ceremony, a really caring and compassionate thing to do. In the same week, we received a lovely letter from a patient's grandchild who wished to thank Trudi for the support she gave to their grandparent. The letter reads: "Right from the very first time you came to his hospital room in person to let him know what was going to happen, you took it upon yourself to not only help him get home but in the safest & least stressful way possible which was so reassuring. You always went out of your way from beginning to end & for that, we will be forever grateful. I know you have a brilliant team around you, but you are the one who took it upon yourself to get involved & made it your priority to make sure everything was in place and most importantly understood the situation. Just saying how thankful we were isn't enough and I know you will say you were happy to help and only doing your job, but we will never forget everything you did.
Jane Ashby-Styles, Research Nurse 
Nominated by Sharon Nolan, Research Communications & PPIE Manager
The Research team has been one of the first departments across the Trust to fully migrate to Microsoft Teams. Jane has become our 'Teams Expert' and has gone above and beyond her normal duties to help us migrate to Teams; holding mini-workshops, creating a training video and generally being the person to go to if we need help. The department has grown significantly over the past couple of years, which made updating the organisational charts quite cumbersome. Jane suggested a way in which each team could update their team charts onto a PowerPoint slide which links to an overall department structure on SharePoint. I can't tell you how much time and resource this will save. It's almost an impossibility for one person at present to keep the information up-to-date, however, this new method will enable each team leader to update their own team's details with the slides linked centrally. She is utterly amazing.
Agnieszka Batko, Senior Research Grants Officer 
Nominated by Pippa Bailey, Consultant Nephrologist
I'd like to nominate Aga as an NBT hero. In her role as Senior Research Grants Officer for the Trust, she supports members of staff to design, write and submit research funding applications, to allow them to undertake research to improve care. She has helped me personally to prepare two recent funding applications, one of which has been awarded funding and one of which has been invited to a second-stage application. She is friendly, extremely responsive, efficient, supportive, and provides expert constructive criticism to ensure a research study design is feasible, ethical, and acceptable, and that funding applications are well-written and competitive. She is a critically important member of the Research & Innovation team and an asset to NBT. I for one have been very grateful for her support in securing research funding to improve patient care at NBT.
Deanna Stephens, Research Nurse - Acute Care 
Nominated by Kerry Smith, Senior Research Nurse Acute Care
In the past month, Deanna has gone above and beyond to ensure that patients who speak other languages are offered the opportunity to take part in our research. This has included seeking out and finding appropriate permissions, facilities and utilising the telephone interpreter. This is not an easy task as explaining research can be lengthy and complex. In addition to this Deanna has made sure that the rest of the team is aware of the translation services for future use. It is very important that research is offered to minority groups and they can make informed choices about the research that they have the opportunity to take part in. Thank you, Deanna, for all your hard work and commitment to ensuring everyone has access to and involvement in research.
Rachel Cox, Freya Barber, Miranda Spencer, and Nicola Oldfield, Midwives on Percy Phillips Ward 
Nominated by Charlotte Thompson, UWE Midwifery Student
I am a Student Midwife, who has recently completed a training placement on the Percy Phillips Postnatal Ward. I would like to highlight how fantastic my experience on Percy Philips was. Miranda, who I've worked with throughout my degree is an amazing supervisor. Miranda is so thoughtful, kind and provided me with all the opportunities I needed as a 3rd year student. Consistently I received both positive and constructive feedback to improve my practice. The placement enabled me to complete my medicines management training and to feel confident and competent when delivering postnatal care. All the other midwives I came in contact with on my shifts (and especially Nic Oldfield) were also so supportive, enabling me to achieve competencies, even during very busy times on the ward; they went out of their way to ensure I was able to gain experience and reach my training targets during my clinical placement on this ward. Additionally, I would like to thank Freya Barber who was extremely kind and although she was not my supervisor, helped me to practice particular skills and demonstrated a keen manner regarding teaching. I cannot fault the placement experience or the staff; staff on this ward always work hard to provide opportunities for students to complete tasks and time was made available to teach/practice skills. Thank you also to Rachel Cox and those I mention above, but actually, this goes out to the whole team!
Karen Parker, Medical Secretary
Nominated by Dr Andria Merrison, Consultant Neurologist
Karen is a superb medical secretary. The day that we in the Neurology poached her skills from a neighbouring department was a fortunate day indeed for Neurology and particularly the South West Neuromuscular network. Karen is extraordinarily well-organised and is a formidable administrator. She is one of the fastest and most word-perfect typists in the West. By the time a clinic has ended, she has typed all the letters and by the close of the day, they are winging their way to their destination. Karen lives by the traditional core values of the NHS every day. When patients are lost or frightened, she navigates them through the hospital. She listens, she reassures, and she walks in their shoes a little to understand where they are coming from. Frequently patients and families comment on Karen's amazing ability to get things done and her evident kindness. Karen takes care of the patients and families she serves and the team with whom she works. It is a pleasure and privilege to work with Karen and it is with gratitude and admiration that I nominate her for an NBT hero award.
Helen Porter, Healthcare Assistant
Nominated by Gemma Quijote, Sister
I'd like to nominate one of our hard-working HCAs at Elgar. I have worked with Helen on many occasions, and she always goes above and beyond for our patients. Helen provides exceptionally high-quality care and compassion even in difficult situations and times of high pressure; Helen continues to deliver the same standard of care, and I know we all feel lucky to work with her when she is on shift. Helen is always willing to learn, advance her skills, welcomes any training opportunity and is self-motivated to contribute and improve the care of her patients. Nothing is ever too difficult, and her positive attitude and smile lifts the mood of the whole ward when she is working. Thank you for everything you do Helen to support our patients and your colleagues.
Fidow Haji, Domestic Operative
Nominated by Sankar Subramaniam, FM Duty Manager
I would like to nominate Fidow for an NBT Hero Award, to appreciate and recognise his good work. Fidow joined the Trust in July 2022 and moved to a permanent workplace in Retained Estate in January 2023. During only a few weeks in this new role, I have received three appreciation emails from three different teams, regarding his hard work, dedication, friendliness, and willingness to help - going above and beyond to complete his job.
1. I want to pass on my praise of a gentleman we had clean Concorde house last evening, he was very thorough and very helpful.
 2. I just wanted to email to let you know that Fidow goes above and beyond here in the Chilterns. It's so nice to have someone who comes and cleans to a very high standard. He is so friendly and always makes sure he doesn't leave until everything has been done.
3. I am just sending a quick email to show my appreciation for all the hard work of the Gentleman domestic cleaning the Chilterns. We have had issues over the last 12 months, but he is doing a fantastic job, is always friendly and always willing to help when he can! It is so much nicer to come into work to find the kitchen cleaned, floors hoovered, toilet rolls and hand towels replaced, it has improved in all areas of The Chilterns. Thank you so much for sending such an asset to The Chilterns.
Kath Bloomberg, Perioperative Development Manager 
Nominated by Starn Chan, Talent Acquisition Manager
Kath has been an incredible support to us in the Talent Acquisition team. As a team, we represent the Trust by attending several jobs fairs throughout the country and unfortunately do struggle to get representation from various divisions to attend and help spread the message about the roles that are currently available here at NBT. Kath however, is one of the most amenable Clinical Leads that I (and the team) have come across. She understands the importance of what is trying to be achieved and always makes time to help attend and support however needed without question! This, in turn, helps recruitment for the Trust. Although I haven't gone into too much detail and not spoken about all the other ways that Kath helps our team, I just want her to know how amazing she is, day in and day out and is definitely a Hero to us! From all of us in the TA team. 
Paul Cresswell, Associate Director of Quality Governance 
Nominated by Alan Howe, Nursing Quality Lead
People often forget that senior staff also need to be recognised. Despite Paul's ever-growing portfolio and increased work demands he never fails to make me (and others) feel that we are important and that our work is valued. Whenever we talk, he clearly shows an interest and never rushes you - you are the most important thing at that time. His positive approach, excitement and constant smiling is contagious, and he always portrays a "glass half full" approach to every issue, concern, or barrier - something we could all learn from Paul. He is always happy to coach and guide, but he also allows full autonomy in driving projects forward yet remains close to the detail and the overall understanding without feeling "watched or managed". I've only recently had the pleasure of joining his team, however in the short time I have been here he has shown me that there is an opportunity for change, a choice for improvement and space to flourish.
Lilibeth Uy, Staff Nurse 
Nominated by Sophy Thomas, Ward Manager
Lilibeth is an incredible and experienced nurse with a specialist interest in dementia care and the education of future nurses. I feel truly lucky to have her on the team. Please see below a Poem written by one of the patients on Elgar.
"Lilibeth - in hospital I had to stay. There I met Lilibeth in charge they say, wearing the biggest smile you ever did see. She found me a bed with white sheets and pillows too. Then she said I have your tablets just a few. Then she gave me some water and said just take two, for they will take away your pain. And tomorrow you will have to take them all over again. She seems to be here every day and night. So, whatever your troubles or plight. Just call for Lilibeth, she will put it all right. All your troubles and woe Lilibeth will make them go with a big smile and a dance or two. To make you happy that's the kind of thing she likes to do. So, thank you Lilibeth my dear. In hospital, it really is so good to have you near. And my ears are sometimes a little deaf. But I worry not for I have the ever-smiling Lilibeth. Seems like my mending is almost done. My hospital stay was thanks to Lilibeth, she made it fun. Pills tablets, injections too. Thanks to Lilibeth she pulled me through. So, if ever have to come back again, I hope Lilibeth will be here to take away my pain. Now there's my taxi at the hospital door. Soon I will be gone for sure. I'm better now thanks to Lilibeth, who knew just what to do. Thank you Lilibeth for your loving care. In my heart, I will always remember you and hold you there."
Paul Filer and Patrick Bojang, Security Officer 
Nominated by Tony Hudgell, Director of Operational Estates and Facilities
A few weeks ago, Paul and Patrick responded to an incident in a thoughtful and sympathetic way, which ensured the person's privacy and dignity were maintained at all times. We were very impressed with Paul and Patrick's care and responsiveness. The security team are such an integral part of the Estates & Facilities teams. This is just one example where the pair have gone above and beyond to protect, support and help staff, patients and visitors. Thank you for all you do here at Southmead. 
Samantha Mills, Currently Acting Office Manager/Transplant Coordinator Team 
Nominated by Teresa Grunshaw, Medical Secretary
Sam has recently stepped up into a new role and has taken this in her stride. I'm truly grateful and appreciative of the hard work she has taken on, not only with taking us under her wing but also doing her own job full-time. If you ask for help, she's on it immediately and gets answers within minutes usually. She's got everyone in the department a second screen, which is so helpful in supporting our work. She's the most supportive manager I personally have ever had in all aspects of my role as Medical Secretary. She is always happy to listen and always takes the time needed to get things sorted. She always has a smile on her face and is solely focused on ensuring everyone is happy at work – it really does mean the world. She deserves a medal as big as the sun in my opinion.
Hayley Hesketh, Junior Sister 
Nominated by Lee Gillespie, Senior HCA
Hayley is consistently approachable and calm, even under stress when the ward is short-staffed and has so many emergencies and staff, including Doctors needing her attention. Hayley always takes the time to listen to all staff and will do everything in her power to ensure that any requests are dealt with, whilst still making sure we all feel appreciated. Hayley is calm and always has the time to listen and acts quickly to enable positive changes with a smile for everyone. She truly is an excellent mentor, manager and role model, and we are so lucky to have her on our team.
Olivia Batey, FND Liaison Practitioner 
Nominated by Sophie House and Hannah Marychurch, Senior Physiotherapists
Olivia has been working as an FND Liaison Practitioner since January, working single-handedly in a new and unfamiliar role, to develop innovative and robust pathways for our FND patients within NBT. Olivia's passion, determination and excitement radiates in all that she does and she is a brilliant advocate for a, so far, underrepresented patient group. Alongside being an advocate for her patients, she also provides invaluable support to her colleagues, including us. She is non-judgemental, extremely knowledgeable, and always willing to make time for her colleagues. She deserves to be recognised for the incredible work she has done and continues to do at NBT - our FND patients are so lucky to have someone like Olivia to fight their corner and we are so lucky to have her as our colleague and friend.
Andriana "Nat" Eke-Onyekuru, Nurse - ICNARC Team 
Nominated by Nick Parham, Data Quality Marshall
I would like to take a moment to recognise Nat and show appreciation for her talent and amazing display of our organisational values by showing care demonstrated in her response to circumstances and situations and maintaining a broader view of the organisational goals and the level of detail needed for patient care. Secondly, by being ambitious and striving for excellence, she has demonstrated commitment to developing and stretching her abilities and using this growth and applying it effectively. She has shown admirable respect for the process by being open, actively listening, and engaging across multidisciplinary environments to foster strong inter-divisional relationships and demonstrating a high level of patience, commitment, and teamwork. By supporting the wider organisation with some of the nuances of processes Nat has helped benefit and add immeasurable value across all facets of NBT.