On Monday afternoon, we celebrated our third round of hero award winners for 2023.
The awards celebrate staff and teams who go above and beyond for their patients, recognise unsung heroes, and demonstrate our values in everything they do - being caring, ambitious, respectful, and supportive. 
The 18 winners were nominated by their colleagues or on behalf of patients who shared the difference the member of staff had made to them. It's often something that our Heroes may not even recognise they do, but it means a great deal to someone else.
The winners were invited for coffee and cake, where they got a chance to meet their fellow heroes, find out why they were nominated and take the time to celebrate each other.
You can read more about our incredible winners below: 
Primrose Granville, Volunteer
Nominated by Caroline King, Occupational Therapist
Primrose is the most amazing person and contributes so much to our patients and service through her role as a weekly volunteer on our online Pain Management Programme (PMP). Having attended the PMP herself many years ago, she now returns weekly (online) to share her experiences, understanding and wise words, with others living with persistent pain. As she continues to live with persistent pain, Primrose nevertheless lives a full and busy life. Primrose also does a weekly broadcast on radio and she has recently organised a health event at Bristol Beacon, reaching out to those who do not always engage with health services. Primrose is an inspiration to all of us and in our group feedback sessions, our patients always comment on how much her input has helped them. One recent patient called her 'The Jewel in the Crown' of our service, which was a perfect description! We are so proud to have her as a part of our service.
Holly Walters, Senior Staff Nurse
Nominated by Jennie Speedie, Ward Sister
Holly is a Senior Staff Nurse on 27a. Holly definitely goes above her job role in caring for the team and their wellbeing. At Christmas, she designed an advent calendar for the ward staff in her own time and wrapped individual gifts for the staff, this was a real morale booster for the team, and all really felt appreciated. This Easter, she has again in her own time made up little Easter bags filled with treats for the staff, ensuring all that worked over Easter got a treat. She is a very caring person and is passionate about making everyone feel welcome and part of the team. Holly is also an excellent nurse and role model, and her standards are very high. The team really appreciate these little things she does, and it goes a long way. Thank you, Holly.
Sharon Nolan, Research Patient and Public Involvement Manager 
Nominated by Helen Lewis-White, Deputy Director of R&D
AND Nominated by Dr Huzaifa Adamali, Consultant
Sharon has used her brilliance in project management and communication to help NBT initiate and run a community engagement event, 'Your Health Check Day'. Sharon gently ensured project meetings were productive, with everyone knowing their next steps. Over six months, Sharon project managed the event and led the successful communication strategy which resulted in the day being oversubscribed by clinical teams wanting to be present. As a result of Sharon's dedication, organisation, diplomacy and tenacity NBT held a day, as an anchor of the community it should be proud of. Over 400 individual tests were undertaken. Members of numerous communities from across Bristol came to learn a little more about their health and be empowered to wellness. Barriers were broken on the day and primary and secondary care became one! Although many were involved in this project, I think it would not have happened without the incredible efforts of Sharon. She has an eye for detail, able to bring the toughest individuals to the table and make them contribute, and provides leadership which is driven by selfless desire to help. She does it with a sense of duty....its not a job and this is what makes her the kindest soul you will meet in our organisation. Her work will become an annual event. I am incredibly priveleged to work with this awesome individual.
Paul Grimes, LEARN manager 
Nominated by W&C Practice Development team
We have worked with Paul for many years. His knowledge of LEARN is second to none. Paul is an extremely supportive colleague, even in the most challenging of times; he is approachable, forever cheerful and a pleasure to work with. Paul answers our queries in Practice Development in a very timely and helpful manner which is imperative when we have to supply compliance details re mandatory training within Women & Children's Health, and his patience with our queries is very much valued! Paul works tirelessly behind the scenes providing an invaluable service; I feel we need to recognise his dedication to his role and say a huge THANK YOU.
Sophia Hatfield, Midwife 
Nominated by Jodie da Rosa, Deputy Head of Midwifery and Nursing
Sophia demonstrated kindness and compassion when providing complex postnatal care. She recognised the patient as a person and tailored her care to the patient and the family's individual care needs. Sophia immediately noticed the patient was in pain and distress and responded to the patient's needs escalating her concerns. She empathised with the patient's distress, providing emotional support to her and her partner. Sophia then took thoughtful and appropriate action to help the patient. Sophia's kind and compassionate care were fed back directly from the patient, who reported how grateful she was to receive this care when other parts of her maternity care journey had been very challenging. Sophia has demonstrated the Trust values, and we are very proud to have her in our Maternity Team.
Ruhi Miah, Resourcing Coordinator 
Nominated by Emma Newland, Performance & Operations Manager
We have struggled with recruitment in our division for the last 12 months and with so many vacancies to keep track of, Ruhi has been amazing. Ruhi is often allocated my TRAC appointments and she has brilliant communication and organisation skills. She keeps the management team up to date at all times. Ruhi is always happy to chase employment checks, expedite references where possible, as well as ensuring candidates receive offer letters sometimes within 30 mins of being offered the post. Ruhi is clearly an asset to the Employment Services team and always goes above and beyond and it is a pleasure working with her. Thanks for always sorting out our adverts, recruitment and most of all thank you for your ongoing support.
Claire Worgan, Senior Clinical Transformation Specialist 
Nominated by Helen Madden, Clinical Transformation Specialist; Yasmin Huggins Digital Project Midwife & Clinical Transformation Specialist; Michelle Mayer Digital Project Midwife.
We are nominating Claire for an NBT Hero award as she is a supportive leader and colleague, especially within the Digital Patient (DrDoctor) and Digital Maternity (BadgerNet) projects in IM&T. With working with highly demanding and complex projects with tight deadlines and various stakeholders, Claire provides calmness and clarity within the project teams. This is especially true with the Digital Maternity project which is being delivered across both NBT and UHBW. As well as Claire supports the Clinical Transformation Specialists working on these projects by sharing her experience and knowledge in this field. Claire is always approachable and available and has a positive mindset to any problems experienced along the way. As well as she always has our wellbeing at the forefront of our priorities. We would be lost without Claire's expertise, calmness as well as kindness.
Colin Mootoo, Cardiology Registrar
Nominated by Jenny Speedie, Ward Sister
Colin is one if the Cardiology Registrars in medicine. Colin is a doctor that is always willing to help all the team, for example when the Nurses were on strike he was making the beds with the Nurses, taking patients to the bathroom, and generally being a great help to the ward staff. He goes above and beyond his job role and it is evident he loves his job. He is always happy and puts the patients at ease spending time to explain medical procedures in a language they can understand. During the Doctors strike he worked and again was happy and helped the ward Consultants with the day to day tasks. He is a pleasure to work with and deserves recognition for how good and passionate he is as a doctor.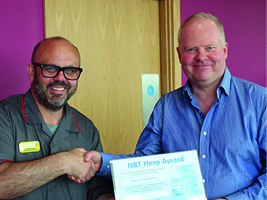 Nominated by Susan Bessant, Staff Nurse
When I transferred a very anxious patient to 27A today, the first member of staff we met was Alastair who was very warm and inviting.
Speaking directly to the patient and their visitor first. Not myself (which is the correct thing to do). Welcoming them onto the ward.
This immediately had an extremely positive effect on the patient, relaxing them and reassuring them.
I returned hours later with another patient, and he was just the same.
It was an absolute pleasure to witness that when the small things are done so well, what an impacted it can have on our patients.
Abigail Nickless, Macmillan Specialist Dietitian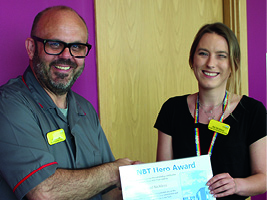 Nominated by Rachel Geal, Secretary/Admin Support to Macmillan Dietitians
Abi joined the Team from the BRI, on Tuesday this week I was asked to go over to the Macmillan Wellbeing Centre as the wife of one of Abi's patients' had popped in with gifts for Abi a box of Thornton's chocolates, Fox's classic biscuits and a card from Mr and Mrs G for going "Above and Beyond" in getting Mr G some Hyfibre sachets as their GP said that they couldn't order them, the Rep from Nutrinovo had sent her 56 sachets free with the help of Abi and the Rep her GP put them on repeat prescription for Mr G. Abi really deserves recognition for quietly going about her work and showing what a great person she is and that she does go "Above and Beyond".
Waste Services
Nominated by Jeannette Baker, Senior Facilities Manager
Our waste team has been though a really tough time in regards to non-compliant audits and machine failures, both of which are out of their control. The whole team have shown great resilience to ensure the service is carried out behind the scenes. Going above and beyond to manually segregate waste in the absence of a compactor, manually delivery/collect bins as a result of AGV shortages, supporting colleagues to ensure their work is completed ready to be transferred off site. The department has come under some scrutiny due to failed clinical waste audits undertaken by our contractors. An immense amount of work has been undertaken, including training, auditing on wards and meeting with our clinical colleagues to spread the word to comply with national regulations and ensure we are a responsible waste producer. I couldn't be prouder of this great group of staff who deserve recognition as 'unseen' Hero's. Thank you isn't enough!
Natalie Prior, Early Pregnancy Specialist Nurse 
Nominated by Amanda Gubb, Trainee ACP
Natalie is an experienced Trainee Early Pregnancy Clinic Specialist Nurse. Miscarriage affects 1:4 pregnancies and is a tough diagnosis to receive. Every pregnancy loss is different, but it's common for people to feel shocked, grief and frightened. For some people, pregnancy loss can trigger mental health problems. Having experienced loss herself, Natalie truly understands how sad and lonely you can feel. Natalie works hard in the clinic to empower women to understand their own pregnancy loss journey and help them see they are not alone. Natalie feels privileged to be working with people in their darkest and most private moments, which I feel is a quality hard to find. Natalie has a genuine passion which is clear to see, and we often receive compliments of thanks and gratitude from the people she has looked after. Natalie is an unseen hero - helping people in their darkest moments, going above and beyond to ensure they receive the required support to get through their loss. Alongside her work, she recently passed her PACR exams - as a team, we are so proud of her.
Erica Burgess, Mammographer 
Nominated by Mary Wilson, Superintendent Radiographer
Erica has gone above and beyond over the last two months whilst assisting with the refurbishment of the Weston Mammography room. Erica has paid close attention to detail and has worked collaboratively across both NBT and UHBW. This has resulted in the smooth running of the NBT Breast services at Weston despite having to use a loan mobile mammography trailer in the car park for ten weeks. Erica has managed to liaise with contractors and colleagues to work around and maintain busy clinics, provided support to staff unfamiliar with the site and loan trailer and made valuable contributions with the build of the new mammography room. All of this whilst also undertaking a postgraduate course in Breast Imaging Interpretation and Reporting, which she has now successfully passed. A huge congratulations and thank you for all your hard work.
Ben Pope, Head of Strategic Workforce Planning 
Nomainted by Steve Hams, Chief Nursing Officer
I am delighted to be nominating Ben for an NBT Hero Award. Ben has been instrumental in supporting the senior nursing team at NBT with developing our strategic and tactical response to the challenges of the nursing and midwifery workforce. Ben is a subject matter expert for the Safer Nursing Care Tool, his work in helping us with the bi-annual safe staffing survey will be directly contributing to safe staffing and ensuring patients receive high-quality care. Ben has been instrumental in developing our strategic plans for nursing and midwifery, his creative, analytical and problem solving approach is hugely valuable and he has an amazing ability to translate complex technical data terms and methodologies into easily accessible insight and information. More recently, Ben provided last minute information to support the production of a Board paper. He did this swiftly whilst maintaining the integrity of the data and methodology. Ben's work has helped the Board make important decisions and gives valuable insight to the Board. Ben is a great member of the NBT team.
Stewart Smith, Registrar and Chief Registrar 
Nomainted by Philip Braude, Consultant
 Stewart has provided unwavering support to NBT during times when the system and staff have been stretched. He has supported fellow postgraduate doctors, consultants, physician associates and nurses to help make sure industrial action has been safe. He has helped to manage staffing and patients across the hospital during winter bed crises. And he has worked hard on developing new pathways of assessment for patients to improve efficiency. Stewart is a great role model for us all - always ready to listen, provide sensible advice, and works to help his fellow NBT colleagues every day.
Lydia Prosser, Support Manager Respiratory Medicine 
Nominated by Jason Viner, Clinical Manager
Lydia has been fantastic in supporting the Clinical Respiratory Physiology Team. She is always proactive in problem-solving and has been fundamental in helping us remove our clinical backlog by recruiting coordinators and creating new smart ways of working. She is great at doing the administrative duties that allow our clinical team to see more patients and reduce our wait times. She recently helped rebuild all our clinic templates. This was a large workload that needed sorting quickly. She managed this with short notice and with no mistakes. Lydia puts patients at the centre of everything she does and strives that patients have a positive experience at NBT. She deals with any patient issues personally and respectfully and looks for positive resolutions for patients. She has a can-do attitude and is always friendly and professional.
Claire Tanner, Police Constable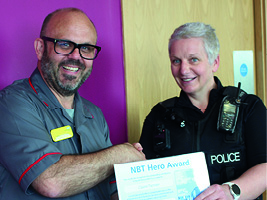 Nominated by Dominique Duma, Divisional Director of Nursing
P.C Claire Tanner is an asset to NBT she protects staff and keeps us safe. P.C Tanner accomplishes this through a compassionate and kind approach but always focuses on the key priority of maintaining safety for staff. Recently, P.C Tanner went above and beyond to support the team at the Rosa Burden Centre. We were truly appreciative and wanted to extend our gratitude and recognise the wider positive impact of P.C Tanner's role to the hospital. P.C Tanner you are very highly thought of and an integral part of the NBT team. Thank you for everything you do.
Kay Thompson, Registered Nurse 
Nominated by Carlie John, Nursing Admin
This nomination comes at the request of all of the Intervention Radiology Nursing teams. Kay is always a joy to work with, and every staff member sings her praises for her calm and collected way, being a constant source of knowledge and her dedication to patients. You have truly been a hero all these years and while you shy away from any proper recognition during your time with the Trust, you should be praised for your passion for nursing, your loyalty, compassion and kindness throughout the multidisciplinary team, patients, and their relatives. As it's people like you who keep NHS strong and together. Kay is well known in the Intervention Radiology Department, and even behind her mask you could see her smile daily. You were invaluable in your role teaching the new staff and students, who all benefited from your dedication to providing excellent care. You always keep the team together and look after every single one of us.