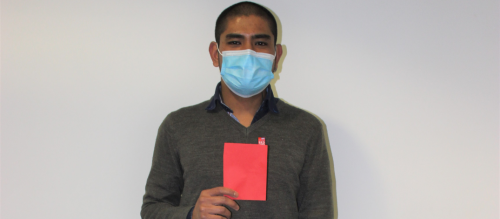 A high profile "Red Card to Racism and Abuse" campaign has been launched by North Bristol NHS Trust today to protect staff from violence, discrimination and anti-social behaviour.  The campaign comes on the back of a rise in incidents during the Covid  pandemic.
In line with its zero tolerance policy, visitors or patients abusing staff at NBT will be warned with a disciplinary yellow card, before getting a final red card indicating that treatment will be withdrawn as soon as is safe.
Reports of abuse have risen sharply in recent months, partly linked with patients or visitors refusing to comply with Covid-19 security rules designed to protect vulnerable patients.
Maria Kane, Chief Executive of North Bristol NHS Trust said:
"Although the vast majority of patients and visitors are respectful towards our staff, sadly there has been an increase in abuse from a minority of people.
"Our teams are working incredibly hard in very difficult circumstances and it is completely unacceptable for them to be intimidated or attacked, especially when they are trying to help people.
"We will be supporting our staff to challenge and report abuse and we will take action. Any abusive patient or visitor will be challenged and warned, and if their bad behaviour continues their treatment will withdrawn as soon as is safe.
"We are extremely proud to have a diverse workforce serving a diverse community and we absolutely will not tolerate any discrimination of anyone whatever their race, sexuality or disability."
The Red Card to Racism Abuse campaign builds on the success of NBT's existing "Red Card to Racism" campaign. The abusive behaviour policy covers anyone with mental capacity making:
Racist or sexist language, gestures or behaviour.

Excessive noise.

Abuse of alcohol or drugs.

Threatening and offensive language.

Malicious allegations.

Intentional damage to trust property.
Any cases will be reported on the trust's incident management system and on patients' individual notes. Any visitors causing disturbance or behaving in an unacceptable manner will get one verbal warning before being removed.
Posters around the hospital and videos and photos on social media will inform staff that they are protected by the policy and encourage them to speak up if they witness or experience any incident of abuse. Staff will also be given a pin badge to show their support for the campaign.