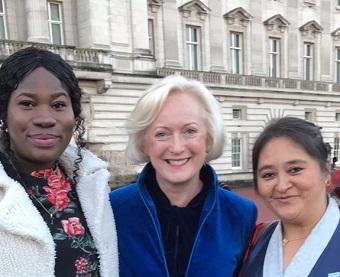 A nurse and nurse practitioner at Southmead Hospital in Bristol have spoken of the "honour" and "privilege" of attending a birthday reception for His Majesty, King Charles.
Okwukwe (Prisca) Azubuike and Dickey Palzom Bhutia attended the event at Buckingham Palace today (Tuesday 14 November 2023) which celebrated the contribution of nurses and midwives.
Prisca is an Internationally Educated Nurse (IEN) and joined North Bristol NHS Trust (NBT), which runs Southmead Hospital, at the start of the year. She is a Staff Nurse and works on the renal ward.
She said: "I am more than excited to attend the event to celebrate the contribution of nurses and midwives in the UK. When I found out I wondered if it was real. It's such a beautiful event to have been invited to and it was an honour and a privilege to attend."
Prisca said she has really enjoyed her first year at NBT.
"It's wonderful at NBT. It has given me so many opportunities and I've really enjoyed my time here so far," she said.
Dickey is a frailty nurse practitioner in medicine at Southmead Hospital and has worked at the hospital for 20 years. She is originally from Tibet, born and raised in India. She is also currently one of the core members of the UK Tibetan Nurses Association. She started her career working in trauma before moving into frailty and her current role.
She said: "It was an honour to be invited to the event at Buckingham Palace, especially as next month I will have been working in the NHS for 20 years, all at NBT. NBT is a great place to work and I am lucky to have a lovely team around."
Professor Steve Hams, Chief Nursing Officer at NBT, said: "I'm delighted that Prisca and Dickey were invited to the birthday reception for King Charles III. They are both absolute inspirations and are thriving in their roles at NBT. I'm really pleased that they were able to attend such a prestigious event to celebrate the contribution of nurses and midwives."