Brunel building wins international design award
Brunel building wins international design award
Wednesday, 21 June 2017
Our Brunel building at Southmead Hospital has been named the best designed large hospital internationally at the European Healthcare Design Awards.
The purpose-built hospital building which opened to patients in May 2014 bringing most services from the old Southmead and Frenchay hospitals together under one roof was the only British hospital to make the shortlist.Despite being European awards, the Brunel was also up against competition from the United States and Canada in the category for Healthcare Design buildings over 25,000 square metres.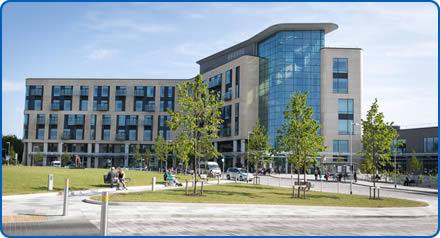 The awards celebrate and recognise professional and research excellence in the design of healthcare environments both in Europe and around the world.
The Brunel building was the result of nine years of design, planning and construction with North Bristol NHS Trust working with architects BDP and private finance initiative partners Carillion.
Inspired by a Norwegian hospital, the Brunel building utilises natural light, bringing the outside indoors.
Privacy and dignity was an important part of the design, with inpatient and outpatient areas being kept separate and a clinical corridor used so that patients are not transported through the main public thoroughfare.
Three quarters of patients are cared for in single rooms with views to either outside or into the hospital atrium. 

Head of Sustainable Health and Capital Planning and PFI Project Director, Tricia Down, said: "We are absolutely delighted to win this international award for excellence in healthcare design.
"There was a lot of competition from across the world for this coveted prize and we are so pleased that the judging panel appreciated and acknowledged what the Brunel Building brings to our patients, staff and visitors. 
"The award recognises the hard work and commitment of so many within North Bristol Trust as well as our partner organisations.  I would like to thank in particular my wonderful team, including those who have moved on to new roles and to staff within North Bristol Trust who played a key role in the clinical design of the facilities.  I would also like to pay tribute to the scheme architects, BDP for creating an inspiring building and landscape and to Carillion Construction for realising the vision in bricks and mortar (and the modern equivalents!)."
BDP Architect Director, Nick Fairham, said: "I'm delighted the Brunel Building has won this prestigious award recognising the high quality design which offers patients and staff a world-class healthcare facility."