Celebratory tea party for hospital volunteers
Celebratory tea party for hospital volunteers
Monday, 3 June 2019
Volunteers at Southmead Hospital have been honoured with a celebratory tea party to thank them for their continued support to patients, staff and visitors at North Bristol NHS Trust.
More than 180 volunteers across the trust, who support health services in a host of roles - ranging from patient befrienders to creative arts companions, those that work in the cafes and our popular therapy dogs - took part in the celebrations at the Bristol Hotel at the weekend.
The volunteers were invited to the afternoon tea party and drinks reception, which was hosted by Interim Director of Nursing, Helen Blanchard, to thank them for their selfless hard work.
Southmead Hospital Charity supports both the volunteer services and the tea party, which is the third thank you event of this kind. The party also included the presentation of long-service awards for volunteers who have supported the hospital for five years or more.
This year, 33 Long Service Awards were presented at the party and a further 28 were given to those who couldn't attend.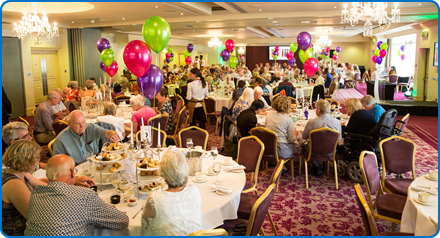 Claire Sullivan, who has volunteered in our Emergency Department and Ward 26a for four years said: "Being a volunteer is the next best thing to being a nurse and is the best thing I have ever done. I enjoy helping people and love it now even more than I did on my first day as a volunteer. No two days are ever the same and all our amazing volunteers and Move Makers really appreciate this event. It is a fabulous way to get together, meet everyone and celebrate all we do. It is just brilliant."

Rob Mineards, who has been a Move Maker since day one of the Brunel opening, said: "Five years ago I saw an article in the Bristol Post about needing volunteers for a few weeks to help people move around and get to know the new hospital. The role was only meant to be for three weeks but here I am five years later. What we do is so important as there will always be people coming to the hospital who need help. We don't seek recognition but it is lovely to hold events like this and celebrate what we do."

As well as thanking all the Volunteers for the time and support they give the Trust, we also marked the 5 Year anniversary of the Move Makers and the opening of the Brunel Building.