NBT celebrates the first cohort of Nursing Associates to qualify in their new role
NBT celebrates the first cohort of Nursing Associates to qualify in their new role
Tuesday, 25 June 2019
The first cohort of the new Trainee Nursing Associate (TNA) programme, have celebrated qualifying in their new role during a Tea party which was hosted by North Bristol Trust's director of Nursing and Quality.
The eleven Nursing Associates trainees shared their proud moments and were praised for qualifying in their new role by Director of nursing and quality, Helen Blanchard, while drinking tea and eating a specially-made cake.
She said: "I am very proud of each and every one of you for completing the course and qualifying in this very important role. You should all be very proud of yourselves."
The new Nursing Associate role aims to help bridge the gap between health and support workers, who have a care certificate and graduate registered nurses. It has been developed to allow nurses to focus on the more advanced elements of their job and to offer improved career pathway opportunities to emerging talent.
Nick Davis, 29, who works at the Renal Dialysis Unit at Cossham Hospital, is one of the first Trainee Nursing Associates to pilot the qualification.
He said: "I am really happy to be part of the pilot cohort of Trainee Nursing Associates; it's a great career progression from my previous job as a healthcare assistant, which I really enjoyed.
"Before this opportunity came up I didn't really know what I wanted to do or which step to take next but this job is just what I wanted and it has given me a better understanding of healthcare too.
"I am really proud that I chose to take a step into the unknown and would recommend it to any Healthcare Assistants looking to branch out."
Annie Morse, 44, is also piloting the Nursing Associates qualification and has really enjoyed the course although she admitted it was quite hard trying to juggle family life, work life and studying but said she is very happy she finished it.
She said: "I am really pleased I decided to become a Trainee Nursing Assistant because I have always wanted to learn more clinically to expand my skills and understand my patient's needs other than the basics and this course has taught me so much.
"It hasn't been easy for me but I stuck at it and am so proud of what I achieved."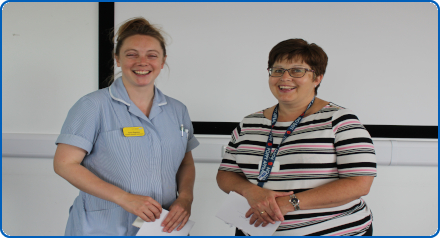 Sue Crew, Non-medical Education Manager, said: "I'm really proud to celebrate our first cohort of Nursing Associates to qualify.
"They have all worked really hard to achieve their qualification especially as a trail blazer group paving the way for the future cohorts of new role Nursing Associates and we welcome this new role alongside our Assistant Practitioner family."