Outstanding rating given for Caring in the treatment of patients at the end of their lives
Outstanding rating given for Caring in the treatment of patients at the end of their lives
Thursday, 8 March 2018
The Care Quality Commission (CQC) has rated us as Outstanding in the Caring category for the way we care for patients at the end of their lives.
In the latest inspection report into services at Southmead Hospital, which was published on Tuesday (March 6), the CQC said that feedback from people who used the service, and those close to them, was "continually positive about the way staff treated people".
They found that staff were "highly motivated and inspired to offer care that was kind and promoted people's dignity". As well as ranking services as Outstanding for Caring, the rating for Well-Led also improved, moving  to Good and in the Responsive category we remained Good. While the caring and experience elements of our end of life care were found to be good or outstanding, the CQC said improvements are still required around some of the administrative processes.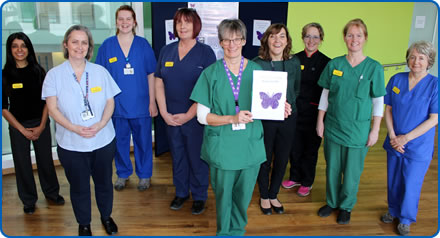 End of life care has been a quality priority for the Trust over the last four years with teams working to improve the experience of the approximately 1,800 patients a year we care for at the end of their lives. Having brought in and piloted new processes we are now working to embed these practices across the organisation.
Working with the Point of Care Foundation, in December we launched the Purple Butterfly Project to help empower staff who are not palliative care specialists to deliver high quality end of life care. Last week it was announced that this project has been shortlisted in the BMJ Awards Palliative and Hospice category.
Our telephone advice service was brought in-house in January to provide advice to staff 24 hours a day seven days a week and we have ambitions to extend our face to face service to seven days a week too.
The CQC noted that patients identified as being at the end of life were reviewed regularly by specialist teams who work with ward-based staff to deliver timely care to patients. Inspectors also found that patients' pain was monitored, assessed and managed effectively.
The report said: "At a local level, we saw high quality dynamic leadership from the bereavement and chaplaincy service as well as within the mortuary and palliative care teams. Managers were truly visible to their teams and took the time to support them in their roles."
Inspectors also found that "people's emotional and social needs were seen as being as important as their physical needs. Staff took the time to listen, answer questions and provide comfort to patients and those close to them."
The report described people who used the service, and those close to them as being "active partners in their care" and that staff "clearly understood the impact that a person's care, treatment and condition had on their wellbeing and on those close to them and responded to this by involving them in decisions about their care."
Inspectors also felt that staff within the hospital found end of life care was "important and treated as a priority".
Director of Nursing Sue Jones, said: "We are delighted that the CQC has recognised how caring our staff are when they are looking after people at the end of their lives with a rating of Outstanding for Caring.
"We know how important it is to get things right for patients at the end of their lives and that our person-centred approach is the care we strive to provide for all patients, looking after them as individuals and involving them and those closest to them in their care.
"We know there are still improvements for us to make in this area, but I'm pleased that our staff have made such great progress and know they want to do more."