Plans submitted for two new cancer care & support centres for Bristol
Plans submitted for two new cancer care & support centres for Bristol
Wednesday, 13 March 2013
A new Breast Care Centre will be built on the Southmead Hospital site to provide screening, diagnosis and after-care support for cancer patients.
Alongside the Breast Care Centre will be a new Macmillan Wellbeing Centre, providing emotional, practical and financial support for people affected by any type of cancer, their families, friends and carers.  
North Bristol NHS Trust has submitted plans for both centres which will open in Spring 2014 within a redevelopment of the historic Beaufort House on the Southmead Hospital site.
The Breast Care Centre will provide all breast services for Bristol (following the transfer of teams from University Hospitals Bristol NHS Foundation Trust at the end of March 2013).
Until the new centre is built the service will continue to be based inside the current Southmead Hospital.
Key features of the Breast Care Centre include:
Modern, bright and comfortable environment making the most of natural light views of the outside
Dedicated exits through courtyards for patients following consultations to enable greater privacy
The Breast Care Centre will be divided into separate areas allowing direct access to the two main clinical areas without patients having to pass through one area to reach another.
Both Screening and Symptomatic Areas will have their own dedicated waiting and reception areas.
Dr Mike Shere, lead breast care clinician specialist at North Bristol NHS Trust, said: "The new breast care centre will provide a focal point for all breast cancer patients requiring the support and management from the breast team, from point of referral through to follow-up and support, all under one roof.
"We have worked very hard on these plans with our patients, clinicians and support groups and what we have come up with will be a functional, light and spacious building where patients can feel supported and relaxed. "
Jenny Wookey, trustee of BUST, the Breast Cancer Unit Support Trust, a charity founded by patients for patients to support the work of the Southmead Hospital Breast Care Centre, said: "We were pleased to have been actively consulted at every stage of the planning process for the new Bristol Breast Care Centre. 
"We believe that many of our comments were taken on board and that they will be reflected in the formation of an excellent centre offering patients everything that they could hope for."
A fundraising appeal run by Shine together, the charity based at Southmead Hospital, in support of the new Breast Care Centre will be launched this spring.
The Macmillan Wellbeing Centre will stand alongside the Breast Care Centre and will provide the first dedicated Macmillan service in Bristol supporting people before, during and after a cancer diagnosis.
The Macmillan Wellbeing Centre will provide support, information and advice for people affected by cancer to help them live their lives as well as possible. Key areas of support will include:
Dedicated benefits and financial advice
Help with remaining in, or returning to work
Information about how to cope with cancer and its treatment, for example using relaxation, complementary therapies, fatigue management
Supported physical activity programmes tailored to support people with cancer.
Expert dietary and nutritional advice
The Macmillan Wellbeing Centre has been designed with patients and their families in mind, and so will have comfortable chairs, private spaces and guided access to information. It will also provide a focus and a venue for patient-led support groups.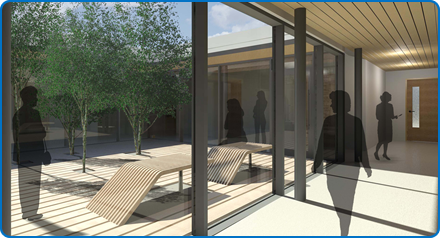 Ed Murphy, Senior Macmillan Development Manager said: "We are very excited about this new development which will improve the lives of people living with cancer in Bristol.
"Being diagnosed with cancer is one of the toughest things that anyone can face and no-one should face that alone, it does not just impact on health, it has an impact socially, financially and emotionally.  
"This new Macmillan Wellbeing Centre means that, for the first time in Bristol, there will be a dedicated place for all the additional support that people need when they are diagnosed with cancer, both to help them through treatment and then to help with returning to a normal life afterwards, whatever that may mean for them."
Macmillan Cancer Support has pledged £1 million for the Macmillan Wellbeing Centre thanks to the ongoing generosity of our supporters in Bristol and the surrounding areas.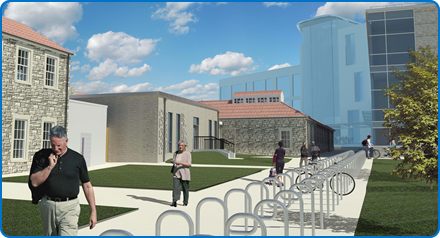 About Macmillan Cancer Support
More than one in three of us will get cancer. For most of us it will be the toughest fight we ever face. And the feelings of isolation and loneliness that so many people experience make it even harder.
But you don't have to go through it alone. The Macmillan team is with you every step of the way.
We are the nurses and therapists helping you through treatment. The experts on the end of the phone. The advisers telling you which benefits you're entitled to. The volunteers giving you a hand with the everyday things. The campaigners improving cancer care. The community there for you online, any time. The supporters who make it all possible.
Together, we are all Macmillan Cancer Support. For cancer support every step of the way call Macmillan on 0808 808 00 00 (Monday to Friday, 9am-8pm)
About BUST
The Breast Cancer Unit Support Trust, the Bristol based charity founded by patients for patients to support the work of the Southmead Hospital Breast Care Centre.
BUST is pleased to support the important work of this excellent team by raising money to support innovation and purchase of new technology.
Since 1991, BUST has spent £1,000,000 on equipment and resources to support innovation at the Breast Care Centre.
Breast care services
The North Bristol NHS Trust Breast Care Centre is currently located at Southmead Hospital with a dedicated team of doctors, nurses, support staff and volunteers are committed to providing the very best possible treatment and care in a friendly, relaxed environment with innovative new ways of providing breast care and to improve the experience of our patients.
From diagnosis through treatment and after-care, we work with our patients every step of the way, providing, support and guidelines for women and men.
The Breast Care Centre, the first of its kind in the South West, opened in 1995 as a self-contained, dedicated unit where patients can be seen by various specialists – all experts in diverse aspects of the management of breast disease. It was one of the first centres in the country to launch one-stop clinics, has twice been awarded the prestigious Charter Mark as a centre of excellence and received a Gold Star on the Peer Review.
From the end of March 2013 breast care services will be provided and managed by North Bristol NHS Trust. All planned surgery and associated outpatient appointments will take place at Southmead Hospital. All oncology appointments will be at the Bristol Oncology Centre. The breast screening service will not change, although it is planned for this service to also be transferred to North Bristol NHS Trust in spring 2014.