Work starts on two new cancer care & support centres for Bristol
Work starts on two new cancer care & support centres for Bristol
Tuesday, 13 August 2013
Construction work has started on the new Bristol Breast Care Centre on the Southmead Hospital site to provide screening, diagnosis and after-care support for cancer patients.
Work has also started on the new Macmillan Wellbeing Centre, which will sit alongside the Bristol Breast Care Centre, providing emotional, practical and financial support for people affected by any type of cancer, their families, friends and carers.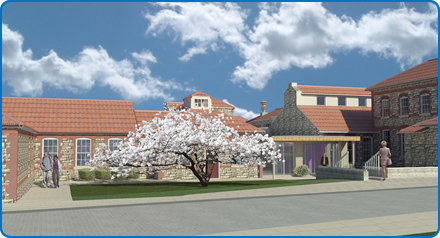 North Bristol NHS Trust is building both centres, which will open in May 2014, within a redevelopment of the historic Beaufort House on the Southmead Hospital site.
Rydon, whose South West regional office is in Ham Green, near Bristol, have been appointed to carry out the construction work which will be complete in April 2014.
The Bristol Breast Care Centre will provide all breast services for Bristol with key features including:
Modern, bright and comfortable environment making the most of natural light views of the outside
Dedicated exits through courtyards for patients following consultations to enable greater privacy
Separate areas allowing direct access to the two main clinical areas without patients having to pass through one area to reach another.
Both Screening and Symptomatic Areas will have their own dedicated waiting and reception areas.
U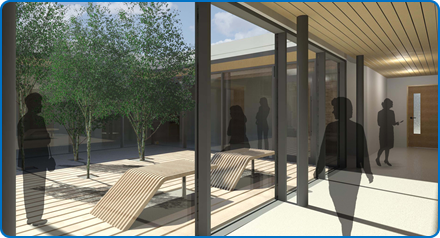 ntil the new centre opens, Breast Care Services will continue to be run from the current centre inside     Southmead Hospital.
A fundraising appeal has been launched by Shine together, the charity based at Southmead Hospital, in support of the new Bristol Breast Care Centre to help create areas designed around the wishes of the patients, including providing a private outside 'secret garden' space for patients, and creating peaceful and calming areas in the new mammography suite.
Supporters can buy a special commemorative disc on a Cherry Blossom Donation Tree which will feature in the centre.
The Macmillan Wellbeing Centre will stand alongside the Breast Care Centre and will provide the first dedicated Macmillan service in Bristol supporting people before, during and after a cancer diagnosis.
The Macmillan Wellbeing Centre will provide support, information and advice for people affected by cancer to help them live their lives as well as possible. Key areas of support will include:
Dedicated benefits and financial advice
Help with remaining in, or returning to work
Information about how to cope with cancer and its treatment, for example using relaxation, complementary therapies, fatigue management
Supported physical activity programmes tailored to support people with cancer.
Expert dietary and nutritional advice
Macmillan Cancer Support has pledged £1 million for the Macmillan Wellbeing Centre thanks to the ongoing generosity of their supporters in Bristol and the surrounding areas.
Find out more about the plans.
Join the Bristol Breast Care Centre fundraising appeal.