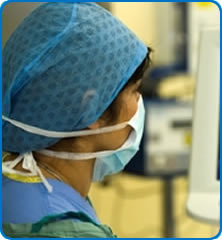 North Bristol NHS Trust is a regional centre of excellence in plastic and reconstructive surgery.
The service at Southmead Hospital Bristol is one of the largest in England providing a highly specialised team experienced in the most complex cases.
Its core specialities are:
Burns
Hand surgery
Lower limb
Breast reconstruction
Skin cancer
Soft tissue sarcoma
Head and neck cancer
Bristol Laser Centre
Cleft lip and palate
The co-location of regional specialties of neurosurgery and orthopaedics alongside plastics makes Southmead Hospital Bristol a key centre for trauma with access to experts in complex cases.
Patient care is a focus for the department with five clinical nurse specialists offering support for patients following surgery as well as a rehabilitation programme.
The core team of 52 clinical staff includes a clinical psychologist for patients with disfigurement through the Outlook service as well as speech and language therapists.
The service sees around 8,500 inpatients a year and 37,000 outpatients from across the region.
It carries out more than 150 micro-vascular reconstructions a year.
The Skin Cancer Centre provides an integrated service under the same roof, providing high quality care to more than 2,000 patients a year.