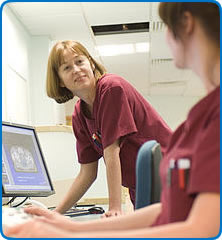 Sarcomas are a rare group of cancers which should therefore be treated by a specialist team experienced in their management.
Sarcomas arise in connective tissue such as
The Bristol Sarcoma Service (BSS) manages sarcomas for Bristol and the surrounding region including:
Bath
Weston
Yeovil
Taunton.
Other south west regional services are currently located in Exeter and Plymouth.
The BSS is based across both North Bristol NHS Trust and University Hospitals Bristol.
All primary bone tumours are investigated and treated by our colleagues in Oxford.
One of the Oxford surgeons visits a joint clinic in Bristol once a month.