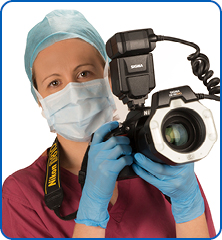 North Bristol NHS Trust's (NBT) Medical Photography department provides photography and video recordings.
Clinicians may refer patients for photography and video to:
Brunel building, Southmead Hospital, Level 3, Gate 38, where there are 2 purpose built studios

On location in wards, theatres and clinics.
If you would like more information or have any questions please don't hesitate to contact us.
The Medical Photography department undertakes a wide variety of both clinical and non-clinical photography and video recording. The department also offers an ophthalmic service including OCT and fundus photography.
Patients are either referred to the department, where we have studio and ophthalmic facilities, or we also visit wards, theatres, clinics and outpatients departments.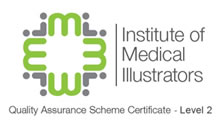 Patients attending for photography at the Medical Photography department, G38 in the Brunel building do not need to book an appointment and are seen on a first come first served basis. If you have been referred with a 'Consent to medical photography/recordings' form then please bring this with you. Please arrive between 9.30am and 4.30pm Monday to Thursday and 9.30am and 4pm on Friday.
.
Contact Medical Photography
Medical Photography & Illustration
Gate 38 Level 3
Brunel building
Southmead Hospital
Westbury-on-Trym
Bristol
BS10 5NB
Email: photography@nbt.nhs.uk
Telephone: 0117 4146500
Medical Photography opening times
9am to 5pm Mondays to Thursdays , excluding bank holidays.
9am to 4.30 pm Fridays