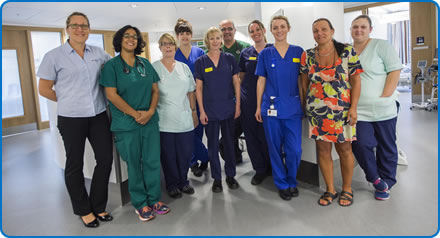 The Acute Medical Unit (AMU) is situated at Gate 31b and 31a, Level 0, within the Emergency Zone, Brunel building.
The Acute Medicine Unit provides the initial:
assessment
investigation
diagnosis
management of patients with an acute medical illness during the first 72 hours of their hospital stay.
They also provide expertise in the management of medical patients who can be cared for in an ambulatory setting.
The Acute Medicine Unit consists of Acute Medicine Consultants, nurses, pharmacists, junior doctors and physiotherapists and sees a complex mix of acutely unwell medical patients. Support is provided to the team by specialist nurses and doctors in other specialties.
The Acute Medicine Unit team have a vision that they will provide high quality acute medical care for every patient; delivered personally, professionally and compassionately by an expert team.
Contact Acute Medical Unit
Acute Medical Unit (AMU)
Gate 31b and 31a
Level 0
Emergency Department
Brunel building
Southmead Hospital
BS10 5NB
Telephone: 0117 4144500 
or: 0117 4144501
Fax: 0117 4149486