Celebrating our volunteers in Volunteers' Week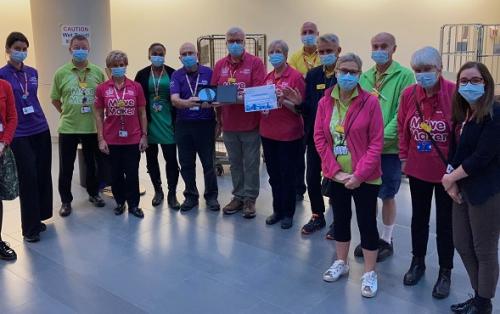 It's Volunteers' Week and we are celebrating all of the volunteers who support patients, staff and visitors across our services at North Bristol NHS Trust.
We have more than 270 volunteers across our sites supporting us through a variety of roles and over the last year (April 2021 – March 2022) 28,000 hours were volunteered across the hospital.
Over the last few months we have started welcoming volunteers back onto our wards at Southmead Hospital after almost two years away due to Covid restrictions
The pandemic saw volunteers leaving the wards to protect themselves, patients and staff. Some volunteer roles continued within the hospital and others were created to support staff during the pandemic but now wards have welcomed back the volunteers who provide additional support for patients. Their roles include mealtime companions and befrienders.
Mealtime companion volunteer Smriti Bhalotia said: "Mealtime companions can make a real difference by encouraging patients to eat, especially the ones who are doing very poorly and with my persuasive skills it does help a lot. 
"I am very passionate about working to help patients by taking care of their dietary needs. I feel it is very rewarding."
 Matron, Tracey Lucas, set up the Mealtime Companion volunteer role at NBT and was pleased to see them returning to the wards.
"Mealtime volunteers fulfil such a valuable role on our wards, supporting the nutritional needs of patients but also offering them companionship.
"It is wonderful that we have been able to welcome this important group of volunteers back to our wards and we know that patients have been pleased to see them.
"We are looking for more Mealtime Companions if you are interested please get in touch."
As well as our Mealtime Companion Volunteers we have our Response Team volunteers, supporting the pharmacy, gardeners, musicians, our Move Maker meet and greet volunteers in the Brunel, peer support, research and charity volunteers, including League of Friends.
Chief Nursing Officer, Professor Steve Hams, said: "Volunteers Week is a chance to recognise the fantastic contribution volunteers make to our patients, staff and communities and to say a BIG thank you.  We are indebted to each of our volunteers for the support they provide us, and for giving freely of their precious time.  To each and every volunteer, thank you."
If you are interested in becoming a Mealtime Companion or would like to find out more about our other volunteer roles take a look at our website or contact the team.