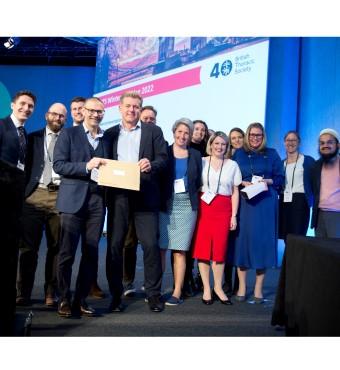 Bristol Academic Respiratory Unit has been named  Research Team of the Year by the British Thoracic Society (BTS) for their "outstanding contribution to the NIHR portfolio studies in 2020-2022".
This is a fantastic achievement that is built on two years of grant success, supporting early career researchers and patient engagement. The award was targeted towards the entire spectrum of clinical trials teams, through hospital-based teams to Primary Care and Community-based teams.
They were presented with their award at the British Thoracic Society Winter Meeting on 23 November.
Professor Nick Maskell, Bristol Academic Respiratory Unit lead said:
"We are particularly proud of being able to deliver important clinical trials during a pandemic, which have made a direct impact to patient care nationally and internationally. This needed a team effort by multiple research and clinical teams across NBT.
As well as our COVID-19 research, which led to changes in national guidelines, we pride ourselves on collaborative patient-centred randomised controlled trial studies in multiple disease areas including asthma, fibrotic lung disease, pneumonia and pleural disease. This has led to practice-changing findings and has resulted in the West of England moving to the top of the national NIHR recruitment table for respiratory disorders."
Some of Bristol Academic Respiratory Unit's NIHR studies on which the Award was based are: 
AERATOR which assessed the routes of transmission for SARS-CoV-2 in healthcare settings. Results were fed directly to SAGE with 14 publications that contributed to the NHSE revision of the Aerosol Generating Procedures (AGP) list, allowing the safe resumption of NHS services.
DISCOVER - a multicentre portfolio study of inpatients with COVID-19.
AvonCAP - the largest respiratory medicine study nationally. Results were announced at a Downing Street Press Briefing, presented to the UK JCVI and German Standing Committee on Vaccination, directly supporting European Oxford-AstraZeneca vaccine implementation.
The award was jointly assessed by an ENT UK / NIHR CRN panel.