Cossham Birth Centre reopens today
Cossham Birth Centre reopens today
Monday, 21 October 2019
Cossham Birth Centre reopens today under an "Open on Arrival" model for labouring women, which applies day and night. This means the centre would be opened specifically for a birth and closed afterwards.
Cossham Birth Centre is now an option for low risk women who have been assessed antenatally as suitable by their midwife. Before arriving at Cossham Birth Centre, women in labour must telephone Mendip Birth Centre on 0117 414 6900 and speak to a midwife.
The Midwife on Mendip Birth Centre will support women to get their first choice where possible on a case by case basis however, if the team are already occupied with a birth then women will be offered Mendip Birth Centre or Central Delivery Suite as an alternative. Conversations about this and suitable alternatives will have previously been discussed at the woman's antenatal checks at 34 week and 36 weeks.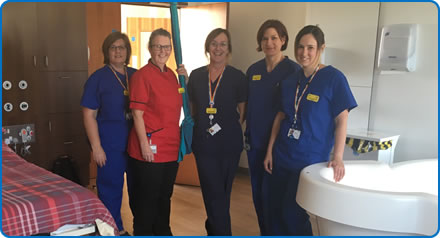 If a Cossham birth was appropriate and available the midwife would meet the woman and birth partner at the birth centre and open it. After the birth, at an agreed time but no longer than six hours, the mother and baby would be able to return home. The midwives would then ensure Cossham is left ready prepared for the next birth, and then close the unit. If a mother and baby need to stay longer than six hours postnatally they will be transferred, by ambulance, to Southmead Maternity Unit.
Community Midwifery services continue to run from the birth centre as normal.
Clinical leaders continue to review how the Trust's Birth Centre, Community, Integrated and Homebirth teams can best work together and continue to provide a high quality, sustainable service.

North Bristol NHS Trust Director of Nursing and Quality, Helen Blanchard, said: "We are pleased to be re-opening Cossham Birth Centre and where possible, give women the option of choosing to have their baby there. Regardless of birth place option, all women will be safe and well cared for."