Staff enjoyed a day of celebrations at NBT's Proud to Care Conference
Staff enjoyed a day of celebrations at NBT's Proud to Care Conference
Thursday, 9 May 2019
More than 80 nurses, midwives and allied health professionals enjoyed a day of celebrating at the Proud to Care Conference at Southmead Hospital yesterday.
It was an opportunity for staff to come together and celebrate the successes that happen at North Bristol NHS Trust every day.
The conference started with a welcome speech from NBT's director of nursing and quality, Helen Blanchard, who talked about her nursing career and why being a nurse is so important to her as well as thanking everyone for all the hard work they undertake every day.
Throughout the day, staff listened to inspiring speeches from different members of staff across the trust.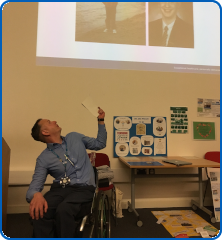 Stephen Lightbown, director of communications at NBT, described his own personal patient experience after he suffered life changing injuries at 16 when he was involved in an accident.
In his own words he spoke about what it was like for him, as a patient with life changing injuries, being looked after by different hospitals and dealing with skin and pressure related issues and how important it is for staff to listen to their patients and not to overlook them.
Consultant surgeon, Dimitri Pournaras, spoke in great detail about the bias of obesity and the need to change people's perception of obesity and recognising it as a disease and not a lifestyle choice. Suzette Woodward from the Department of Health gave an inspiring talk on changing cultures.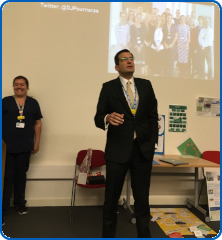 Vascular specialist nurse, Shona Macintosh, spoke in depth about research and how important it is especially for nursing staff to get involved in research as they deal with the day to day issues within the Trust. The neuro-musculoskeletal MAYBO trainers showcased their creative side with a role play on the importance of ensuring patient and staff safety through de-escalation and conflict resolution.
The day wasn't all about inspirational talks. There was a fun fact quiz about NBT and guess the nurse pictures which was won by George Bessant.
There was also a bake off, which was won by gate 28A, who showcased a beautiful lemon and courgette cake, as well as a lesson in Tai Chi which got everyone on their feet practising the 13th century Chinese martial art.
Later in the day staff nurse Louise Cahill gave a talk on Human Trafficking, what it means and what staff need to look out for if a suspected victim were to be treated at Southmead.
To close the conference the nursing staff were honoured at an awards ceremony as part of the International Nurses' Day celebrations.
To find out about the winners click here: https://www.nbt.nhs.uk/news-media/latest-news/staff-celebrated-at-director-nursing-awards