Say Thank You or Make a Suggestion
Say Thank You or Make a Suggestion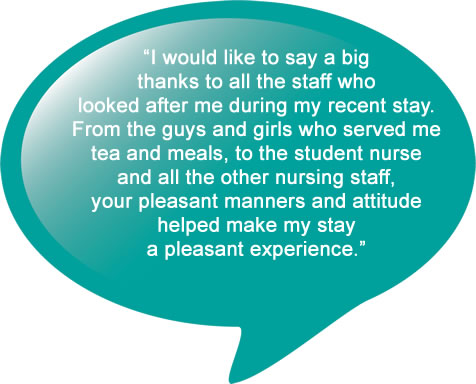 We're really keen to hear about your experience with us. If you, a friend or a family member have visited us recently, please let us know about it.
We need to know where we do well and where we fall short so we can continually improve the service we provide.
If you're happy to, we'd like to share your comments in publications and on social media. By sharing your experience and suggestions with us you can help shape our services and give others an insight into the level of care they can expect from us.
Thank a member of our team
We believe in celebrating and recognising best practice and the achievements of our team. We'd love it if you could take the time to thank a member of staff, team or department, using the form below. It might be for care you've received at one of our hospital, someone who went the extra mile for you or a loved one, a staff member or volunteer who you think deserves some extra recognition - or an entire service that you've used.
Whether you are a patient, carer, relative or friend, we'd love to hear from you! We'll make sure our team receive your comments.