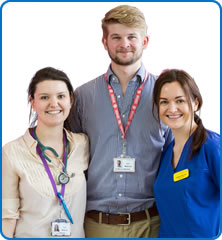 New contractual arrangements will be introduced in England for Junior Doctors in training and these will replace the existing New Deal arrangements 2000 and the Hospital Medical & Dental Staff Terms and Conditions of Service 2002. 
NBT has set up a Steering Group to work with junior doctors and key stakeholders to ensure the smooth phasing in and implementation of the contract. 
Useful links & updates
Junior Doctors in training will be able to access latest updates and additional information on the new contract from:
NHS Employers www.nhsemployers.org
BMA www.bma.org.uk
There is also a calculator available on the NHS Employers website which Junior Doctors can access to see how the new contract might affect them individually.
If you have a query
There is a dedicated e-mail address drsnewcontract@nbt.nhs.uk and a dedicated phone line 0117 4143322 within the Medical Personnel department for junior doctors who wish to ask any questions they might have. Or Contact Employment Services. 
FAQs received by NHS Employers are available at www.nhsemployers.org/your-workforce/need-to-know/junior-doctors-contract/faqs which may also address queries.