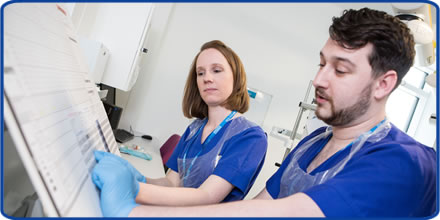 You will normally need to revalidate every three years to maintain your registration. The NMC will contact you by email or letter; at least 60 days before your revalidation application date. The evidence for your revalidation normally needs to be submitted by the application date on your NMC online account.
Essential revalidation requirements:
450 recorded practice hours (900 hours if revalidating as both a Nurse and a Midwife)
35 recorded practice hours CPD (20 of which must be participatory)
Five pieces of practice-related feedback
Five written reflective accounts
A reflective discussion with another MNC Registered Nurse or Midwife
Confirmation from a confirmer.
Both health and character declarations are required as part of your online revalidation application. This demonstrates that you have a professional indemnity arrangement in place. We will provide you with a free e-portfolio, which you can use to collect and store this evidence.
Visit the NMC website at www.nmc.org.uk or our Trust Revalidation intranet page (only accessible from a Trust computer) for more information. Alternatively, contact our revalidation support team on revalidation@nbt.nhs.uk or telephone 0117 3403369 or 0117 3403859.