Avon Breast Screening
Avon Breast Screening
Avon Breast Screening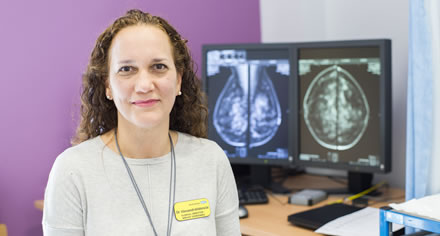 The NHS Breast Screening Programme (NHS BSP) has been running since 1989. The long-term objective of the programme is to reduce mortality from breast cancer in the population invited for screening.
The NHS BSP offers breast screening to eligible women aged 50 - 70 once every 3 years. In 2011 the age range was extended from 47 to 73 through the national age extension trial. Nationally, the programme screens 2.4 million women each year and detects an average of  21,000 breast cancers annually (data taken from Audit of Screen-Detected Breast Cancers for the Year of Screening 2013-14).

Breast screening aims to detect breast cancer at an earlier stage, often before the woman is  aware of any problem. Currently the NHS Breast Screening Programme saves an estimated 1400 lives each year in England.
The Avon Breast Screening programme invites more than 180,000 women from the area for breast screening. The service is co-ordinated through the Avon Breast Screening Unit which is situated within the Bristol Breast Care Centre at Southmead Hospital.  Screening facilities are available on site, at a static unit located at Tower Hill in Bristol and in the community via mobile screening units.  These units move around the region and are located at various sites for a period of time during the three year screening cycle. 
Breast Screening is available for all eligible women registered with a GP and living on Bristol, North Somerset, South Gloucestershire or Bath and North East Somerset and includes those in the Mendip area of Somerset.  Women eligible for screening will be sent a personal invitation offering a screening appointment.