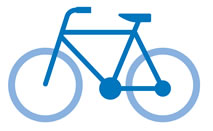 We encourage our staff to make healthy and sustainable travel choices whenever possible. Our commitment and support is outlined in our
Cycling
A great way to keep fit and de-stress at the end of the day. Enjoy the following perks:
Free cycle training
Cyclescheme
Free one month loan bike scheme (standard, folding & electric bikes for you to try)
Secure cycle storage, bike bins & hoops
Shower, change & locker facilities
Puncture repair kits
Emergency equipment (helmets, locks etc.)
Free Dr Bike appointments and bike maintenance courses
Cycle store discounts
Cycle route planning
Bicycle User Group.
Walking/Running
More great ways to exercise while improving your health, wellbeing, and helping the environment.
Shower, Change & Locker Facilities
Run2Work Day and Walk to Work Week
Walkers and Runners User Groups
Let's Walk North Bristol
We have teamed up with Walk Your Way to Health in Bishopston to produce a new leaflet that links Southmead Hospital to local green spaces and GP surgeries.  The new map builds on an existing staff walking leaflet and supports the Trust's aspiration to increase the opportunities for clinicians to 'prescribe' walking to patients, as well as encouraging access to green space with the positive impact on health and wellbeing that this will enable.
Buses
With plenty of bus services which call at Southmead or near to it and other NBT sites, you can:
Discounted tickets for various bus operators.
Bus maps and timetables available.
Visit www.travelwest.info to plan your journey.
Public Transport User Group.
Motorcycling
Staff travelling by motorcycle must apply for a free e-permit to enable them to park on site. Contact ParkingEnquiries@nbt.nhs.uk to find out more about applying. 
• Discounted CBTs (compulsory basic training).
• Free Motorcycle Parking.
• Motorcycle Store Discounts.
• Motorcycle User Group.
Car Sharing
Membership with NBT Liftshare.com helping you find a match.
Liftshare User Group.
Guaranteed Ride Home Policy.
Dedicated parking spaces for car sharers.
Trains
Bus connections between Bristol Parkway.
Public Transport User Group.
Electric Vehicle (EV) Charging
Electric cars provide a cleaner alternative with cheaper running costs. Southmead Hospital has four electric charge points in the Brunel Multi-storey car park (Level 0) and two rapid chargers on Southmead Way (outside Somerset House).
Car Parking
This is for members of staff who are unable to travel by any other means of transport and have to bring their car to work. We have a limited number of staff car parks available. If you are a member of staff and wish to park your car on our property you must obtain and display a valid parking permit.
All staff who park their cars within the Trust's parking areas must comply with the Trust's Car Parking Policy. If you breach any of the parking Terms and Conditions, this could result in the enforcement and issuing of a £60 Penalty Charge Notice.
Car Parking Permits
If you join us you can apply for a parking permit online (only accessible via a Trust PC) or a paper application. You will need your NBT logon, a payroll number, and a National Insurance number.
If you have not been given a logon, you can apply on the paper application form. This is available from The Security Travel and Parking Office.
There are a limited number of permits available, and each application will be assessed. The following permits are available:
Peak: Staff who wish to park on site regularly.
Off Peak: Staff who wish to park regularly out of peak hours (6pm to 9am), at weekends and bank holidays.
Occasional User: Staff who wish to park occasionally. This permit must be used in conjunction with parking scratch cards (a maximum of 90 will be available per year).
Volunteer: Volunteers working within the Trust.
Community: The permit entitles community staff to park in a designated community space for a maximum of two hours.
On Call: For on-call staff who wish to park between the hours of 5pm-9am or at weekends.
Resident: For staff residing at the Trust.
Permits for Occasional Users, Volunteers, Community users, On Call users, or for those using Residents Permits, are free of charge. However, Occasional User permits must be supplemented with parking scratch cards.
Seven Day Parking Ticket
If you have recently joined us, you can purchase a weekly car parking ticket for £30. This allows you to park on site and you can purchase a maximum of four tickets, which allows you the time to familiarise yourself with your alternative travel options.