The Carers Emergency Card is a free service for carers who live with the person they care for or visit them regularly at their home.
Carry this card in your purse or wallet as it identifies you as a carer, shows your name, a unique identification number and an emergency telephone number. If you have an accident/emergency or taken seriously ill, the card can be used to alert a 24 hours Emergency Call Centre that the person you care for needs help.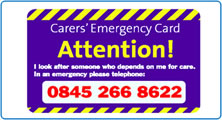 If the person you care for lives within the South Gloucestershire Council area please contact Carers Support Centre on 0117 9652200 or email carersline@carerssupportcenttre.org.uk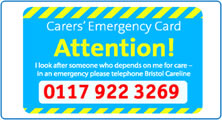 If the person you care for lives within the Bristol City Council area please contact Care Direct on 0117 9222700 or email adult.care@bristol.gov.uk.
There are some added benefits to the Carers Emergency Card including discounts in shops and cafes, on therapies or attractions. You can find more information about what benefits are included with the Carers Emergency Card at www.carerssupportcentre.org.uk/our-services/carers-emergency-card/card-benefit-scheme or if you would like to speak to someone please contact CarersLine on 0117 9652200.