The Workforce Disability Equality Standard (WDES) is a set of ten specific measures (metrics) which enables NHS organisations to compare the workplace and career experiences of Disabled and non-disabled staff.  NHS trusts use the metrics data to develop and publish an action plan. It will enable us to demonstrate progress against the indicators of Disability equality.
Making a difference for Disabled staff
The WDES enables us to understand the experiences of our Disabled staff and support positive changes for all existing employees. NBT is committed to creating a more inclusive environment for Disabled people working and seeking employment in our Trust.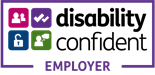 2020/2021
"The actions plans are still in draft format as we are still working with our relevant staff networks and other stakeholders to finalise them in due course"