Before you arrive at hospital, please make sure you tell us if you have any special requirements, for example:
Are disabled/have mobility problems
Eat a special diet
Use special equipment, such as a hoist or a support chair
Prefer to have written information in large print
Want us to arrange for an interpreter to translate into a different language
Want us to provide information through British Sign Language
Any questions you may have
If you wish to have a chaperone during your examination, please let us know. 
Please tell us as soon as possible if you cannot make the date we have given you by calling the number in the letter we sent with your admission details.
Don't forget to cancel deliveries such as newspapers or milk and to make arrangements for pets.
If you receive a pension or State benefit please tell the Benefits Agency that you are coming into hospital.
Patient transport services
The patient transport service provides planned, non-emergency transport for eligible Bristol, North Somerset and South Gloucestershire patients to and from NHS hospitals and clinics, including outpatient departments, inter-hospital transfers, renal dialysis, oncology centres and your home.
It is only available for eligible patients for medical reasons. It is not available for trips to primary care services such as GP practices and is not part of the emergency ambulance service.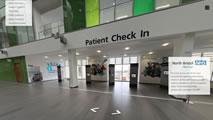 Take a virtual tour of the inside the Atrium of the Brunel.