The Bristol Urological Institute (BUI) was established in 1993 as a charity to promote research into urological diseases and to provide high quality undergraduate and post graduate teaching.
In 2010 the Bristol Urological Institute was incorporated into North Bristol NHS Trust, Southmead Hospital, Bristol.
The Bristol Urological Institute (BUI) now offers a complete clinical service to patients with urological problems and provides teaching and research.
The BUI intends to remain a patient focussed organisation providing the best care to patients with urological conditions, and by working with them, to teach healthcare professionals about urology and to build on its research successes over the last 20 years.
Bristol Urological Institute – promoting urology through research, teaching and premier patient care.
Related Information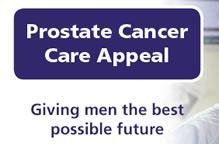 We need your support to help give more men in Bristol and the South West the very best prospect of recovery and survival through our Prostate Cancer Care Appeal.