Visiting And Attending Maternity Services
Visiting And Attending Maternity Services
COVID-19: Visitors are currently not permitted within the hospital
Attending the maternity unit. Guidance for women and their families
We know it is important for our patients to keep in contact with family and friends. We will support them where possible to make use of any telephone and video call functions they might have available.
We acknowledge this is a challenging time, and all of us at North Bristol NHS Trust thank you for playing your part in keeping our patients, staff and community safe.
Compassionate exceptions:
Exceptions can be made on compassionate grounds, including vulnerable patients with dementia or learning disabilities, or patients receiving end-of-life care. These exceptions must be pre-arranged with the matron or senior sister.

Please strictly follow hygiene and distancing guidelines, regularly washing your hands or using alcohol gel. You must not visit in any circumstances if you have a new persistent cough or a high temperature.
Labour and birth
Please nominate one birthing partner who is symptom free and has not been self-isolating to be with you during labour in the Central Delivery Suite or Birth Centres.
If you are in labour and have symptoms or you have been self-isolating please contact us on 0117  4146916 before arriving.

After the birth, once you are ready to be transferred to the postnatal ward, we request your birthing partner leaves.

We request you and your birthing partner washes their hands or uses alcohol gel when entering and exiting the maternity unit.

We are unable to offer any visiting at this time.

Home births have been temporarily stopped.
Antenatal appointments
Partners are only able to attend for the first pregnancy scan (FTCS or Dating).
This means that for all other scans and clinic appointments mothers-to-be must attend alone, unless told otherwise by our staff.

The safety of mothers and babies is our number one priority.
Please do not hesitate to speak to our staff if you have any concerns.
Entrances and exits
Please use the main maternity reception to enter and exit our Maternity Services at Southmead, including AAU and Neonatal Intensive Care Unit (NICU).
• Upon arrival, you will be asked to sign in and given a lanyard.
• If you are a visitor, we kindly request you wear your lanyard at all times.
• Please keep noise in this area, and within the wards, to a minimum.
• When leaving, please ensure you sign yourself out and return your lanyard.
However, please use the Central Delivery Suite entrance if:

• You are in labour and are planning on birthing at either Mendip Birth Centre or the Central Delivery Suite. If your birth partner needs to move the car, get bags etc after your arrival, they will be allowed out of this door for that purpose.
• You are having scans on the Central Delivery Suite including fetal medicine scans.
• You are having treatment on CDS including ECVs.
Future Change to Ward Entrance
From 6 April, please use the Cotswold Ward entrance if you are attending Southmead Maternity Services for:
 An induction of labour (IoL).
 An Elective (planned) caesarean birth.
 The Antenatal Assessment Unit (AAU).
Please telephone AAU before arriving on 0117 4146906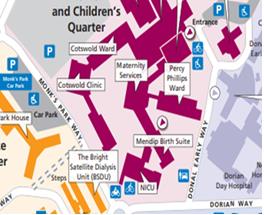 Entry and exit from any other route is not permitted without speaking to a member of staff. We appreciate your co-operation.
If you have any questions, please speak to your midwife or a member of the security team.