Visiting And Attending Maternity Services
Updated January 4, 2020.
Early pregnancy, maternity and neonatal care Covid-19: Attending and visiting the maternity and neonatal unit.
In line with National NHS guidance and that of the Royal College of Midwives (RCM), Royal College of Obstetricians and Gynaecologists (RCOG) and the Royal College of Anaesthetists/ Obstetric Anaesthetists Association we have been making changes to our visiting policies in response to the coronavirus pandemic.
Due to the current situation and known increase in the numbers of coronavirus cases in the community and coronavirus patients in our hospitals, it is with regret that a number of restrictions are necessary for visiting to the maternity unit to maintain social distancing and diminish the risk of spreading infection.  
Visiting our maternity services safely:
Please do not visit the hospital

if you have symptoms of coronavirus or have been asked to self-isolate

because you live in a household where someone has had symptoms of COVID-19 in the last 14 days.

Patients and partners or nominated supporters will be asked to wear a face mask which covers their nose and mouth at all times while accessing our services. The only exceptions to this are when a woman is admitted to hospital and in her bed space, and during advanced labour and birth.

Further safety measures have also been introduced to allow named birth partners to attend more services – these include:

Inpatients – if the woman has been admitted to hospital for postnatal care, partners must have a negative covid-19 lateral flow test to access the ward.

Outpatients – when attending scan appointments at the hospital, partners and women must wear the full PPE provided upon arrival.
Antenatal clinics (Southmead Hospital and the community)
Women must attend antenatal appointments alone except in exceptional circumstances.

Exceptions can continue to be made in circumstances where it is appropriate to do so, such as when women require additional compassionate support.
Ultrasound appointments
The named partner can attend the first trimester (12 week) scan, anomaly (20 week) scan and some specialist scans in fetal medicine as required. The latter should be arranged individually with the Fetal Medicine Consultant.

Attending the 20 week (anomaly) scan is conditional on no further coronavirus restrictions being announced.

If your partner chooses to attend your scan with you they will need to wait in the marquee outside until you are ready to be seen. 
Antenatal Assessment Unit (AAU)
The AAU at Southmead Hospital is currently located on Cotswold Ward whilst we upgrade the bathroom facilities on Quantock Ward

Cotswold Ward is a busy ward and has a mixture of Maternity, Gynaecology and Medical Patients. Some of these patients are vulnerable and we wish to keep everyone in our care as safe as possible. Therefore we request that, if you are required to come into the AAU for assessment, your partner waits outside in the car whilst you are being seen. We will invite your partner in if required, but we do need to minimise the number of people in this clinical area as much as possible. 
Antenatal inpatient care
If you require admission to hospital during your pregnancy you are likely to be cared for on Cotswold or Quantock Ward.

If you are admitted to hospital at this time, we are not currently able to allow visiting on the ward due to social distancing measures.

In exceptional circumstances where support is required a named birth partner may be able to attend at an allocated time and only by prior agreement with the ward.
Induction, early labour and birth
Birth partners can attend and remain throughout induction, early labour and birth.

Unless you are starting to labour we will ask your birth partner to go home.  We do not have bed facilities for partners and induction of labour can take several days. 

When contractions are starting and you need more support we will invite your partner in, regardless of the time, day or night.

The partner will need to complete a negative covid-19 test before they are granted access and will be required to have their 'Covid Testing Card' with them at all times.
Postnatal inpatient care
Once you have had your baby you may be ready to go home quickly, in which case you will be discharged. If you need to stay in for a few more hours or days you will be transferred to either Percy Phillips Ward or Transitional Care on Mendip Ward.

One designated birth partner – who has been tested negative and has their 'Covid Test Card' with them – may visit you on the ward between 9am and 9pm during an allocated timeslot.

However, we ask that you limit your visits as much as possible.  These are both busy clinical areas and we cannot maintain 2-metre social distancing due to the layout of the wards.

There may be times when our staff ask for a visit to be limited, especially if everyone in a bay has a visitor at the same time. Please bear with us as we all try to work through this difficult time together. If we ask your partner to leave and return at a later time, it will be for your safety and for the safety of those around you.
Neonatal care
If your baby requires care in the Neonatal Unit, you and your birth partner will have open access to the unit so that you can be with, and help care for your baby, at any time day and night.

Unfortunately the space in the neonatal unit is limited and therefore for the majority of the time we can only allow one parent to be with their baby at a time. So that families are able to spend valuable time together, parents are able to book a 2-hour visiting slot every day during which time both parents can be with their baby on the Neonatal Unit. 
Testing
As referenced above, women admitted to the postnatal maternity ward can be visited by a nominated birth partner during their stay.  Partners will be allocated a visiting slot between 9am and 9pm to ensure all partners are not present at the same time.

For the safety of staff and patients, birth partners will need to be tested for Covid-19 before their first visit to the inpatient wards – and at regular intervals if a longer inpatient stay is required.
Testing partners
Testing will be performed on birth partners before they are able to visit postnatal wards, for induction of labour or labour itself.

Partners will be tested using a lateral flow test, which will be provided and administered on arrival. These tests require a swab from the nose and take 30 minutes to provide a result. Partners will be required to stay in the admission area until results are confirmed.

Partners will be given a 'Covid Test Card' which will document the test result and when the next test is due. You must have this card on you anytime you are within the hospital.
What happens if my birth partner tests positive?
If your birth partner test positive, they will not be able to come into the maternity unit in order to protect patients and staff. 

If your birth partner tests positive we will perform a second Covid-19 test. This is called a PCR test and requires a swab of the nose and throat. The test takes between 8 and 36 hours to obtain a result. Your birth partner will need to self-isolate at home whilst this result is pending. If the result of this second test is positive they must continue to self-isolate as per Government guidelines and must not come to the hospital. If the second test is negative, they will be allowed into the Maternity Unit and can stop self-isolation.

Whilst you are waiting for the second test result of your birth partner, you can request support from another family member or friend. However, they must not be from the same household as your birth partner and will require testing as outlined above before being allowed into the unit.
How are women tested for Covid-19?
We will continue to test women who are admitted to Southmead or Cossham Birth Centre with the Covid-19 PCR test.

This is a nose and throat swab and we should have a result within 8 to 36 hours of the test being performed.

Women are tested on admission and at regular interval throughout their stay. Anyone who becomes unwell will be also tested as soon as any symptoms develop.
Please note – In order to maintain the above standards at all times we are not currently able to allow you to bring children to attend antenatal clinic appointments with you or to allow children to visit our ward areas unless this is in exceptional circumstances for long stay admissions where an individualised plan can be made.
Site map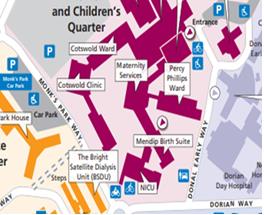 Entry and exit from any other route is not permitted without speaking to a member of staff. We appreciate your co-operation.
If you have any questions, please speak to your midwife or a member of the security team.