Visiting And Attending Maternity Services
Visiting And Attending Maternity Services
Updated Saturday 25th July. 
The arrangements put in place by North Bristol NHS Trust will help to prevent the spread of infection and protect our patients, staff and visitors.
Partners can now attend first and 20 week scans
From Monday 27th July, women can attend some types of antenatal ultrasound appointments accompanied by one other person (their partner). You will both need to wear a mask or face covering. If you do not have one you will be issued one on arrival. In order to maintain social distancing in our antenatal clinic your partner can attend for:
- Anomaly (20 week) scan as well as their first antenatal ultrasound scan appointment (either a dating scan or for the first trimester combined screening scan routinely performed between 12-14 weeks of pregnancy). Unfortunately partners cannot attend for any other scans.
- Some specialist scans in fetal medicine (to be discussed with your midwife or doctor and will be organised on an individual basis)
- Upon arriving at the Southmead Hospital, please make your way to the entrance of the antenatal PPE waiting area which is located in front of the Antenatal Clinic where you will both be asked to gel your hands and put on a face mask.
- Women can then proceed into the Antenatal Clinic but we ask partners to remain in the antenatal PPE waiting area to avoid overcrowding in the clinic. Partners will be called into the Antenatal Clinic waiting zone, directly outside the clinic, just before their partner's appointment and from there called directly to the consulting room.
- Please follow the floor markers, maintain social distancing at all times and use the hand gel at all entrances and exits.
- There are volunteers who can help direct you.
For attendance at all necessary face to face consultations in early pregnancy clinic and the antenatal clinic, women are still expected to attend alone due to social distancing requirements. In exceptional circumstances, a partner will be able to attend with you and this will be discussed with you by your midwife, nurse or doctor. Please wear a face mask or face coverings at all times when attending any appointments. If you do not come with a mask you will be issued with one on arrival.
- If you or your partner think you may have symptoms of coronavirus, you should use the NHS 111 online service for information and inform us. Please do not attend your antenatal clinic appointment.
During induction of labour, women will need to attend Quantock Induction of Labour Suite. Your birth partner can now attend with you but a face mask or face covering must be worn at all times – it is important to note that the person attending will be restricted to being the same person throughout your stay. Partners will still be unable to stay overnight in the induction of labour inpatient area unless transfer to the delivery suite is planned.
In the birth room, your birth partner will be expected to wear a mask or face covering. You will not need to wear a mask unless you need to be moved to another area or the operating theatre and a mask will be required.
Women will all be issued with a face mask. You will not be expected to wear your mask whilst in your bed space and interacting with your baby. However, when you walk into other areas of the hospital, into corridors and where interaction with other people will be higher we will request that you wear your mask.
Maternity visiting times are increasing
From today, 16 July, new extended visiting times for Maternity comes into effect. One designated birth partner may visit between 11am and 7pm on the following wards:
Cotswold Antenatal.
Percy Phillips.
Mendip.
Transitional Care.
All visitors are reminded to wash their hands, use alcohol gel when entering and exiting and to wear PPE at all times. 
Siblings and all other visitors are not able to visit at this time.
The safety of mothers and babies is our number one priority.
Please do not hesitate to speak to our staff if you have any concerns.
Entrances and exits
Please use the main maternity entrance if you are attending our Antenatal Assessment Unit (AAU) and for an Induction of Labour (IoL). For women attending for an Elective Caesarean Section or for Emergency Gynaecology please continue to use the Cotswold Ward entrance.
Please use the main maternity reception to enter and exit our Maternity Services at Southmead, including AAU and Neonatal Intensive Care Unit (NICU).
• Upon arrival, you will be asked to sign in and given a lanyard.
• If you are a visitor, we kindly request you wear your lanyard at all times.
• Please keep noise in this area, and within the wards, to a minimum.
• When leaving, please ensure you sign yourself out and return your lanyard.
However, please use the Central Delivery Suite entrance if:

• You are in labour and are planning on birthing at either Mendip Birth Centre or the Central Delivery Suite. If your birth partner needs to move the car, get bags etc after your arrival, they will be allowed out of this door for that purpose.
• You are having scans on the Central Delivery Suite including fetal medicine scans.
• You are having treatment on CDS including ECVs.
Change to Ward Entrance
From 6th April, please use the Cotswold Ward entrance if you are attending Southmead Maternity Services for:
 An induction of labour (IoL).
 An Elective (planned) caesarean birth.
 The Antenatal Assessment Unit (AAU).
Please telephone AAU before arriving on 0117 4146906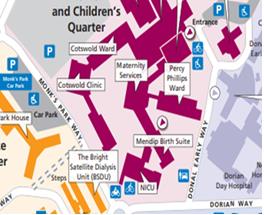 Entry and exit from any other route is not permitted without speaking to a member of staff. We appreciate your co-operation.
If you have any questions, please speak to your midwife or a member of the security team.