Visiting And Attending Maternity Services
Early pregnancy, maternity and neonatal care Covid-19: Attending and visiting our services.
Updated 21 March 2022
Visiting our maternity services safely:
Please do not come to hospital if you feel unwell. This includes symptoms of Covid-19, sickness, diarrhoea, fever, sore throat or flu.

Patients and partners or nominated supporters will be asked to wear a face mask which covers their nose and mouth at all times while accessing our services (unless exempt). The only exceptions to this are when a woman is admitted to hospital and in her bed space, and during advanced labour and birth.

We strongly advise that women, birth partners and visitors do a lateral flow test before coming into the hospital for an appointment, or for a postnatal care visit.
Early Pregnancy Assessment Centre
One birth partner can be present with you at all appointments
Antenatal clinics (Southmead Hospital and the community)
One birth partner can be present with you at all antenatal appointments
Ultrasound appointments
One birth partner can be present with you at all Ultrasound appointments
Antenatal Assessment Unit (AAU)
One birth partner can be present with you at all antenatal appointments
Antenatal inpatient care
Antenatal care is provided on Quantock ward, this includes inpatient care and induction of labour. Visiting times in this area will be from 10am – 9pm for one designated visitor (birth partner or close family member)

Some mothers that are admitted for induction of labour will be cared for in the induction of labour suite situated on delivery suite.
Induction
You can be supported by one birth partner throughout induction, early labour and birth. Please note we do not have bed facilities for partners.
Once you are in established labour and have been transferred to our Central Delivery Suite, a second birth partner can also attend.
Labour and birth
We are now able to re-introduce two birth partners once you are in established labour on Central Delivery Suite and Mendip Birth Centre at Southmead Hospital and at Cossham Birth Centre.

Birth partners must wear a surgical face mask at all times when they are in the hospital

To minimise movement around our birth units we ask birth partners to remain in the birth room at all times.  Please bring food to keep yourself fed (we will supply tea and coffee).  All our birth rooms have en-suite facilities which birth partners are able to use.

We encourage pregnant women and their birth partners to get vaccinated against Covid-19 as soon as possible. You can be vaccinated at any point in pregnancy and this will help to keep you, your baby and our team safe. Guidance on 

vaccination in pregnancy

 is available from the Royal College of Obstetricians and Gynaecologists.

We would recommend that you obtain lateral flow tests so you and your birth partner are able to test yourselves for Covid-19 on at least a twice weekly basis in the lead up to your birth.  

Kits can be obtained for free from the NHS website.
Postnatal inpatient care
There may be times when exceptions are needed to this guidance - please speak to the Midwife/Nurse in charge to discuss these exceptions.
Once you have had your baby you may be ready to go home quickly, in which case you will be discharged. If you need to stay in for a few more hours or days you will be transferred to either Percy Phillips Ward or Transitional Care on Mendip Ward.

Please note: one designated visitor (birth partner or close family member) may visit you on the ward between 10am – 9pm. 

There may be times when our staff ask for a visit to be limited, especially if everyone in a bay has a visitor at the same time.  If we ask your partner to leave and return at a later time, it will be for your safety and for the safety of those around you.
Neonatal care
Parents/carers can both have unrestricted access throughout your baby's stay in the neonatal unit. Unfortunately

,

we are currently unable to support visiting for extended family members, including siblings.

All parents/carers will be required to continue wearing masks on the neonatal unit with the exception of when you are at your baby's cot side

We encourage all parents/carers to lateral flow test twice weekly. This will be provided when your baby is admitted to the neonatal unit

Due to the constraints of space within the unit, at times we may need to politely ask parents/carers to leave their baby's room if there is a need for more medical and nursing staff to be in that room for emergencies or procedures.
Covid-19 testing for women
We recommend that women obtain a 

Covid-19 lateral flow Testing Kit

 so they, and their birth partners are able to test themselves for Covid-19 on a twice weekly basis in the lead up to their birth. 

If you do test positive for Covid-19, please follow the instructions in the testing kit, and contact your community midwife.

We will continue to test women who are admitted to Southmead maternity unit or Cossham Birth Centre with the Covid-19 PCR test.

This is a nose and throat swab and we should have a result within 8 to 36 hours of the test being performed.

Women are tested on admission and at regular interval throughout their stay. Anyone who becomes unwell will be also tested as soon as any symptoms develop.
Covid-19 testing for partners
Birth partners must not have any symptoms of Covid-19 - we will ask everyone on arrival whether they have any symptoms – we are sorry but if you have symptoms of Covid-19 you will not be able to come into the hospital in order to protect patients and staff.  In this situation an alternative Birth Partner could come in to support but they would need to be free of any symptoms.

We advise that partners do a lateral flow test before coming into hospital.
Site map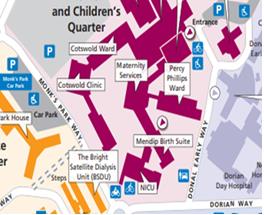 Entry and exit from any other route is not permitted without speaking to a member of staff. We appreciate your co-operation.
If you have any questions, please speak to your midwife or a member of the security team.