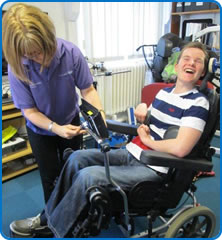 As communication is an essential part of our day to day lives, and takes place in a diverse range of environments, a mounting system allows a communication aid to be accessible whenever needed. In light of this the AAC West offers a mounting assessment service.
The following are examples of where aids might be mounted.
To a wheelchair
On a table
To a rolling/static floor mount for access whilst in bed or sitting in an armchair
Mounting assessments are completed as part of a Communication Aid Assessment. 
The Communication Aid Centre will also carry out a comprehensive risk assessment using the Wheelchair Risk Assessment Mounting Procedure (WRAMP) as part of the assessment.
Find out more about what happens during the assessment process.
Download patient information leaflet:
Contact AAC West
Telephone Admin Office: 0117 4145850
Email: aacwestadmin@nbt.nhs.uk
Address:
Bristol Centre for Enablement
Highwood Pavilions
Jupiter Road
Patchway
Bristol
BS34 5BW
If you are using Google Maps to find us, please use the postcode BS34 5SP.