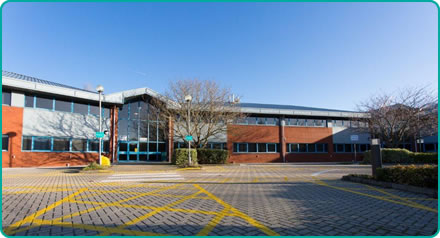 Services at the Centre
The Bristol Centre for Enablement (BCE) services include:
Prosthetic service including War Veteran Prosthetics

Orthotics

Wheelchairs & Special Seating

Wheelchair Repairs

Electronic Assistive Technology Services

AAC West
With services all under one roof, at our accessible location this allows us to deliver a further joined up approach to care and service provision, taking the lead as a regional provider for enablement services. Our services cover the whole of the Bristol area and Gloucestershire, with some services covering Somerset and Wiltshire as well. The Electronic Assistive Technology service and AAC West Service both cover the entire South West.
Our teams work together to support a more seamless pathway for complex referrals across service boundaries. Our specially adapted centre provides us with:
A Prosthetic workshop, with access to high tech equipment to support and improve manufacturing and service delivery.

Dedicated assessment facilities for all our service users and patients, including those with complex needs.

Purpose built facilities for communication aid assessments with close links to other technology services to provide an improved patient pathway.

Stores and engineer workshops to allow prompt issue of equipment, and repairs when needed. 
Visiting the Centre
When visiting the Centre, you are welcome to park in any of the white hatched bays in the car park. These are all patient parking spaces and not just for disabled badge holders.
On arrival please either check in using the self-check in screens, or report to the receptionist. If you are running late for your appointment you must see the receptionist in person. Please be aware if you are late for your appointment the clinician may not be able to see you, as they may not have sufficient time to provide a full assessment, or complete delivery of the relevant equipment.
We would also ask that you confirm your contact numbers, address and email address when coming to the centre to ensure we have the most up to date information if we need to contact you following your appointment.
Facilities at the centre
Free Parking

Toilets, including disabled Toilets with adult changing facilities

Hot Drink Machine

Cold Drinks Machine

Snack Machine

Free Drinking Water

Children's Play Area

TV in reception

Hoists for use within clinic appointments

We do not have any facilities for hot food; however we are very close to the Mall at Cribbs causeway where there are a number of restaurants and coffee shops.
We would also suggest when visiting the centre that you bring with you any food or medication you may require for your time here. If coming to the centre via ambulance transport please ensure that you have sufficient medication with you in the event of any transport delays.