If you have been provided with a functional foot orthosis (FFO), or insole, it will have been designed to meet your individual needs.
The FFO is designed to influence your joint mechanics by:
Preventing excessive joint motion
Correcting a joint position
Evenly distributing pressures
Accommodating foot shape
FFOs aim to reduce pain and allow you to maintain an active lifestyle by addressing your specific symptoms.
As FFOs directly influence your biomechanics, they may feel strange and mild discomfort can be common following initial use. This should ease as you gradually wear in your insoles.
Wear time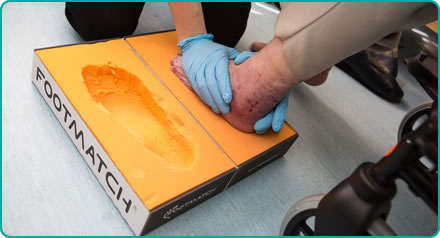 You should gradually increase the wear time with your FFOs to allow your skin to adjust to the pressures applied to it. Please speak to your Orthotist for your recommended guidelines.
If your FFOs become uncomfortable, discontinue use. If the pain persists then seek advice from the Orthotics department.
Footwear
When selecting shoes to wear with your FFOs, look for the following features:
Enclosed heel and toe
Secure lace or velcro fastening
Removable insole
Heel height recommended by your Orthotist
It is important to select supportive shoes which are comfortable to maximise the benefits of the insoles.
Skin care
It is important to check your skin regularly for any signs of marking or redness. If red marks persist for longer than 30mins or if
the skin breaks down, discontinue use of the FFOs and seek a review with your Orthotist.
It is particularly important to check your skin daily if you have reduced sensation.
Caring for your FFO
You can clean your FFOs with a damp cloth. Do not dry over a heat source as this may deform the shape of the material.
FFOs will become worn with use and their longevity varies between individuals. If your symptoms recur or the insoles become
uncomfortable, this may indicate you require a new pair.
Feedback
I wish to thank you for the care and attention you afforded me. Your follow-up assistance in ensuring all was well was beyond the call of duty and very much appreciated.