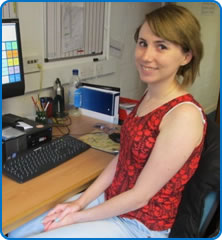 Why Volunteer at AAC West?
People volunteer with BCAS for many reasons. It may be to gain experience in order to help towards finding a job in a similar field, or it may be because of simple interest in what we do and willingness to offer some free time.
The Role of Volunteers at AAC West
We aim to provide work for volunteers that we would otherwise be unable to do so that the experience for people who use the service can be enriched. Much of the work is non face-to-face work to support the service behind the scenes. We hope that in return, we can offer a friendly environment with opportunities to find out more about AAC, with the added satisfaction of improving someone's AAC experience.
The main roles of the volunteer are:
Programming Devices
Developing Resources
Meeting and Greeting Clients
Communication Partner Work
Commitments
We ask that volunteers offer at least half a day a week, for 6 months.
To find out about volunteering opportunities contact the office on 0117 414 5850 or email aacwestadmin@nbt.nhs.uk
Related Information
Feedback
I volunteer because I find it really rewarding to help out in a clinic environment. The experience has been a lot of fun while also being interesting and enabling me to use my love of language in a fulfilling and rewarding way. From this experience, I hope to gain a sense of the day to day running of a speech therapy clinic, and I have been able to carry out many varied tasks in the department such as programming communication aids and researching new devices and software.