Wheelchair Repair - Bristol, Bath, North Somerset & South Gloucestershire
Wheelchair Repair - Bristol, Bath, North Somerset & South Gloucestershire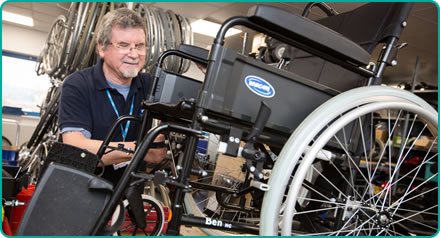 The Wheelchair Repair Service provides free of charge repairs and maintenance to any NHS issued wheelchair and associated equipment. 
Repairs and services can be carried out at your home address, place of work, school or day centre. 
Many Wheelchairs are subject to an annual planned preventative maintenance check and this will normally be arranged with you at a mutually convenient time and place. 
Some specialist wheelchairs and seating units may be subject to a delay in repairs where stock parts may not be available and have to be ordered from the manufacturers. However, we will always try to ensure an interim repair is undertaken to provide safe ongoing use and have access to a limited range of loan wheelchairs for use while a chair is being repaired, by offering the closest chair match.
Standard repairs are attended within 3 days of the call, priority calls within 6 (working) hours and emergency (weekends only) calls within 1 hour (conditions apply).
Emergency out-of-hours repairs are available at weekends subject to qualifying criteria* including (but not limited to):
if you're on your own (solo),
if you cannot get to toileting, food, safety
Breakdown away from home within service area (please note this is a repair service only)
*If in doubt, please call your relevant out-of-hours service and you will be advised. We do not operate a weekday out-of-hours emergency service, please telephone the relevant number and leave all your details on the answerphone or report a wheelchair fault online; we will get back to you as soon as possible.
Non-emergency standard Wheelchair repairs
Monday 8am-4.30pm
Tuesday, Wednesday & Thursday 8.30am-4.30pm
Friday 8.30am-4pm
Telephone: 0117 9696959
>> Request a wheelchair repair
Emergency Wheelchair repairs (weekends only)
Saturday and Sunday 8.30am-4pm
Telephone:  07720 353990