Toy Library
Toy Library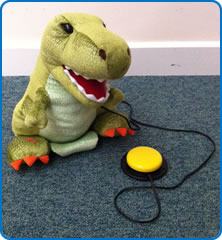 The Toy Library has over 200 toys specifically adapted for switch use. Using a switch, children with physical impairments can interact with toys.
We have a huge range of toys that make noise, move and flash lights. Toys include moving vehicles, singing cuddly toys and speaking and flashing number and alphabet boards.
The Library is available to both individuals and organisations within Bristol, South Gloucestershire and North Somerset.
The Toy Library is located in the Wooden Spoon building at Claremont School, Henleaze.
To find out more and to join the Toy Library please download the Toy Library Membership Form and return to us.