Information for GP's
The implementation of the Faecal Immunochemical Test (qFIT) testing for occult blood for the detection of colorectal cancer in patients in the SWAG cancer alliance area
Individual CCGs (Gloucester, BNSSG, BSW and Somerset) within the SWAG Cancer Alliance have funded FIT testing for the early detection of colorectal cancer.  Originally this was for low risk patients but indications have been expanded and updated. 
For further information on the requesting indications, process and reporting guidelines please refer to the relevant page on the REMEDY website: https://remedy.bnssg.icb.nhs.uk/adults/gastroenterology-and-colorectal-surgery/fit-test/
Information about qFIT testing is presented in this video made when the service was first introduced. Although some of the indications have been expanded the essence of the video is still applicable https://youtu.be/zb1o8ykvS6U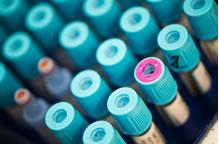 Includes details of sample types, volumes, special precautions, turnaround times & reference ranges.