Information for GP's
The implementation of the Faecal Immunochemical Test (qFIT) testing for occult blood for the detection of colorectal cancer in patients in the SWAG cancer alliance area
Individual CCGs (Gloucester, BNSSG, BSW and Somerset) within the SWAG Cancer Alliance have funded FIT testing for the early detection of colorectal cancer.  Originally this was for low risk patients but indications have been expanded in response to the COVID-19 pandemic
Information about qFIT testing is presented in this video made when the service was first introduced. Although some of the indications have been expanded the essence of the video is still applicable https://youtu.be/zb1o8ykvS6U
What is qFIT
The Quantitative Faecal Immunochemical Test (qFIT) is a test to detect hidden or 'occult' blood in stool samples. Unlike older FOB tests, qFIT test uses antibodies that specifically recognise human haemoglobin and are consequently more sensitive and specific test than the guaiac based FOB test.  It also allows the amount of haemoglobin to be measured. 
Which patients are eligible for FIT?
Faecal occult blood tests should not be offered patients, with an abdominal or rectal mass, rectal bleeding, anal ulceration or if they are age >60 y with iron deficiency anaemia.  These patients should be referred without a FIT test via LGI 2WW according to their symptoms.  
Criteria for who should be offered the test have been developed by the National Institute for Clinical Excellence and local cancer services after reviewing all the evidence.  The criteria are based on these groups. 
•    Weight loss, abdominal pain, change in bowel habit (age >40 years)
•    Iron deficiency anaemia (age <60 years) or a non-iron deficiency anaemia (age >60 years)
•    Change in bowel habit or other symptoms that could be caused by colorectal cancer but are low risk (age >18 years)
Some CCGs may use slightly different criteria or age limits refer to local guidance
N.B: It is possible for patients who don't fit the criteria for testing to have significant bowel pathology, so if you have concerns about a patient with persistent abdominal symptoms please continue to use your existing local referral systems.
How will this process work?
FIT packs will be issued to the GP practice to allow patients to either return the sample to the laboratory or via the GP practice .
Inside the pack you will find the 
•    Collection device
•    Request form (for return to GP pack this will be generated by the practice)
•    Instruction sheet
•    Return envelope
To request a test for eligible patients the referral form (provided inside the pack) will need to be completed and placed back into the pack before handing it to the patient for completion at home. Where electronic test requesting is available a locally generated request form should be put in the envelope
Full sized version of the request from is available at
Full sized version of the patient instructions is available at
GP's will need to advise patients to return the sample as quickly as possible. Patients should be advised to follow the collection instructions carefully, including taking care not to let the stool sample touch the water in the toilet bowl. 
Because the patient sends off the test themselves or return them later, practices may wish to make a note on the patient's record that a test has been issued and ensure a process is in place to follow up, the result in addition to giving the patient their usual safety netting advice
Using a READ code will allow you to search for patients who have been advised to send qFIT tests but for whom you have not received a result.
READ Code 4791 (Faecal Occult Blood Requested) is recommended.
SNOMED ID 167666002
Differentiation with the screening programme
The bowl cancer screening programme uses qFIT testing.
The quantitative threshold for the Bowel Cancer Screening Programme qFIT is much higher than that used in our 'Symptomatic qFIT' testing, so a recent 'normal' or 'negative' from the screening programme should not be relied on by GPs for reassurance.
Irrespective of how recently a patient has been screened by the national screening programme, their test result should not influence the decision to investigate if they present with new symptoms of concern.
How soon can I expect the results?
GP's will receive the results of the analysis within 7 working days from the date the test is sent to the laboratory by the patient. If you have not heard the results within 10 days of issuing the test then please contact the patient to ensure the test was sent.
The way results will be communicated will vary according to local arrangements.
What do I need to do with the results?
If the Faecal occult blood test is positive: Consider using a referral for suspected cancer under the local 2WW arrangements. Occult blood in the stool can be caused by a wide variety of benign conditions as well as colorectal cancer, and further assessment may be appropriate to rule out these out before referring.
READ Code 4794 FOB+ve is recommended
Referral forms to secondary care have been updated to allow GP's to record the FIT test result.
 
If the Faecal occult blood test is negative:  qFIT negative patients have an extremely low risk both of colorectal cancer, and of high risk adenoma. Your patient therefore does not need referral for suspected colorectal cancer, but as always you should consider seeking specialist advice if worrying symptoms persist. In patients with symptoms of significant concern, you should consider non-luminal cancers and may still wish to send a suspected upper GI cancer referral. Advice and guidance services may also be used in line with local arrangements.
The Widlak study (see below) also showed a sensitivity of 86% and Negative Predictive Value of 100% for inflammatory bowel disease. 
READ Code 4792 FOB –ve is recommended
What is the level of confidence in the test?
The pre-COVID-19 patient population for whom qFIT was recomended are at less than 3%  risk as they do not meet the NG12 suspected cancer referral criteria. At the test threshold we are using, and in this specific population, research demonstrates a negative predictive value of over 99% and specificity variously reported at 84 or 100%. 
It is important to note that in patients with more significant symptoms or other test abnormalities (for example Iron Deficiency Anaemia), the test is less sensitive and may miss some cancers, so it is important to use the test criteria carefully and still refer to NG12 for patients with symptoms of greater concern.
With the expanded criteria the negative predictive value is still very high but if patients have persistent ongoing symptoms the specialist advice may still be required.
Will the test be suitable for all patients?
The test may not be suitable for patients who have a disability that would make it difficult for them to complete at home for example those with arthritic hands. 
Where can I access further information and support?
Page updated 23/12/2021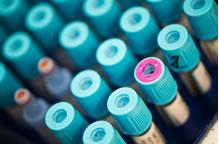 Includes details of sample types, volumes, special precautions, turnaround times & reference ranges.